If you are investing in consumer goods then you may want to know what their retail distribution partners are doing; how they are shelving products, ordering products and managing product inventory. Are they adopting competitive products? In this article I will briefly discuss some of these relatable topics with regards to Keurig products by Green Mountain Coffee Roasters (NASDAQ:GMCR), Skullcandy products (NASDAQ:SKUL) and SodaStream products by SodaStream International (NASDAQ:SODA). Ideally, the information provided may give some insight into the relative strength of sales for these particular consumer goods stocks and help form a more fundamental investing thesis.
So let's first start with shelf space and what we are seeing for these three companies over the last couple of quarters and what we expect going forward. Skullcandy products are finding themselves smack dab in the middle of a category expansion war and the war is directly seen in the curtailment of slotting at retailers for its ear buds. Well, let's be a little clearer in this regard. There have been many new entrants in this product category and retailers have been experimenting with an expanded ear bud and over-ear product assortment for the balance of 2012. JVC (OTC:JVCZF), Sony (NYSE:SNE) Soul and Nixon Headphones are just a few brands gaining slotting space at retailers once dominated by Skullcandy. Maybe Skullcandy should have anticipated this occurrence more quickly and maybe Skullcandy products shouldn't have warranted the expansive slotting it had seen in the past, given the potential size of this industry. So why is Skullcandy losing slotting space? If you accept what CEO Rick Alden says, it is due to a consumer shift to higher-end products such as Beats By Dr. Dre and the general trend in higher price point over-ear sales that the company has been late in addressing. Additionally, Skullcandy packaging and brand ambassadors have not been promoted the way other companies promote their brand ambassadors and packaging. When one of your biggest brand ambassadors, Derrik Rose, has been side-lined with an ACL (Anterior Cruciate Ligament) injury for most of the NBA season, well that may just be a bit of bad luck, but the company has done little to promote Kevin Durant who is currently a brand ambassador and leading the NBA in points-per-game this year.
So what is Skullcandy doing to address losing a key retailer this last quarter? The company plans to institute new packaging with color splashes and aims at enhancing its product line while continuing to deliver the Skullcandy lifestyle brand (Look for our full recap of SKUL Q4 2012 in the days to come). Skullcandy has a tough road back to regaining its former market share and based on the company's outlook for Q1 2013, investors should consider a longer term view of the company when devoting capital to SKUL shares. Skullcandy is in a tough consumer category with a low barrier of entry from competition. The company also struggles due to its core consumer, which remains one of the toughest and most fickle consumers to acquire repeat business from, the 15-24 year old consumer.
Orders for Skullcandy products at tier-one retail distribution partners are down dramatically year-over-year as sell-through has not been what was expected for Skullcandy products and the category as a whole. The headphone category saw a deceleration of sales growth, which was recognized at several retailers during Q4 2012 and noted in the Skullcandy Q4 2012 earnings. What investors need to consider is whether or not another consumer shift is underway and how it will affect the headphone marketplace.
Investment Thesis for SKUL:
Shares of SKUL are currently rated as Hold. Shares have come under pressure based on management's inability to identify shifting consumer demand and appropriate product development, which would otherwise draw consumers to the lifestyle brand of products offered by Skullcandy.
The company expects to see a loss in the first quarter of 2013. With a stable business model, stronger management execution and a continuation from the company to diversify its product mix, shares of SKUL should rebound in the second half of 2013.
We expect the company to announce the hiring of a new CEO near to mid-term.
Our next consumer goods product comes to us from Green Mountain Coffee Roasters and its line of Keurig products. It's impossible to argue that GMCR is not the leading single-serve coffee company in North America, with FY12 sales of its product assortment achieving almost $4 billion in sales. However, the company did see increased competition last year in the single-serve coffee category. GMCR's retail distribution partners were not shy about expanding shelf space to allow for new market entrants in the category as Coffee Bean & Tea Leaf Company launched its line of products at Bed Bath & Beyond (NASDAQ:BBBY), Macy's (NYSE:M) Dillard's (NYSE:DDS), and Target Corp (NYSE:TGT) last year. Later in the year, some of these retailers continued to expand the product category and in-store shelf space for Starbucks' (NASDAQ:SBUX) Verismo single-serve coffee makers and flavored-coffee pods. While these retailers were adding shelf space for new products, GMCR suffered from a dislocation of orders from its retail distribution partners. Fortunately for GMCR, the company continued to expand its grocery channel distribution in 2012, mitigating some of the cyclical ordering impact it was feeling during the middle of 2012.
Now let's fast forward to the present and look at what has recently taken place with retailers and the single-serve coffee industry. One of GMCR's biggest retail distribution partners in the United States is Macy's. GMCR investors will be happy to find out that Macy's will be discontinuing one of two Coffee Bean & Tea Leaf Company single-serve coffee machines it currently carries in-store. Capital Ladder Advisory Group spoke with two buyers from Macy's at the recent International Home and Housewares Show (IHH) and they indicated that the product line offered by Coffee Bean & Tea Leaf Company wasn't producing necessary sales to warrant a continuation of dual product offerings from CBTL. As such, Macy's has begun to clearance this particular product as shown in the image below. First mover advantage and continued product innovation have been a greater barrier to entry in the single-serve coffee category than most originally anticipated.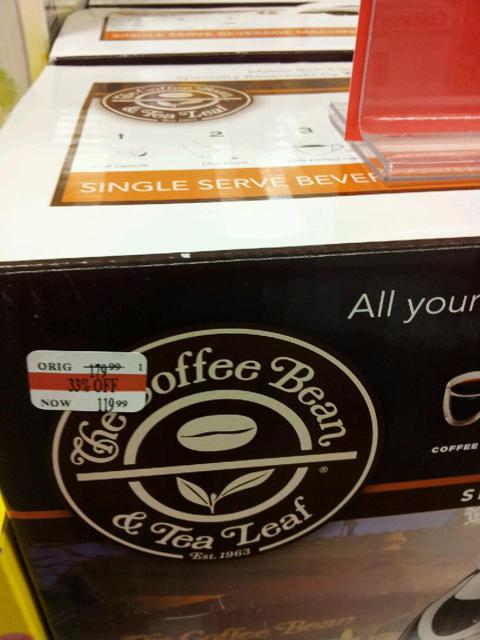 Let's also take just a minute to dispel a common misnomer by the investing community, and my apologies for committing this minor tangent, as I feel it is important to highlight seeing how I just discussed reducing prices of products at retailers. Many analysts and investors alike are under the impression that all promotions by retailers are attributed to, and come at the cost of the vendor, but this is simply not the case in all circumstances. Target often issues gift cards with purchase on specific advertised products, but these gift card offerings come at the expense of Target and usually not the vendor. Target does this to highlight products which are new, popular, or entice the consumer to come back to the store and spend more money. The gift card is almost always an expense accrued by Target and not the vendor. Manufacturer rebates are usually the only type of retailer incentive that comes solely at the cost of the manufacturer/vendor. Weekly circular sales are a shared expense for both the retailer and the manufacturer, but not always. Weekly circular expense is usually a 60/40 split with the retailer absorbing the brunt of the expense due to pricing discounts. So in closing out this tangent, not all discounts or incentives are created equally.
Capital Ladder Advisory Group has benefited from the most recent rise in shares of GMCR as we bought back into the stock after the profit-taking event that occurred after the company released Q1, 2013 earnings. Shares tumbled upon earnings release, falling below $43 a share whence we purchased shares at what we felt was a healthy and warranted near 15% pullback in the share price. Since this time, shares of GMCR have rallied back above $50 a share where we decided to take profits.
Green Mountain Coffee Roasters is up against a tough quarterly comparison YOY and presently we see some incremental data points in our most recent channel checks giving us cause for concern. J.C. Penny (NYSE:JCP) has been a long time retail distribution partner of Keurig products, but the ordering cycle has proven to be extremely week for this retailer. We had the opportunity to speak with several key buyers of JCP who wish to remain nameless in this article, but for the record the buyers noted that JCP was undergoing a renovation cycle of several hundred store Home Departments and thus curtailed ordering merchandise for the small appliance category and the Home Department altogether during the Q2 2013. This may persist into fiscal Q2 as well. Reduced orders didn't stop with J.C. Penny as Target and Best Buy (NYSE:BBY) both show declines in orders for Keurig products in fiscal Q1 2013. To be clear, this is typical coming out of Q4 for Target as the company usually likes to gather its core working capital before instituting Q2 orders ahead of the Spring Cleaning and Housewares resets for its 1,700+ stores. However, with this little fact at hand, we still see a slightly lower than expected ordering cycle for the retailer.
With regards to Best Buy, the company is embarking on a serious turn-around effort that could take several years. One key focus area for the company moving forward will be the small appliance category as identified by the most recent hiring of former Chief Operating Officer and Chief Financial Officer at Williams-Sonoma (NYSE:WSM), Sharon McCollam. Additionally, the company is closing non-performing stores such as the 50 it closed recently in Canada and 5 other stores the company closed in China. What is most important to GMCR shareholders though in regards to Best Buy is that GMCR has long since held an end-cap near the front of most Best Buy stores and sources within the company suggest that another consumer goods manufacturer/vendor is taking that space away from GMCR going forward as Best Buy makes a more concentrated push into the small appliance business. This underreported story may be the reason we are seeing light orders of Keurig products from the electronics retailer.
Moreover, with regards to the aforementioned retail distribution partners for GMCR, it remains to be seen whether or not this information proves noteworthy or highly relevant. One thing is for certain, outside of new product placement in stores, GMCR doesn't have much room within the mass market channel to offset order deceleration. What we do find encouraging are the new orders for the company's new Vue brewing system initiated at Bed Bath and Beyond. What is most important about this product pipeline build for the new Vue 1600 brewers is that it effectively matches the pipeline build of the initial Vue brewer system from last year which we feel has been largely overlooked by the analyst community, most notably Mark Astrachan of Stifel Nicolaus. Mr. Astrachan cited the anniversary of the original Vue brewing system in a recent report to clients as possibly negatively impacting quarterly results.
Investment Thesis for GMCR:
GMCR is currently rated a Hold.
We have taken down our Buy recommendation based on the fundamentals noted above and due to the rapid share price appreciation which currently represents a fairly valued stock.
GMCR has typically had difficulty exceeding expectations during the second quarter in the past based on conservative ordering from retail partners and increased operational costs surrounding product launches.
Stock price currently meets the median share price estimate of analysts covering GMCR.
There could possibly be a better opportunity to accumulate shares in the future on pull-backs.
Last on our list of consumer products we continue to track is SodaStream International. Coming out of a record setting Q4 2012 performance for the company, all eyes are on this new product category as it continues to gain market traction worldwide . The company is not just being watched by Wall Street and consumers, it is also being watched by competitive small appliance makers such as Cuisinart, Kitchen Aid and Hamilton Beach.
The home carbonation product category is growing by leaps and bounds and, in time, more and more competitors will step into this growing market. The caveat to entering this market segment is the high barrier to entry formed by the necessity of a CO2 exchange. SodaStream has an extensive pipeline of retailers performing the cumbersome, unorthodox and difficult CO2 exchange process and this pipeline has taken years to develop. Others have tried to mimic SodaStream's CO2 exchange pipeline in the past, but with little if any success. Cuisinart is learning this lesson the hard way, but is carrying through with continued product development within this highly specialized category. NACCO Industries (NYSE:NC) with its small appliance brand Hamilton Beach will be introducing a home soda maker later this Fall. The company decided that if it was going to dive into the home carbonation category, it had better do so using SodaStream International as a partner. Therefore, Hamilton Beach soda makers will be powered by SodaStream's CO2 and CO2 exchange program.
Shelf space is becoming easier and easier for SodaStream to come by as the company continues to witness strong sell-out results and backs the product category with commercial advertising dollars and strong brand partnerships such as Kraft Foods (KRFT) with its Country Time Lemonade, Crystal Light and Kool Aid licensed brands, Campbell Soup Company (NYSE:CPB) with its V8 Splash and V8 Fusion brands and most recently with Ocean Spray s regular and diet versions of Cranberry, Cranberry-Grape and Cranberry-Raspberry. Retailers are flocking to the product category as they look to add to their existing product assortment, thus offering SodaStream products greater shelf space.
SodaStream's latest product innovation, the Source machine, was a hit at the recent International Home and Housewares show and we witnessed retail buyers adding this new soda maker to its existing soda maker line-up.
Investment Thesis for SODA:
We currently maintain a Buy rating on shares of SODA based on retailer support for SodaStream products and orders for its new product line.
New partnerships continue to solidify the barrier to entry in this product category.
Regional expansion efforts will serve to add sales and brand awareness throughout the year.
Management has a strong history of outperformance.
So there you have it investors. Now you have a better picture of how and what your consumer goods companies and their respective retail distribution partners are doing.
Disclosure: I am long BBBY, SKUL, SODA. I wrote this article myself, and it expresses my own opinions. I am not receiving compensation for it (other than from Seeking Alpha). I have no business relationship with any company whose stock is mentioned in this article.