This morning commodity prices are mixed but we do see bids for both gold and silver which we view as a positive right now. One thing to keep in mind is that gold and silver are both inflation trades and one of the newest inflation trades to have emerged in recent years is the oil trade, which even when factoring in the mid-continent glut from horizontal and fracking techniques, has still seen very little inflation trading going on. It is but a matter of time before the dollar retreats in strength and all those dollars which the Fed printed begin to find their way into the economy as holders begin to invest them in ventures to earn an actual return.
Commodity prices this morning are as follows:
Gold: $1581.60/ounce, up by $3.60/ounce
Silver: $28.89/ounce, up by $0.047/ounce
Oil: $91.76/barrel, down by $0.30/barrel
RBOB Gas: $3.1457/gallon, down by $0.0067/gallon
Natural Gas: $3.662/MMbtu, up by $0.013/MMbtu
Oil & Natural Gas
This morning we once again want to talk about direction, as we have found over the years that if one can get the general direction of the market figured out then applying your investment thesis, or theses for those who have more than one. It is much easier to figure out the direction for a subsector than the entire market and that is why we generally try to focus our attention like a laser beam on those areas we find most appealing and then sift through. We have discussed the direction of oil lately priced in WTI terms and everyone knows how Brent trades at a premium, but we think that we may have seen a bottom in prices with the latest bear raid in the oil pits. Yes, WTI prices could fall based on production growth and a continued glut building up in the mid-Continent, however we think for trading purposes as it relates to worldly prices that the bottom is in.
Our favorite barometer for the oil and natural gas sector, Cheniere Energy (NYSEMKT:LNG), continues higher and set another 52-week high yesterday of $23.63/share. The shares were strong all day with a nice rise from the bottom left to the upper right with a close very near the highs of the day. If investors continue to play this name with the risk-on trade, then we see no reason to back off of the throttle in regards to our oil and natural gas investments. It has not served us to go against the direction here in the past and most certainly not recently.
Taking a look at the natural gas space we have noticed many names rising sharply recently with a couple of names even showing up on the 52-week highs list. Those are the lowest cost producers trading at those levels, but even so we want to stress to readers that we do not like 100% natural gas plays. If natural gas is going to have a nice rise we do want to partake in that trade, however certainly not via vehicles lacking significant liquids exposure. We would play the rise via our liquids focused players who are also finding a lot of dry natural gas with those wells as well as Chesapeake Energy (NYSE:CHK), which itself has participated in the recent run-up. That might be the single best way for investors to play it as they are increasing their liquids exposure and simply have a huge production portfolio sitting there helping to produce the glut of the stuff we already have. One thing to remember is that as natural gas prices increase they will at some point alter the economics of the coal v natural gas power plant equation.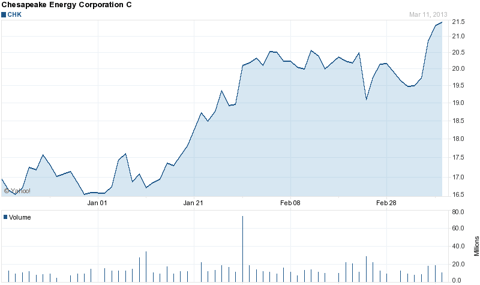 Chart courtesy of Yahoo Finance.
We constantly get questions about the US Natural Gas ETF (NYSEARCA:UNG) and whether that is a good vehicle to trade natural gas for short-term swings. The correct answer: It's complicated. The current answer: NO! Right now the natural gas market is in flux and the fund constantly has to roll over into the short-term futures, losing money each time it seems. Invest in the companies that get you leverage without the costs associated with the trading and managing of the contracts and risks and play the game that way. This also allows one to manage their tax planning effectively rather than having a surprise at the end of the year when they receive their 1099s in the mail.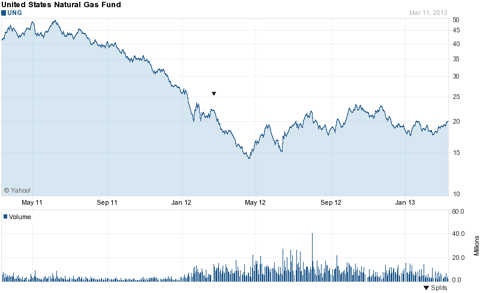 Chart courtesy of Yahoo Finance.
And yes that is a reverse split within the last two years...not a good thing to see on anything, even an ETF...
Also relating to natural gas is the fact that more and more natural gas vehicles are being sold to consumers (see an interesting CNBC article here on the matter). Not commercial users or industrial users (although Warren Buffett seems to be a big fan) but everyday normal people like you and me. Ford reported that they sold 11,600 natural gas fueled vehicles last year which is a figure four times greater than what they sold in 2010. Other US manufacturers and even some foreign names are entering the field now, so it will be interesting to see whether a trend evolves here. It is certainly bullish for natural gas when looking at that data though.
Refiners
We had been big bulls of the refiners recently and had backed the shares all the way up to their recent highs in many cases. We did warn investors to take some money off of the table after the huge pop experienced across the board after Valero (NYSE:VLO) blew away earnings and the rest of the refiners followed suit with solid results of their own. Valero was the name we were most concerned about and with lawmakers hitting refiners with ethanol requirements and rising corn prices, it appears that margins may be facing some headwinds in the near future if they are not already. Valero found some support around the $43/share level and that prevented the fall lower to who knows where. Looking forward, if the shares were to be able to build support around the $44/share level we would certainly feel bullish about trading the shares moving forward.
Precious Metals
Many are saying that the gold bulls have disappeared and maybe they are taking after bears and hibernating - just in the summer when the bears come out. We say all of that is hogwash, and that capital simply chases the best returns. It is an ebb and flow game and as capital leaves one area to seek the higher returns in another, the new capital coming in demands a cheaper price for this underperforming asset. Our belief is simply that we have seen a rotation out and with that rotation out we are now seeing a bottoming out of sorts. Looking at the SPDR Gold Shares (NYSEARCA:GLD) and a chart of gold seems to indicate that to us and that is how we have structured out thesis here. There is an article from Kitco which we found informative this morning, which you can find here.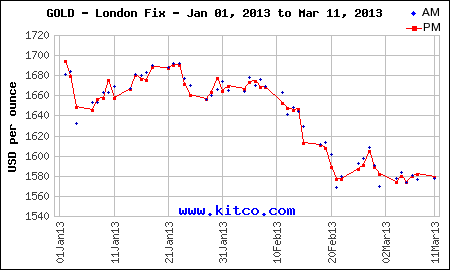 Chart courtesy of Kitco.com.
Disclosure: I have no positions in any stocks mentioned, and no plans to initiate any positions within the next 72 hours. I wrote this article myself, and it expresses my own opinions. I am not receiving compensation for it (other than from Seeking Alpha). I have no business relationship with any company whose stock is mentioned in this article.