Diamond Foods (NASDAQ:DMND) released its FY13 Q2 earnings on Monday after market close. While revenue disappointed, gross margin and free cash flow were impressive. Second quarter gross margin dollars and adjusted Free Cash Flow increased 20.6% and 89.7% Y/Y respectively in spite of the 15.8% decline Y/Y in revenues. Management's plan of consolidating the business into a sustainably profitable growing operation is seeing positive results. Diamond has been focused on improving margins by reducing its reliance on discounting and shedding low performance SKUs. The company also split its business into two reporting segments (Snacks & Nuts) that allow investors to track profitability by product group. Management commented during the call that while the SKU consolidation was largely complete, it will take the next couple of quarters to stabilize the Nut revenue as supply will remain an issue through the end of FY13. Investors reacted negatively to the revenue miss in after hours trading sending shares down 5.85% after a 23.8% run up since the start of the year. I believe the initial reaction was misguided, as Diamond's turnaround strategy is working to improve profitability, increase cash flow and reduce debt. This will take time, but the early results are very encouraging.
Figure 1: Diamond Foods' Gross Margin$ Up 6%, Adj. FCF Up 10x Y/Y in First Half of FY13
Diamond's gross margin improvement is striking. Gross margin increased $8.6M on a $41.5M revenue decrease Y/Y in Q2. The Snack business grew revenue by $7.1M on 90.4% incremental gross margin Y/Y through improved net price realization. The Nut business removed $48.6M of negative 4.7% gross margin revenue through SKU reduction. This means that Diamond was able to increase gross profit in the nut business by $2.3M by reducing revenue substantially even after lower volume absorption. This could lead to further margin improvements down the road and reduce future capital expenditure requirements if growth resumes in the Nut business.
Figure 2: Diamond Foods Adjusted Free Cash Flow since start of FY11 ($M) totals $123.0M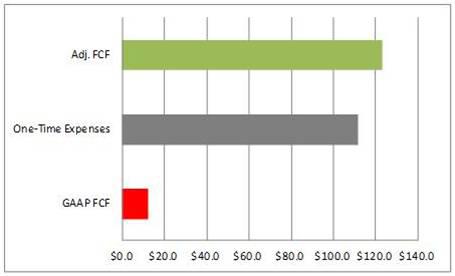 With the close of the second quarter the accounting investigation expenses and impact on earnings and cash flow are behind it. Since the beginning of FY11 (last ten quarters), Diamond has recorded $111.2M of one-time expenses due to its failed acquisition of Pringles ($61.7M) and the investigation into its accounting of walnut payment timing ($49.5M). Removing those non-recurring charges from Diamond's free cash flow over that period uncovers that ongoing operations generated $123.0M of adjusted free cash flow (see Figure 2), including an impressive $56.7M last quarter. Last quarter's free cash flow enabled Diamond to reduce debt net of cash by $43.1M during Q2 (7.2% reduction). This is critical as Diamond's quarterly interest payment stands at $14.2M/Q reducing quarterly EPS by $0.61. On a trailing twelve month basis, Diamond has increased adjusted free cash flow by 41% Y/Y (Figure 3).
Figure 3: Diamond Foods Adjusted Free Cash Flow per share Y/Y
The Free Cash Flow Valuation Case
In spite of declining Nut revenues, Diamond has demonstrated strong cash flow execution due to a growing Snack business and significantly increasing gross margins. With the removal of one-time expenses, Diamond generated $2.45 per share in adjusted free cash flow over the past four quarters (including the increased diluted share count from the Oaktree warrant). With a reasonable trailing Price-to-FCF ratio of 12, that already places fair value at $29.40 versus an after-hours closing price of $16.57, implying 77% upside potential.
Conclusion
For those attracted to the large potential upside of a turnaround, Diamond Foods presents an interesting opportunity as ongoing operations are generating significant cash flow as the company executes on its strategy. The Snack business is growing, gaining share and producing large incremental gross margin. As others have shown, the Snack business is worth more on its own than what all of Diamond is currently valued at. While the Nut business provides significant growth headwinds to the overall results, Diamond has been able to increase gross margin dollars from the segment thus decreasing the impact of its declining revenue. The pull-back in after hours trading presents an opportunity to enter at a reduced price.
Disclosure: I am long DMND. I wrote this article myself, and it expresses my own opinions. I am not receiving compensation for it (other than from Seeking Alpha). I have no business relationship with any company whose stock is mentioned in this article.