During the last decade, the total demand for gold has skyrocketed as demand sources diversified. Total gold demand for investment, fabrication and hoarding has tripled since 2001 to almost $120 billion in 2009. In 2004, an ounce of gold was worth $400. The commodity's price increased year after year to reach $1,200 in 2010. By 2011, gold rose above $1,900 per ounce. These days, the price of gold is trading around $1,550.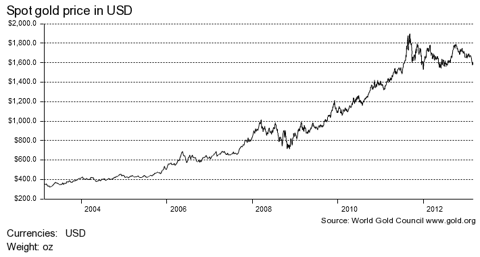 In this article, I will discuss about how the fiscal and monetary policies of the Federal Reserve are influencing the economy and ultimately, the gold market (NYSEARCA:GLD). Thus, the struggled economy caused either the recent decline in the commodity's price as a sign of deterioration for the future or the market was only adjusting itself somehow to a specific event. The U.S. economy is still suffering from the conditions of some unstable prices with essential commodities and a high unemployment rate. What future lies for investors? Does gold represent the buoy the investors desperately need in this troubled market?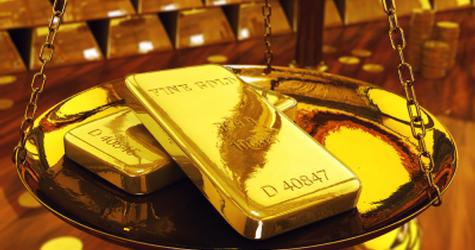 Gold is intricately linked to the confidence of investors. What you see as a small bump in the road could worsen into bigger bumps and everything can spin out of control before you know it. So, you better be prepared. I will try to dig out the market trends and highlight the signals the U.S. economy is trying to tell us and help investors make a rational decision on the necessity of hedging their portfolio with gold to enable a reasonable protection or to invest on a possible bullish gold market. My next article will reveal the best positioned public traded gold producers in the world with a thorough analysis for each of them to provide a complete insight for investors interested in the gold market. But first, let's take a look at the U.S. economy.
U.S. Economy Still On Recovery From 2009 Crisis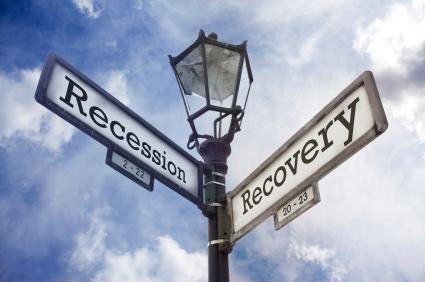 The economic activity has moderately expanded since mid-2012 as real GDP (gross domestic product) has risen to an estimated rate of 3% annually in Q3 2012 with a setback in Q4 2012 of almost no improvement, according to Ben Bernanke, Chairman of the Federal Reserve System on February 26, when he addressed (pdf) the Committee on Banking, Housing and Urban Affairs of the U.S. Senate on the semiannual Monetary Policy Report.
Mr. Bernanke stated that economic activity was temporarily restrained by weather-related disruptions and by transitory declines in a few volatile categories of spending but economic growth has kept slowly going nonetheless. After this year, economic growth will speed up according to CBO (Congressional Budget Office) projections, causing the unemployment rate to decline while inflation and interest rates will eventually rise from their current low levels.
The unemployment rate decreased a bit since its cyclical peak of 2009. However, the job market remained generally weak with the unemployment rate well above the normal level. The high unemployment rate has an impact on the economy as the government sustains revenue losses, thereby leading to larger deficits. If the current laws governing federal taxes and spending remain unchanged, the budget deficit will shrink this year to $845 billion or 5.3% of GDP, its smallest size since 2008.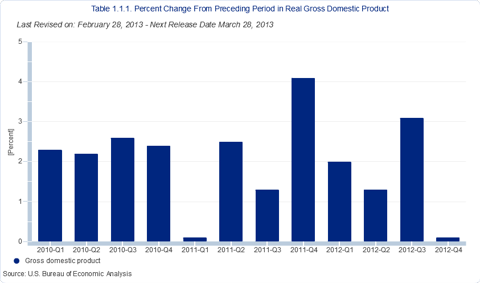 Another reason contributing to the slow growth of the U.S. economy is the recent increase in gasoline prices. Higher crude oil prices and wider refining margins had a negative impact on family budgets. Despite the rise of oil prices and a slight increase in the price index for personal consumption expenditures, the inflation rate should remain at or below its objective of 2%.
The economy appears to have avoided for now, the $600 billion in spending cuts and tax increases with the preliminary agreement by Republicans and Democrats in early January to avert these impending drastic measures. Had these measures been enforced, the repercussions would have translated into a cut of almost 5% off GDP in 2013 and pushed the economy back into recession.
The U.S. National Debt, A Burden To The Federal Budget
The challenge for the federal government is to enforce fiscal laws in the purpose of easing the federal budget to promote economic growth and stability without unnecessarily impeding the current recovery. A substantial part of the progress in lowering the deficit has been concentrated in near-term budget changes, which taken together, could create a significant headwind for the economic recovery. Moreover, despite significant efforts, projected federal deficits will increase because of the pressures of an aging population, rising healthcare costs, expanding of federal subsidies for health insurance and growing interest payments on federal debt.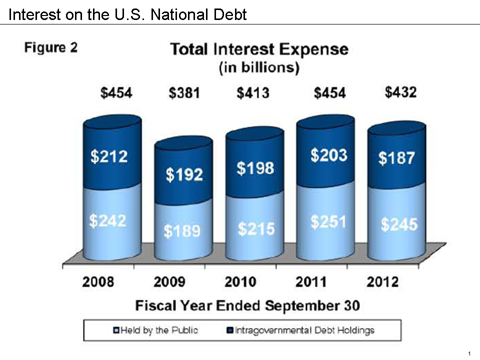 Source: CBO
By 2023, the CBO estimates that if current laws remain in place, debt will equal 77% of GDP and be on an upward path. Thus, the deficit-reduction policies in current law will slow the pace of real GDP growth by about 1-1/2 point of percentage this year, about what it would have been otherwise. As of March 10, 2013, the U.S. National Debt was more than $16.81 trillion, representing a debt per citizen of $52,880.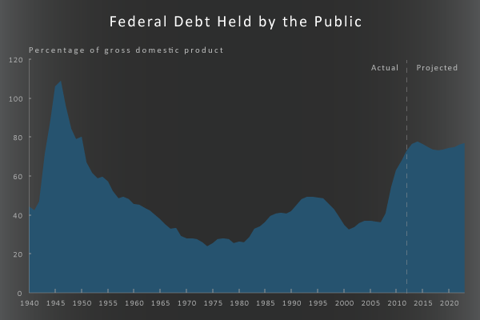 Source: CBO
"To promote economic growth in the longer term, and to preserve economic and financial stability, fiscal policymakers will have to put the federal budget on a sustainable long-run path that first stabilizes the ratio of federal debt to GDP and, given the current elevated level of debt, eventually places that ratio on a downward trajectory" said the Chairman of the Fed in its statement.
A New Monetary Policy To Sustain Low-interest Rates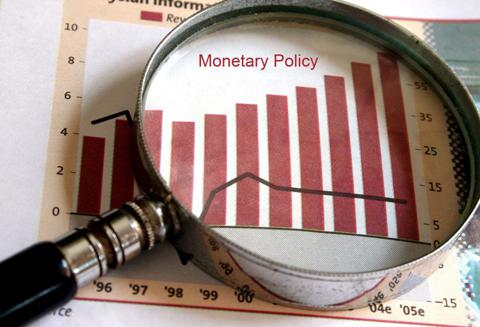 The Federal Reserve has a dual mandate to achieve its goal: in addition to keeping inflation in check, the American central bank is also attempting to lower the unemployment rate through monetary policy, a task not easily achieved. Over the last couple of years, we have clearly seen that while the economy has started to improve, it is far below GDP growth levels.
Given the circumstances, the Fed needs to adopt an accommodative monetary policy. To do so, two policy tools are planned to be used. The first policy tool refers to "forward guidance" about the FOMC (Federal Open Market Committee) and how it intends to anticipate the federal funds rate by providing more explicit guidance, thereby expecting the policy rate to respond to economic developments using specific inputs. Therefore, the current exceptionally low range for the federal funds rate will be considered appropriate at least as long as the unemployment rate remains above 6.5% and the projected inflation rate is expected to be no more than a half percentage point above the Committee's fixed goal of 2%.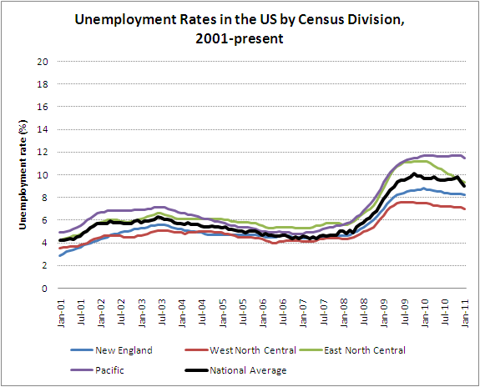 Source: U.S. Bureau of Economic Analysis
The benefit of this new policy allows the market to update its monetary policy expectations more accurately in response to new information about the economic outlook. The new guidance is also useful to promote a stronger economic recovery with stable prices as long as the maintaining accommodation is necessary. The second policy tool in effect by the FOMC is a large-scale purchases of longer-term securities, which are intended to support economic growth by putting downward pressure on longer-term interest rates. Once a substantial improvement in the outlook for the labor market in a context of price stability is achieved, the FOMC stops the purchases.
These new tools in the monetary policy will provide important support to the recovery while keeping inflation close to the FOMC's 2% objective. For example, keeping longer-term interest rates low has helped boost recovery in the housing market and other durable goods. Consumers regain confidence in the overall economy and are more prone to spend.
Policymakers face difficult trade-offs in deciding how quickly to implement policies to cut budget deficits. On the one hand, cutting spending or increasing taxes would slowly lead to a greater accumulation of government debt and might raise doubts about whether longer-term deficit reduction would ultimately take effect. On the other hand, abruptly implementing spending cuts or tax increases would give families, businesses and state governments little time to plan and adjust, requiring more sacrifices sooner from current older workers and retirees for the benefit of younger workers and future generations.
The Gold Market, Bullish Or Bearish?
The price of gold is intimately related to the confidence of investors in the stock market. When the investors are feeling bearish about stocks, gold prices tend to rise because gold represents a shelter when the stock market dips. Therefore, investments are shifted in the gold market as hedging. Recent declines in gold prices are causing concerns among investors. Is the decline trend temporary or a sign of more trouble to come?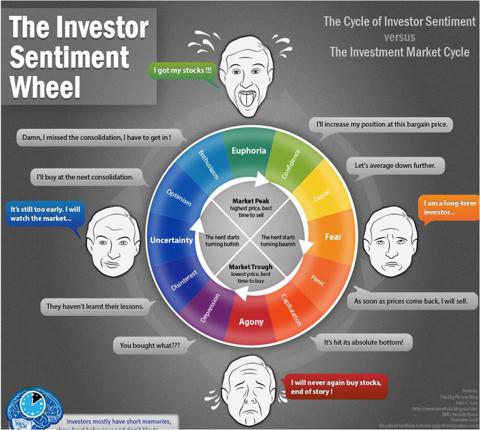 Source: Ginormous Content Limited
Confidence in the stock market is slowly increasing, which can explain in part, the recent decline in gold prices. However, other factors must be looked upon. The Federal Reserve's bond-buying efforts have kept interest rates near zero and helped cause the outburst in gold prices. This loose monetary policy also helped the U.S. economy to regain some strength. This situation has been beneficial for the stock market as a result. Adding the eventual prospect of tightening its monetary policy, the Fed has created uncertainty in the market and has been partly responsible for the recent decline.
As we have seen above, the monetary policy will not tighten as some analysts were expected. Part of its strategy, the Fed's large long-term securities purchase to support economic growth should keep long-interest rates very low. Doing so, gold prices should remain relatively high. However, it is pretty hard to accurately predict the price of gold because gold isn't dependent on long-term supply and demand metrics as much as an investor's emotional decision. Then, seeing a decline doesn't mean the gold market is getting bearish. It might just be the market adjusting the gold prices to the level it should be at in the first place.
Gold Demand Trends
While gold has traditionally been associated with money, jewelry and investments, there are many other uses for the precious metal. From telephones to dentistry, gold's unique properties have made it invaluable to a variety of industries. The technology industry uses gold in various practices: touch tone telephones typically contain 33 gold-plated contacts, semiconductor devices uses a fine gold wire to connect parts. Contacts of switches, relays and connectors are also electroplated with a very thin-film of gold.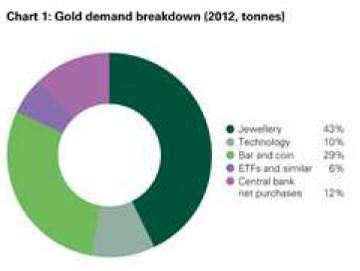 Source: World Gold Council
Dentistry uses gold for its malleability, resistance to corrosion and non-allergic properties. The engineering industry uses gold in applications such as brazing alloys, electrical products and even for its reflection properties when used as a thin coating in building glazing to reflect heat radiation. Finally, gold is used for legal tender currencies and major holding reserves for central banks countries.
According to the WGC (World Gold Council), the annual demand (pdf) for gold in 2012 reached a record value of $236.4 billion, although it declined on a tonnage basis by 4% from 2011 to 4,405.5t (tonnes). In comparison, the total demand in 2003 was worth $30.3 billion value for 2,594t of gold. Thus, over nine years the demand for the commodity increased by over 680% of worth value or a growth of 69.83% in tonnage. Either way, it represents a considerable increase for almost a decade.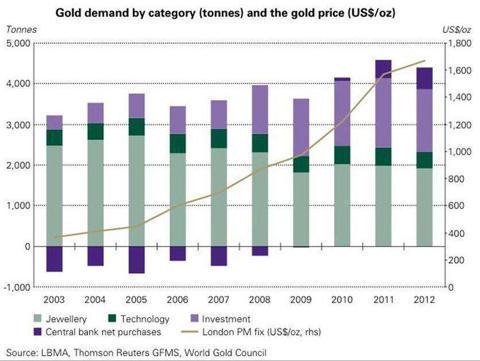 The chart below illustrates the 10-year rising trend in value of consumer demand for jewelry (pdf), gold bars and coins. 2012 saw a significant decrease in value of investment demand. Nonetheless, a 3% growth in gold jewelry was observed. The dip of gold bar and coin investments to $67.4 billion in 2012 can be explained by its fast rise from 2003 to 2011 from a little under $3.6 billion to $76.6 billion.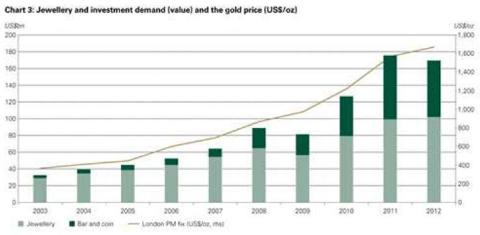 Source: World Gold Council
Gold-based ETFs have been a significant source of investment demand. The amount of physical gold held by these funds has increased from nearly zero in 2003 to more than 30 million ounces in 2010. A 17% drop in demand for bars and coins together with a 51% increase in ETFs created a 10% reduction in investment demand. Even declining, growth in investment demand remains strong. As a matter of fact, despite many headwinds, emerging markets are responsible for the majority of physical gold demand. Although, investment demand is showing signs of improvement. The MSCI Emerging Market Index has continued to perform well through the latter half of 2012.
Investment Trends
Source: World Gold Council
In the jewelry (pdf) sector, 56% of the total annual demand was generated by the two largest jewelry-consuming markets, China and India. Annual demand for gold in the technology sector decreased by 5% in 2012 to 428.2t compared to the five-year average of 453.1t. The electronics sector experienced the same drop over the year to 302.7t. In the industry sector, demand for gold declined by 4% to 85.7t. Demand in the dentistry sector declined as well considering higher prices for gold, which led consumers to substitute gold for cobalt, chrome or ceramic, resulting in a drop of 8% to 39.9t.
The list of countries actively adding to their official gold holdings is heavily concentrated in developing markets. Central banks garnered a greater share of gold demand in 2012 with 12% of the total demand comparing to 10% in 2011. Among the countries involved, Brazil and Paraguay both made significant purchases. Central banks across the globe bought for 2012 a total of 534.6t of gold, representing the greatest level of demand since 1964. As of February 2013, the world accounts for 31,597.6t in gold according to the WGC. The U.S. holds 75.7% of total foreign reserves with 8,133.5t, ranking first. China comes sixth with 1054.1t of gold while Canada holds 3.4t for the 84th place.
Gold Supply And Undiscovered Deposits Of Gold
Production of gold is on a rising trend (pdf) since 2008. For 2012, production grew by 0.4% to 2,847.7t, 9% above the five-year average of 2,614t. The negligible increase is partly due to unforeseen delays at a number of mines as well as the impact of planned production interruptions. Another part of this low increase resides in the widespread labor unrest in South Africa, which explains this situation. Recycling of gold contributed for 1,625.6t to the total supply in 2012, a slight decrease of 2.6% or 42.9t over 2011 despite a 6% increase in the average gold price over the period.
For decades, the constrained supply of the precious metal underlies the need for gold producers to seek out new gold deposits in more remote and new mining regions around the world. Since 2000, the number of major gold discoveries has declined while the amount spent on exploration has increased. Finding gold has become a more expensive and difficult operation as the traditional areas of gold production have been mined.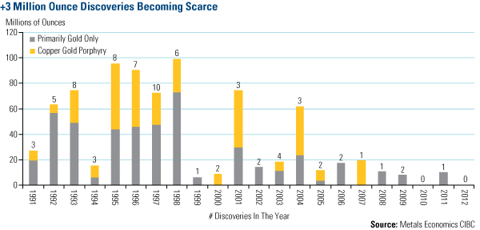 According to the USGS (U.S. Geological Survey) in its 1998 Assessment (pdf) of Undiscovered Deposits of Gold, it estimated that 18,000t of gold were undiscovered deposits minable in the United States with the existing technology. It was also estimated that 15,000t of gold were remaining in identified resources yet developed. To help everyone involved in the gold market, the NRH (Natural Resource Holdings) has conducted research in 2012 (pdf) to gather more recent data on gold and compile among other parameters, a list of actual gold deposits.
This year's results confirmed both the scarcity of gold deposits as well as the lower-grade production trends facing the industry. In 2012, 212 entities (public, private and government sponsored corporations) owned 439 gold deposits (pdf) representing a total slightly over 3,015 billion ounces of gold.
Percentage of gold (in ounces) by region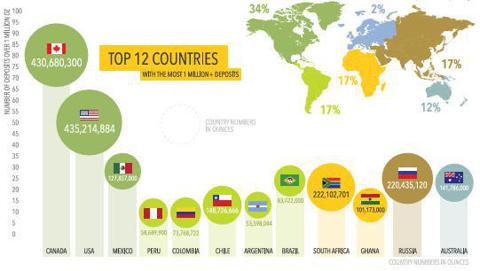 Source: NRH
To recover the billions of tonnes from these ounces of gold, several factors will cut that number such as metallurgical recovery rates, economic pit outlines and physical constraints. Following this assumption, out of the 439 deposits, 189 are in fact producing mines owned by companies with an average market capitalization of $1.8 billion. This leaves a global undeveloped deposits over 1 million ounces of just 250.
From these deposits (pdf), miners owned 84 of them while the last 166 left are owned by independent junior companies, private companies or government sponsored enterprises. Investors seeking leverage to gold should focus on these companies as they provide the best exposure if the gold market gets bullish. In the U.S, 26 companies owned only 33 undeveloped deposits over 1mm ounces. In Canada, 49 companies owned 59 undeveloped deposits.
Assuming that all 250 undeveloped deposits were somehow permitted and financed tomorrow, with 49t billion to mine at an average grade of .66 g/t, it would take no less than 25 years to extract the one billion ounces contained within these deposits. To figure this, the assumption is that the average build time would be three years and the average mill size would be 25,000t per day.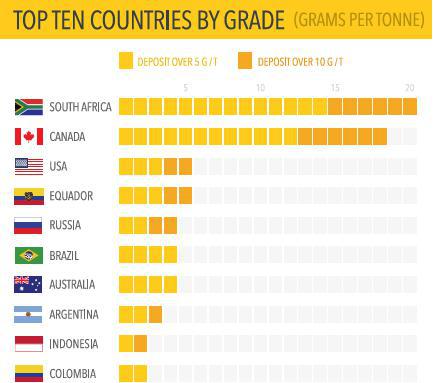 Source: NRH
Most probably, 50% or more of the undeveloped deposits will likely remain unchanged 25 years from now for a variety of reasons such as government mining permission, finance operations and finally, the amount of gold subject to attract a potential producer.
Bottom Line
The U.S. economy is slow to regain from the global financial crisis of 2009. The stock market recovered better but remains fragile. The fiscal and monetary policies adopted a few days ago will keep on easing the fundamentals to promote economic growth and stability. These politics will continue to support high prices for gold, representing a good opportunity to open a short position on the commodity to profit from the gold market growth or going long if hedging strategies are pursued as a shelter to the troubled stock market.
Among the important metrics discussed above, investors should look for other factors such as geopolitical risk, permitting challenges and most importantly, infrastructure when ranking deposits for a potential investment. It is essential to keep in mind the following rule of thumb: even high-grade deposits with no infrastructure are inferior to easily mined bulk tonnage deposits with close infrastructure in a stable jurisdiction.
Now that I presented the fundamentals surrounding the gold market, the increasing global demand for the commodity and the undeveloped gold deposits around the world, my next article will look at the top six public trading gold producers in the world. Thus, the sixth gold producer will be revealed with a thorough analysis of its assets, production output, development projects and its future outlook to provide a complete insight for those interested in investing in the fascinating world of the gold market.
Disclosure: I have no positions in any stocks mentioned, and no plans to initiate any positions within the next 72 hours. I wrote this article myself, and it expresses my own opinions. I am not receiving compensation for it (other than from Seeking Alpha). I have no business relationship with any company whose stock is mentioned in this article.