Precious metals are off to a fast start this morning as speculation grows as to whether an enduring bottom is now in for gold and silver prices.
There have been many headwinds for the metals in recent months - the failure to make new highs after the latest rounds of Fed quantitative easing, a surging trade-weighted dollar, etc. - and hedge funds have clearly preferred equities, helping to drive U.S. stock indexes to record highs.
But, physical demand for gold and silver has been steady as Asia buys what U.S. hedge funds have been selling. Demand for silver has been exceptionally strong as coin sales have set new records and silver ETFs have added to their holdings as prices have fallen.
It's increasingly likely that the monetary metals have bottomed.
Another asset class that may have already seen the worst of the selling is junior gold and silver mining stocks.
As shown below via BigCharts, after reaching a record low last week at just below $15 per share, the Market Vectors Junior Gold Miners ETF (NYSEARCA:GDXJ) has surged in recent days relative to the much larger Market Vectors Gold Miners ETF (NYSEARCA:GDX).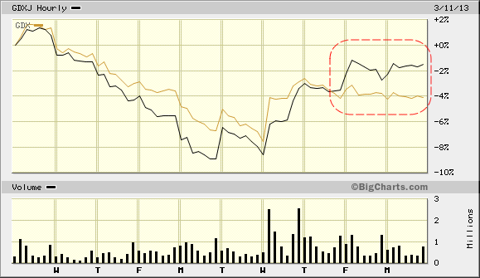 There have been false starts for mining stocks before and, investing in this sector lately has been like "catching a falling knife", but if gold and silver prices can mount a recovery from current levels, related stocks might just follow.
It's been a miserable two years for mining stocks in general and small-cap shares in particular as investors have largely abandoned this sector.
In the junior mining sector, share prices have dipped so low that many companies now have market capitalizations less than their cash in the bank.
It's been anywhere from difficult to impossible for juniors to raise money and, since these are largely exploration companies with no real cash flow, they must raise money in order to survive.
Many or them won't survive or have already closed down.
As shown below going back more than three years, the junior miners tend to lead the large-cap gold stocks when the two advance, as was clearly the case back in 2010.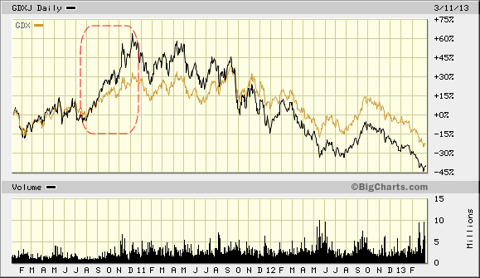 That's why the last few days of trading could be significant and it's important to remember that, when junior mining stocks begin to move, they can move very quickly.
Today's market action will be telling.
Anyone who has read my previous commentaries on the relative merits of precious metals and related shares knows I haven't been the biggest fan of mining stocks in recent years, but I still own them.
For reasons detailed in the articles below, I've preferred the metals to the shares:
Clearly, since mining stocks began to tumble from their late-2010 highs, a much higher weighting of gold and silver bullion relative to the shares was a good decision as shown below.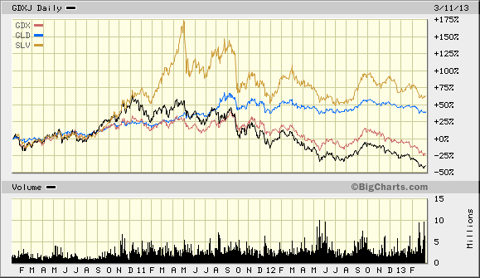 But, I still hold out hope for gold and silver mining stocks for reasons detailed in part three of the series above.
Why?
My expectation continues to be that, if we enter a high-inflation environment, the price of just about every asset will go up significantly and, based on the amount of money central banks around the world have been printing (and will continue to print), that outcome seems more likely every day.
Should that develop, interest in mining stocks as a leveraged bet on the price of gold and silver could quickly return and share prices could be sent skyward.
It's happened before and it could happen again.
Yesterday, China reported sharply higher inflation in February and the U.S. inflation rate is set to jump on Friday when the Labor Department reports on consumer prices that, for the first time, will reflect the recent surge in energy prices.
There are no guarantees and junior mining stocks have been a continued source of disappointment for 26 months now, but, it's possible we've seen the bottom for this sector.
More importantly, this could trigger renewed investor interest in this beleaguered sector.
Disclosure: I am long GDXJ, GDX. I wrote this article myself, and it expresses my own opinions. I am not receiving compensation for it (other than from Seeking Alpha). I have no business relationship with any company whose stock is mentioned in this article.