Over the past six months, despite massive bond buying by the Fed, ECB, BOE, and BOJ, as shown by the chart below, gold prices have moved sharply lower. Shares of Newmont Mining Corp (NYSE:NEM), one of the world's largest mining companies have also moved sharply lower. There are three reasons why NEM is a better buy than physical gold ETFs such as SPDR Gold Shares Trust (NYSEARCA:GLD) and iShares Gold Trust (NYSEARCA:IAU).
Dividend
Right now, NEM pays an annual dividend of $1.70 giving the stock a 4.3% yield. This is a significant dividend which makes NEM a viable stock for income investors. Comparably, the physical gold ETFs, IAU and GLD, offer no dividend. It must be noted that if gold prices continue to move lower, NEM will reduce the dividend based on its previously announced enhanced dividend policy. That being said, even if NEM is forced to cut the dividend, the yield will still be much more attractive than what is offered by GLD or IAU.
Correlation Breakdown With Gold
As shown by the chart below, NEM shares are trading at the same level as they were when gold was trading well below $1,000 per ounce. The failure for NEM shares to move at least somewhat higher given the surge higher in gold is surprising. Yes, in 2012, NEM faced production troubles, labor issues, and political problems in Indonesia and Peru but the real value in NEM is its underground reserves. In my opinion, investors have been much too focused on the short-term issues with the mining operation itself and not focused enough on the increase in value of underground reserves.
Valuation
As shown by the chart below, NEM is trading at historically low valuations. NEM famously eliminated its hedging program in 2007. Of course, this was a good decision as gold prices have moved sharply higher since 2007. However, I am of the opinion that it is time for NEM to evaluate some strategic alternatives given the company's depressed valuations.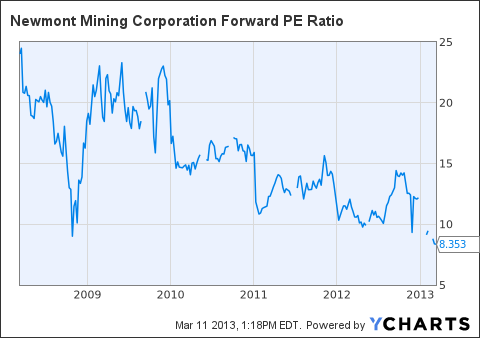 NEM Forward PE Ratio data by YCharts
Strategic Alternatives
To bring out shareholder value, I believe there are a variety of possible strategies.
1. Re-initiate hedging. Perhaps it makes sense for NEM to re-start its hedging program as gold prices have surged since the company eliminated its hedging while NEM shares have done nothing. As shown by the chart below, gold prices are up 143% since NEM ended its hedging program while NEM shares are down 1%.
2. Sell non-core assets. NEM could look to sell non-core assets in an effort to bring out shareholder value. The proceeds from any sale should be used to buy back stock given the current valuation of shares.
3. Put the company up for sale. Given NEM's size, it is not unreasonable to assume that other, more diverse, mining companies would be interested in NEM. In addition to other mining companies, I would not be surprised to see private equity investors show interest in NEM at these valuations. For example, if I were a private equity investor I would make a bid for the company and then initiate a massive hedging program for the next ten years. Presumably, given proper hedges, NEM should earn between $3.50 and $4 per year for the the duration of the hedges. After this period, the money used to buy the company will be repaid and the owners will be left with a unhedged mining company with massive reserves which could be taken public producing a windfall for the owners.
Conclusion
Due to its dividend yield, lack of consideration for the increase in gold prices over the past six years, and current valuation I believe NEM is a better buy than physical gold ETFs such as GLD and IAU.
Disclosure: I have no positions in any stocks mentioned, and no plans to initiate any positions within the next 72 hours. I wrote this article myself, and it expresses my own opinions. I am not receiving compensation for it (other than from Seeking Alpha). I have no business relationship with any company whose stock is mentioned in this article.