Quality Systems Inc (NASDAQ:QSII) made it through the personal filter I ran on the Forbes 200 Best Small Companies. The fundamentals of the company are solid and it is one of the rare companies that came out of 2008 on a positive note at 55%. Very positive indeed.
Quick Look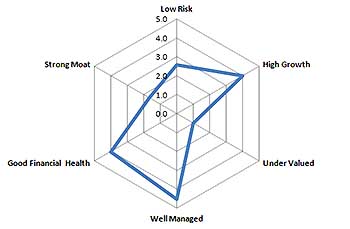 Business Introduction
"Quality Systems Inc. develops and markets healthcare information systems that automate certain aspects of medical and dental practices, networks of practices such as physician hospital organizations (PHOs) and management service organizations (MSOs), ambulatory care centers, community health centers, and medical and dental schools."
The company operates as two divisions:
QSI Division focuses on developing, marketing and supporting software suites sold to dental and certain niche medical practices.
The NextGen Division focuses principally on developing and marketing products and services for medical practices.
Both these divisions create software designed to automate and streamline administrative functions required for operating a medical or dental practice. It's important to note that a vast majority of practices have already implemented automated solutions, so replacements and adoptions rates are low. This leaves QSII to compete for business from physicians still on the paper and filing cabinet system.
NextGen Division makes up 91.4% of the revenue in fiscal year 2008 compared to 89.4% in fiscal year 2007. QSI Division accounted for 8.6% and 10.6% of revenue in fiscal year 2008 and 2007, respectively. As you can see, the main source of revenue comes from converting practices over to a software-based solution.
Numbers
Honestly, whichever way you look at it, QSII is strong fundamentally. Slice and dice all you want but the company's books are solid.
Here are some highlights:
Steadily and consistent in increasing gross margins. Ended 2008 at 70% compared to 71% in 2007 and 69.8% in 2006. The high margin is to be expected from a software company.
Operating profit of 31.8% and Net profit of 21.5%. Barely any declines to the prior years.
Revenues increase year over year although COGS and R&D as a percentage of revenue is decreasing. They are able to maximize sales.
Consistent FCF and tangible book value growth.
Able to generate around $0.20 for every $1 they invest.
Median earnings growth of 43% throughout the past 10 years.
Good dividend yield of 2.8%.
See the numbers for yourself from the past 10 10Ks and 20 10Qs.
All this is why QSII continues to trade at a premium to my fair value assumptions. In terms of competition, it is second only to AthenaHealth Inc. (NASDAQ:ATHN).
Valuation
Low estimate: $22 (assuming 15% growth)
High estimate: $36 (assuming 26% growth)
View the full valuation analysis.
Additional Points
The only aspect lacking with QSII business-wise is its moat. There is no doubt that there are plenty of small practices that have yet to convert to an electronic system. The industry is highly fragmented and with it comes numerous competitors from both public and private organizations. QSII believes its principal competitive advantages are the features and capabilities of their products and services, high level of customer support, and extensive experience in the industry. Again, there is nothing a competitor cannot replicate or do better.
The new stimulus package from the Obama administration will also benefit QSII, with about $16 billion expected to be pumped into the industry.
Conclusion
So what is stopping me from buying? The price of course. The company is great, but for me, not at this price. The question is whether QSII satisfies GARP (Growth at a Reasonable Price). If QSII is unable to meet its current lofty expectations, the stock will surely suffer and most probably plummet downwards creating an entry point. Until then, I'll wait and see.
Disclosure: No positions of any stocks mentioned at time of writing.