The goal of this article is to highlight how changes in the relationship between share price and short interest could indicate a potential short squeeze for BlackBerry (BBRY) shorts.
Short Interest Continues to Increase
Numbers seldom lie, and the general consensus is that the market is always right. An efficient market will price all relevant information into the share price. Except for when it does not (to our frustration).
For BlackBerry investors, one number that is grabbing their attention is 28%. This number represents the percentage of shares held short as of February 28, 2013. There are now 147 million shares that have been borrowed and immediately sold in the market, with the assumed expectation of a drop in share price. How investors interpret this number, could mean the difference between massive losses and massive gains.
A Very Expensive, Misleading Number from the Past
To get a feel for how misleading numbers can be, this article will first touch on a recent example: The infamous Volkswagen short squeeze that occurred in October 2008.
Just over four years ago, the number that eventually grabbed the attention of investors of Volkswagen (OTCPK:VLKAF) was 31%. This number was the percentage of Volkswagen ownership that Porsche (OTCPK:POAHF) had publicly declared it owned.
When Porsche publicly disclosed that they had significantly increased their position in Volkswagen, a massive short squeeze occurred. The market had priced Volkswagen with the assumption that Porsche had the long standing 31% Volkswagen stake. However, Porsche announced that they had increased this position to 42.6%, as well as another 31.5% in cash-settled stock options. This effectively raised Porsche ownership of Volkswagen to 74%. The consequence of this was immediate panic buying by Volkswagen short sellers, as this meant that only 6% of the Volkswagen voting stock was still floating in the market. The market had been "caught off guard" by this revelation, as Porsche was not required to disclose its cash-settled stock option position.
The result in Volkswagen share price was an increase from €210 to over €1000 in less than two days - which was devastating for short positions. Amazingly, short interest only represented 12.8% of the outstanding Volkswagen shares.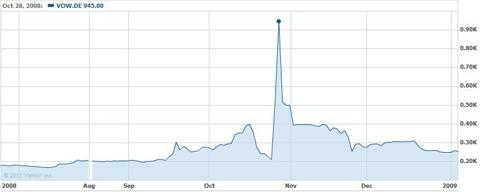 A Potential Misleading Number for BlackBerry Short Positions
Fast-forward to today, and we see 28% short interest in BlackBerry. Has the market efficiently priced short interest? Analysis appears to show that it has not.
Short interest usually is gauged as a prediction that a share price is ready to fall. Many investors will look at this number and assume just that. Often, investors will overlook that short positions are also used as a counter-bet to hedge long positions.
September 2012: A Significant Change in the Relationship between Share Price and Short Interest
When charting the share price in BlackBerry over the last 12 months and comparing to the change in short interest, a dramatic change is evident in the last six months. From March to September of 2012, share price and short interest in BlackBerry was inversely correlated. As share price dropped, short interest increased in relation to it. Therefore, short interest was acting with price movement.
BlackBerry's closing share price on March 15, 2012, was $13.45. Short interest was just over 60 million shares. Six months later, the share price had declined to $7.56 on September 14th. Short interest had increased to almost 83 million shares (an increase of nearly 23 million).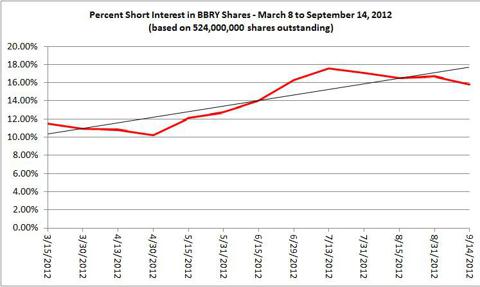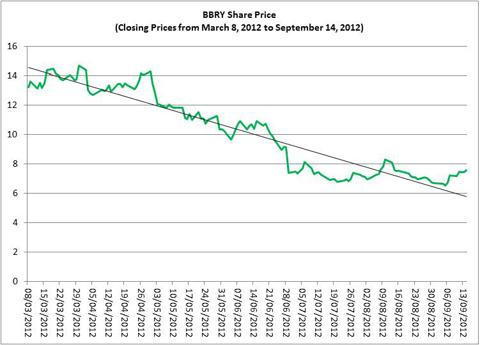 A Change in the Trend
However, in September of last year, the trend reversed. As share price began to increase, short interest continued to increase. In fact, short interest has increased even more than it did in the previous six months.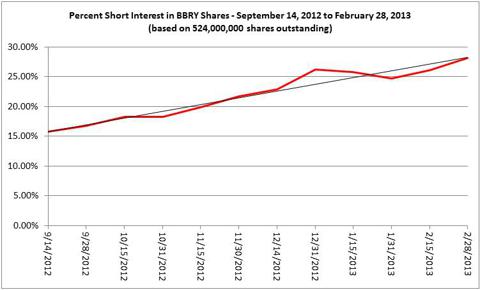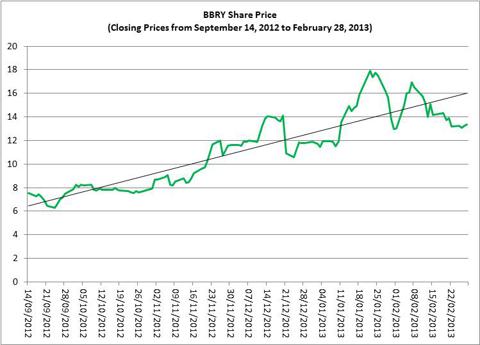 Since September, the share price has increased to $13.36 as of February 28, 2013, and short interest has topped a whopping 147 million. Short interest has increased nearly 65 million in six months. This represents a 78% increase in short interest positions, while the share price has also increased by 77%! These two numbers are eerily close to one another.
(www.nasdaq.com/symbol/bbry/short-interest#.UT5vFld4uF8)
Speculating the Speculators - A Case for Going Long BlackBerry
The trend from March to September last year would indicate bearish activity, with ever increasing short interest coupled with decreasing share price. However, the dramatic reversal of this trend in the last six months would indicate that other forces are influencing short interest. It is assumed that hedging activities have dramatically increased since September, and have now created a misleading statistic in 28% short interest totals in BlackBerry shares.
If this assumption is correct, then a large portion of the 28% short interest are positions held by investors who want the share price to appreciate.
Thus, a massive short squeeze is definitely possible. Perhaps not as dramatic as Volkswagen in 2008, but none-the-less painful for short positions.
Regardless of your opinion on BlackBerry as a company, the number 28% could be all the number you need in deciding to go long BlackBerry.
Disclosure: I am long BBRY. I wrote this article myself, and it expresses my own opinions. I am not receiving compensation for it (other than from Seeking Alpha). I have no business relationship with any company whose stock is mentioned in this article.