With a high dividend yield of 4.9%, AT&T (NYSE:T) grabs the attention of investors looking for income or dividend reinvestments. I wanted to analyze where the company currently stands and where it is likely to go in terms of a long-term investment. The company obtained 46% of its 2012 revenue from wireless services, 25% from wireline data, 18% from voice, 6% from wireless equipment, and the remainder from other sources.
AT&T did have an incremental gain of 0.6% in operating revenue for 2012. Operating income increased 41% last year. The company experienced growth in wireless subscribers, while its voice segment has lost revenue as customers switched to wireless services, VoIP and cable voice offerings. Total switched access lines decreased 13.2% in 2012.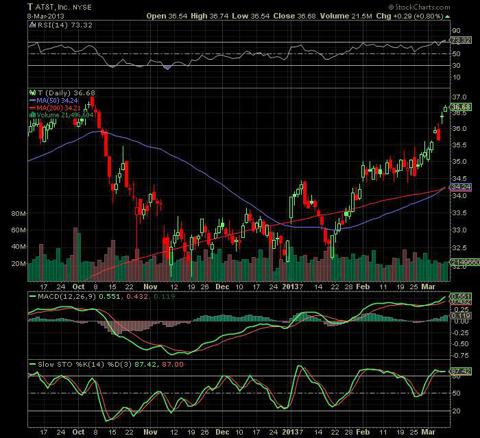 Since most of the company's revenue is generated from wireless, we'll take a look at this first. AT&T had to address the problem of having sufficient spectrum and capacity for its wireless network. Obtaining more spectrum and capacity is important for AT&T as it expands innovative services. The company is investing to expand its network capacity. More than 50 deals have been signed in 2012 to acquire spectrum. Approval from the FCC was given to AT&T for the use of WCS spectrum for mobile broadband. The company is also in the process of redeploying spectrum currently used for 2G services to now be used for more advanced 3G and 4G services.
The company has also expanded its U-verse services for high-speed Internet and TV services in 2012. As of December 31, 2012, AT&T had 24.5 million customer locations that are eligible to use U-verse service. At that same time, the company had 8 million U-verse subscribers. As part of the Project Velocity IP (VIP), AT&T plans on expanding its U-verse services to an additional 8.5 million customer locations. AT&T also plans to expand its LTE wireless technology as part of the VIP plan.
AT&T has acknowledged the rising popularity of Voice over Internet Protocol (VoIP). This technology has allowed other companies to offer voice services at a lower cost. The company has viewed this as a growth opportunity to develop new products for its customers. This strategy will help AT&T from losing customers to competitors who are currently offering VoIP services. Expectations are to cover at least 250 million people by the end of 2013 and approximately 300 million people by the end of 2014. AT&T also plans to expand its wireline broadband services to cover about 75% all possible customer locations in its 22-state wireline territory by the end of 2015.
Although the company's trailing P/E ratio of 29.34 makes the company look rich in valuation, the forward P/E of 13.54 and the price to book ratio of 2.2 has the valuation at attractive levels.
For the past twelve months, AT&T had an operating cash flow of $39.18 billion and free cash flow of $7.95 billion. The company has $4.95 billion in total cash and $69.84 billion in debt.
AT&T is expected to grow earnings annually at 5.5% for the next five years. Since this growth is a little below the expected growth of the overall market of about 8.9%, AT&T's stock price is likely to lag the market over the next five years. However, if you add the 4.9% dividend to the 5.5% growth, a total annual yield (dividends and stock growth) of about 10% is possible over the long term. Therefore, the stock is appropriate for dividend income investors and for those interested in reinvesting dividends.
Disclosure: I have no positions in any stocks mentioned, and no plans to initiate any positions within the next 72 hours. I wrote this article myself, and it expresses my own opinions. I am not receiving compensation for it (other than from Seeking Alpha). I have no business relationship with any company whose stock is mentioned in this article.