I like companies that consistently increase their dividends, and medical device and pharmaceutical manufacturer Johnson & Johnson (NYSE:JNJ) is among the best in this category. It is a dividend aristocrat, meaning it has increased its dividend for more than 25 consecutive years.
In this article, I will be looking at the future sustainability of this dividend. I will use financial data found in JNJ's 10K filings. Let's start, however, by looking at JNJ's pipeline.
Pipeline
JNJ has a long list of new drugs in phase 3 or further, including its new drug for the treatment of type-2 diabetes, Canagliflozin. The type-2 diabetes market is expected to grow from $21 billion in 2010 to $34 billion in 2017, and this might be a good chance for JNJ to get into that growing market.
Risks
It's always a good idea to look at possible risks when considering an investment. As with any company in the pharmaceutical sector, there's always the risk of the FDA not approving new products. Another thing that might concern investors is JNJ's tendency to buy large companies to expand its business. An example of this would be the recent acquisition of Synthes, where JNJ paid almost $20 billion.
JNJ's sales declined in 2009 and 2010, but have been steadily growing since, reaching an all-time high of $67.2 billion in 2012. Net income dropped to only $9.7 billion in 2011, but has climbed back to a respectable $10.9 billion in 2012. While this is still nowhere near the $12 to $13 billion range JNJ was in from 2008 to 2010, it does show me that income is going up again.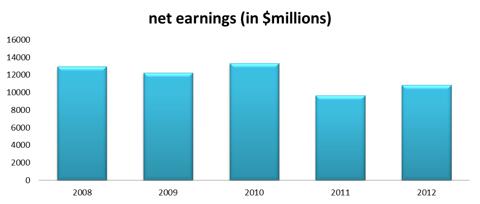 JNJ's profit margin has dropped from over 20% in 2008 to 14.9% in 2011. In 2012, profit margin went slightly upwards, to 16.1%.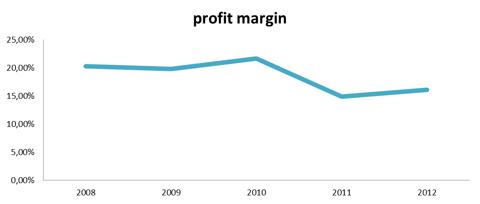 Assets and liabilities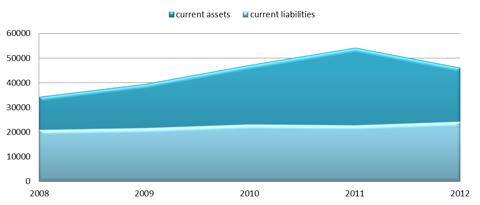 Over the years, JNJ has managed to get a decent pile of cash. Their current assets are at $46 billion, a large portion of which ($14.9 billion for the most recent FY) is cash or cash equivalents. Liabilities have grown at a much lower rate, going from $20.9 in 2008 to $24.3 in 2012. The current ratio (which is current assets divided by current liabilities) has gone up from 1.65 in 2008 to 1.90 in 2012.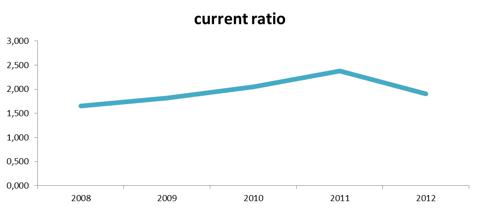 Dividends and EPS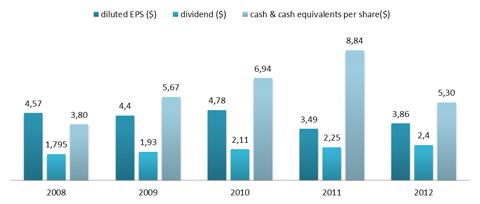 The dividend for JNJ has increased by 7.5% per year on average, going from $1.795 in 2008 to $2.40 in 2012. Earnings per share have made a significant drop downwards, but increased by over 10 percent in 2012. Also, JNJ has a large amount of cash per share, of $5.30 in 2012. This provides a buffer, meaning that 1 or 2 bad years won't automatically lead to a dividend cut. The current payout ratio is a bit high, but not unsustainable, at just over 60%.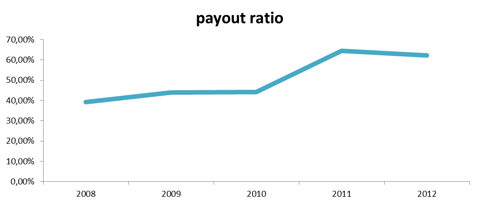 Valuation (P/E ratios from Morningstar.com)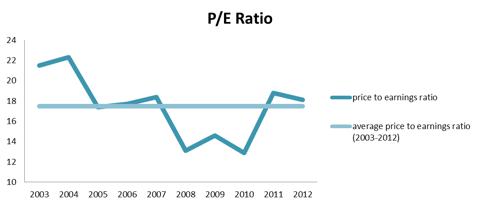 Shares in JNJ currently trade at 20.2 times earnings, which is higher than its 10 year average of 17.5. It's also quite a premium over the industry average of 17.8.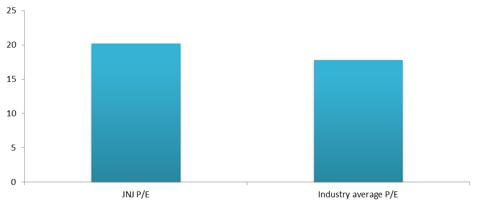 JNJ however, is in no way an average company, with its strong pipeline, long history of dividend payments and large amount of cash. When we compare the valuation for JNJ to respected companies like Pfizer (PFE) and Merck & Co. (NYSE:MRK), we find that the differences are not as big as they would seem.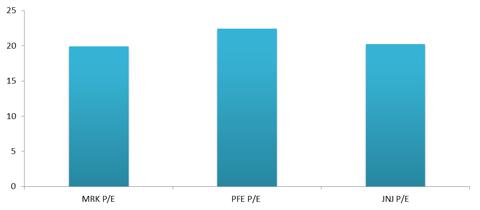 I think JNJ is a great company, as it has shown its ability to increase its dividends decades in a row. I believe JNJ will be able to continue increasing its dividend, which is already 3.1% at its current price. The growth in sales and net earnings over the last 2 years, combined with the large amount of cash JNJ has acquired over the years, and its valuation, which is roughly the same as companies like Merck and Pfizer, makes me think JNJ would be a good stock for my dividend growth portfolio.
Any thoughts on JNJ? Please post in the comment section below!
Disclosure: I have no positions in any stocks mentioned, but may initiate a long position in JNJ over the next 72 hours. I wrote this article myself, and it expresses my own opinions. I am not receiving compensation for it (other than from Seeking Alpha). I have no business relationship with any company whose stock is mentioned in this article.