Time to "Go Underground" for Great Returns
Last week, a few investors started to dip their stubbed toes back into the market. There's no question we might still see a few more large drops to the downside, but those who are waiting for the "very last correction" will likely miss a significant portion of the next bull run.
Of course, you might think one of the last places for toe dipping would be the oil and gas industry. A recent OPEC announcement that no additional production cuts were planned for March should serve to keep oil prices low… for now. That's not good news for drillers, producers and anyone else in the oil industry supply chain. Many deep-water projects need oil prices of $60-70 a barrel to be considered economically viable.
But there's one exception: pipeline operators. You see, they get paid to move or store oil and natural gas products.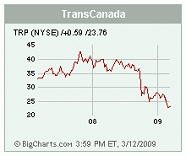 One operator that sits apart from the rest is TransCanada Corporation (NYSE:TRP). TransCanada is actually two businesses: a pipeline operator and a power producer.
Its revenues are split nearly equally between the two businesses. And with shares down nearly 40% in the last year and trading at just 11 times projected 2009 earnings, the stock is sitting at historical lows.
In its pipeline operation, TransCanada owns and operates pipelines in both Canada and the U.S. It moves oil and gas from drilling sites to tank farms, refineries, processors and electrical power utilities.
Right now, the company is building its Keystone pipeline that will carry crude oil from Alberta's oil sands operations to refineries in the south-central U.S. This line was one of four proposals that eventually won out over the competition. It's also applied to build a second 1,703 mile-long line that will carry crude oil, and it would supply mid-western pipelines and refinery operations in the states.
These projects aren't cheap: this one has a projected cost of nearly $3 million dollars… per mile. But that's fine as TransCanada has plenty of free cash flow to pay for it.
Unlike most other pipeline operators, TransCanada's business model affords it some measure of protection from wild swings in volume and oil and gas prices, as it typically signs long-term contracts with its customers.
That's a big plus, and one of the reasons TransCanada typically trades at slightly higher P/E multiples than its competitors.
And in a market where it seems every day another company announces it's slashing its dividend to preserve capital, TransCanada announced just the opposite: effective at the end of March, it's increasing its dividend. The stock now sports a yield of nearly 5%.
In summary, TransCanada is a great conservative way to play the oil & gas sector, and represents the best of the pipeline bunch.