Over the past few years, one of the strongest trends in the stock market has been the bull market in shares of the leading credit card companies. As shown by the chart below, the bull market has been led by Visa (NYSE:V), Mastercard (NYSE:MA), and Discover (NYSE:DFS) while American Express (NYSE:AXP) and Capital One Financial (NYSE:COF) have lagged.
Despite the fact that these stocks have shown little weakness from a technical prospective and nearly everyone is positive about the long-term outlook for these stocks, I am turning more cautious on these stocks.
Bullish Analyst Ratings
Currently, 18 analysts rate Visa a strong buy; 18 analysts rate Mastercard a strong buy; 13 analysts rate Discover a strong buy; 8 analysts rate American Express a strong buy; 17 analysts rate Capital One a strong buy. Comparably, there are only two sell ratings in the entire sector, both sell ratings are on American Express.
Taken together, the ratings suggest that nearly everyone on Wall-Street is bullish on the group. This is a reason to be cautious: if everyone is already bullish then who remains to be converted to the buy side? It is also worth noting that there are few if any negative articles posted on SA or elsewhere with a negative outlook for these names, especially Mastercard and Visa. My point here is not that the bullish argument is wrong. Rather, I am of the belief that most interested parties are already long the credit card names.
Competition
One factor which has received little attention is the possibility that the industry gets more competitive. If you visit the websites of the various credit card companies, it is clear that they are all competing for business with attractive incentive offers. However, as shown by the chart below, despite the intense competition, profit margins have remained elevated. With the U.S. market nearing saturation levels, I think it is possible that credit card companies will be forced to offer consumers better deals, i.e better rewards programs, more extras, and lower fees leading to reduced profits.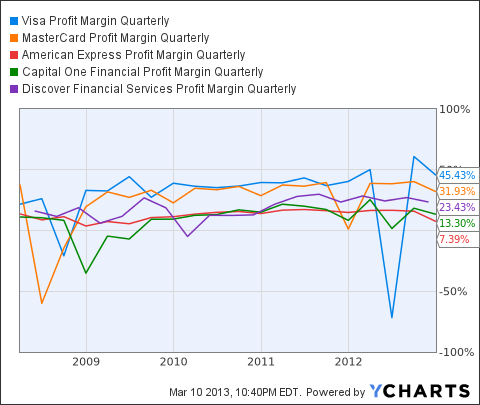 V Profit Margin Quarterly data by YCharts
Future Payment Method
To me, it is quite clear that the future of payment will not be via a credit card as is the norm today. In the not to distant future, we will look back at paying with credit cards (by this I mean physically handing a card to a cashier at a store or waiter at a restaurant) as obsolete. Already, with the advent of services such as Google wallet, square, and paypal the payment landscape is starting to change. These services represent just the tip of the iceberg when it comes to evolving payment methods. Some have argued that the this evolution of the payment business will be good for the likes of Visa and Mastercard. There is, of course, an alternative argument regarding the impact of an evolving payment system on credit card companies. Currently, the big credit card companies have complete dominance over the payment processing system. While it seems likely that they will remain dominant even with evolving technology, it is fair to say that the risk does exist that the future payment system will evolve in such a way as to be less friendly towards credit card companies. I am uncertain that today's credit card companies will, without doubt, maintain their status as the leading processors of transactions. However, given the strength of the credit card company stocks, it appears as though this is exactly what investors are betting on. If current credit card companies are able to effectively capitalize on the changing payment system, I expect the shares to move somewhat higher. However, if the likes of Visa and Mastercard are unable to capitalize on the future of payment then I expect shares to tumble.
How Credit Card Companies Are Responding:
Visa has responded to the changing payment landscape in a few ways. Firstly, Visa has taken an ownership stake in a variety of mobile payment companies. Also, Visa has launched V.me, which focuses on providing secure online transactions which does not force customers to reveal their entire credit card number. In addition to V.me, Visa also offers Visa Paywave which allows customers to simply waive their card without having to swipe. Finally, Visa had previously operated a mobile app but the company has since shut down the app.
Mastercard has embraced its own mobile payment platform along with partnering with mobile app providers.
American Express has created perhaps the most extensive mobile app for card tracking and services. However, this app does not allow customers to pay using the app. American Express has partnered with Isis Wallet to provide customers a way to pay for things using mobile devices.
Both Capital One and Discover have, like American Express, focused on providing customers with a high quality mobile app experience, but the app does not let consumers pay using the app. Capital One is, however, like American Express, supported by the Isis Mobile Payment System.
AT&T & Verizon
Both AT&T & Verizon will be important players in deciding how the future of mobile payment unfolds. So far, both AT&T and Verizon have backed the Isis Mobile Payment System. However, this system has yet to take hold, that is not to say that it eventually won't. It would make sense that AT&T and Verizon will want to enjoy some of the profits to come from mobile payment, this could come at the expense of credit card companies.
Unpredictable
It is to early to say how the future of mobile payment will unfold. Will Visa and Mastercard's go at it alone strategy pay off or will AT&T and Verizon backed Isis rule the payment world of tomorrow, or will it be something different?
Conclusion
No, I do not believe the global trend of consumers moving from cash to plastic is ending. However, I am not sure investors are currently appreciating the future risks to the current credit card system. It will change. The market has priced in future success for the current credit card companies, especially Visa and Mastercard. My thesis here is that we, as credit card company investors, do not know enough about the future of payment to say that the current companies will be big winners. Investors should not view credit card company stocks as easy buy and hold stocks. Instead, investors should be constantly evaluating these companies based on how the future of payment evolves.
Disclosure: I have no positions in any stocks mentioned, and no plans to initiate any positions within the next 72 hours. I wrote this article myself, and it expresses my own opinions. I am not receiving compensation for it (other than from Seeking Alpha). I have no business relationship with any company whose stock is mentioned in this article.