A recent report from Fudzilla on seeing a tablet running with AMD's (NASDAQ:AMD) Temash APU sounded quite favorable. There is an obvious slow-burn building up within the industry over how strong a value proposition the Jaguar-based systems-on-chips represent. But what nearly went unnoticed was that AMD already has OEMs beyond its strategic partnership with Vizio lined up, namely Hewlett-Packard (NYSE:HPQ) and Sony (NYSE:SNE).
At first blush, the news doesn't sound that impressive as HPQ has been one of the non-entities in the tablet space. If you think about it, the Touchpad was the Rosetta stone for unlocking just how screwed up H-P had become. So, the cynical will write this off as a gathering of losers. But, the other side of the story is at least interesting. Sony has Android tablets but they make no headlines with sales.
At this point, there isn't much to differentiate between one brand of slate and another except performance. With the first generation Windows 8/RT tablets seriously underwhelming similar to initial Android efforts coming in on the second wave, and potentially with a keg of better performance beer to liven things up just may work.
Few have bad associations with an H-P or Sony tablet, while there are plenty of others floating around - even Touchpad owners love their devices. I pretty much will not forgive either Google (NASDAQ:GOOG) or Nvidia (NASDAQ:NVDA) for the Tegra-2 based Acer Iconia I own. Many of Microsoft's (NASDAQ:MSFT) OEMs are angry with them over how the Windows 8 rollout was handled, Acer and Samsung are two of them, and are sitting on a pile of un-salable inventory. And that situation can only improve with better design and overall user experience.
First generation hardware is always sketchy, and the ambition of the OEMs with Windows 8 tablets last fall, while commendable, simply didn't set anyone's hair on fire because of performance. Atom and A-9 based ARM SoCs simply didn't have the horses to run Windows 8/RT well. And this is where Temash comes in and why Sony and H-P were wise to wait, as neither company can afford to take gambles on commodity level consumer items right now.
For the Triple Design Win
As I've said previously, Temash is potentially disruptive with its triple win on size, cost, and performance per watt and is the chip that Intel (NASDAQ:INTC) needed to ship with Windows 8 and didn't. It, along with its bigger brother Kabini, fit perfectly into 2013's mobile computing landscape. As much as Intel can try to stem the PR bleeding with regular leaks about upcoming Clover Trail+ and Bay Trail, the best that can be hoped for from those is improvement in graphics performance that rivals the outgoing Hondo/Brazos 2.0.
I don't think people realize just how much smaller Jaguar cores are versus Haswell or Clover Trail. See the picture below to get an idea of just how much less surface area has to be cooled in fan-less operation. From an engineering perspective, it simply raises costs and eats up valuable real estate. In small form factors like tablets, every square millimeter matters.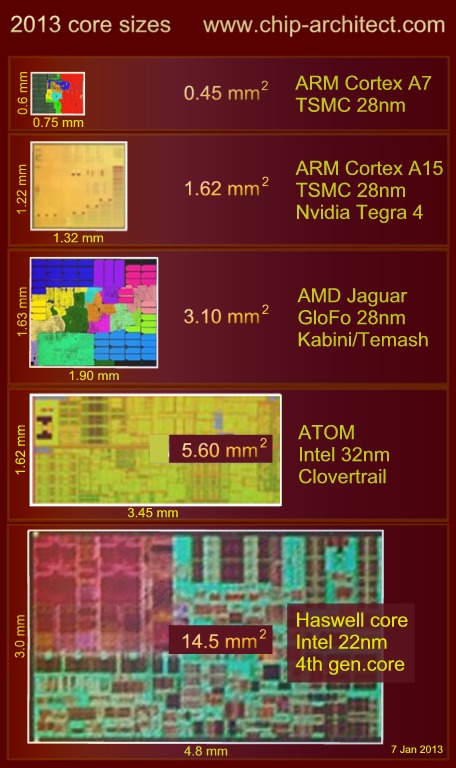 Temash and Kabini will at least double the performance of those chips they are replacing and push CPU performance up near current Ivy Bridge Core-i3 parts and superior graphics performance. And since we know that with Haswell we aren't looking at huge gains in performance on the CPU side of things, we shouldn't expect that relationship to change very much, because Intel will likely not put the best GPUs with the low-end CPUs and, if it does, it will not be able to compete on price. At that point, it comes down to design efficiency which will drive build costs. Jaguar's very small die-size becomes an advantage again. With the south bridge on die Jaguar's thermal design power [TDP] levels are that much better than Haswell's watt for watt. It is important to remember that when discussing a 15W Kabini part versus a 17 W Ivy Bridge or Haswell that the comparison is really more like 15W vs. 19-20W, due to the draw from the extra controller chips.
If you think I'm mixing things up by comparing Haswell to Jaguar I'm not. Nothing I've seen about Bay Trail leads me to believe it will be a player relative to Jaguar APU's, hence it's really a Haswell vs. Jaguar fight with Richland trying to stay relevant until Kaveri can hit the scene.
Re-energizing Smoldering Giants
While I don't think that Temash alone can turn around the fortunes of behemoths like H-P and Sony, I do believe, now that I put it all together, that they can, at least, retain their current revenue levels from PC sales while other product lines falter. H-P and Sony building a good Windows 8 tablet fits with the future plans of both companies.
For Sony, they are betting a lot on building an ecosystem around the new Playstation 4 -- itself using an 8-core Jaguar variant that speaks to just how cheaply AMD can fab these things over at TMSC. Consoles are all about price per unit performance. So, anyone thinking that we'll see AMD commit suicide here on pricing is fooling themselves. The news from AMD that it is planning on releasing a consumer version of its PS/4 chip is itself interesting, and I have to wonder if we won't see that in some version of a VAIO ultrathin notebook.
The 8-core PS/4 is the fastest APU AMD has designed - with obvious exceptions to what we can expect from Kaveri at year's end - that includes Richland. And making a consumer version of that chip says quite clearly that the relationship forged between AMD and Sony on developing the PS/4 may go deeper than it looks at first blush and why Sony chose AMD to power its first Windows tablet over Intel.
In H-Ps case they simply need something to replace falling laptop and notebook sales and in its current situation will look for whatever yields the highest potential margin. Temash will create differentiation for those early adopters in terms of price and performance, of that there is little doubt at this point. The fact that H-P is not going with Intel's chips for its first Windows 8 tablet is another subtle yet telling red flag about Intel's current release schedule.
If Intel cannot keep major OEMs like H-P and Sony in line - yes, I grant they have faded somewhat in importance - then how tenuous is its relationship with other ones? H-P sold a lot of Brazos-based notebooks, laptops and all-in-ones. They are going to sell a lot more Kabini/Temash-based ones.
Disclosure: I have no positions in any stocks mentioned, and no plans to initiate any positions within the next 72 hours. I wrote this article myself, and it expresses my own opinions. I am not receiving compensation for it (other than from Seeking Alpha). I have no business relationship with any company whose stock is mentioned in this article.
Disclaimer: I own a couple of AMD computers and one is an HP laptop