The Marcellus Shale has emerged as the single largest source of natural gas supply in North America, in less than seven years since its first horizontal well was drilled and less than five years since its active development began in earnest. Notably, the majority of Marcellus' meteoric ascent occurred in just three years: at the end of 2010, the field's total production rate was below 1 Bcf/d; currently, the Marcellus' volumes are approaching 9 Bcf/d.
The pace of production growth shows no sign of slowing down. This year, the Marcellus should reach another big milestone: its total output should surpass 10 Bcf/d (see "Marcellus Shale: 10 Bcf/d In 2013 ").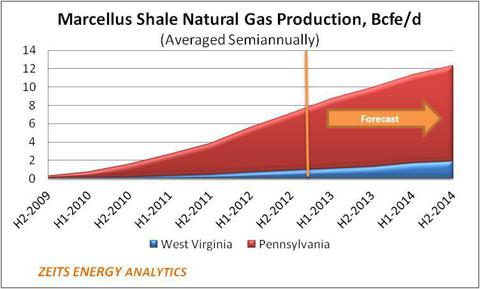 (Source: PA DEP; WVa DEP; Zeits Energy Analytics)
10 Bcf/d is a very consequential amount in the context of the ~65 Bcf/d total U.S. apparent demand. To put it in perspective, 10 Bcf/d would exceed current production rates from the giant Haynesville and Fayetteville shales taken together. (In the retrospect, the extreme weakness in natural gas prices seen in 2012 should not be all that surprising.)
The ballooning production volumes from the Marcellus have already impacted inter-regional flows of natural gas in the U.S. Changes in flow data from interstate pipelines are quite striking. As an example, Tennessee Gas Pipeline, a 7.5 Bcf/d interstate pipeline system which connects the Producing Region in the South with the Northeast Region and is owned by Kinder Morgan (KMI, KMP), has reported massive contraction of throughput volumes on the "downstream" portion of the system (which indicates that less natural is being shipped from the Producing Region to traditional customers in the North East). During the winter season of 2011-2012, load factors at receipt points S40, S87 and S200 along the TPG pipeline fell two-fold relative to four years before (see picture below). This year's statistics will likely show a continuation of this trend. On the other hand, system capacity in the Marcellus region has been utilized to the limit, despite significant expansions.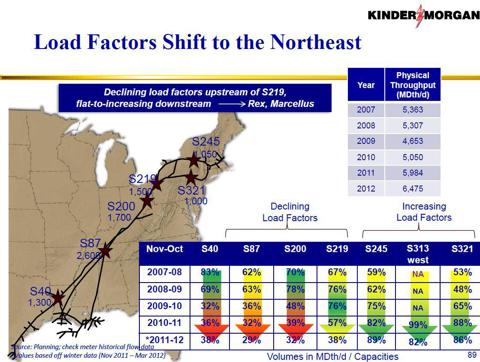 (Source: Tennessee Gas Pipeline)
The other two major pipeline systems connecting Texas and Gulf Coast with high demand markets in the North East - the 8.5 Bcf/d Transco Pipeline owned by Williams Partners (WPZ, WMB) and the 7.3 Bcf/d Texas Eastern Pipeline owned by Spectra Energy (NYSE:SE) - have reported strong structural changes in natural gas shipments. The green arrows on the slide below indicate effective reversal of tranditional natural gas flows along some pipeline segments.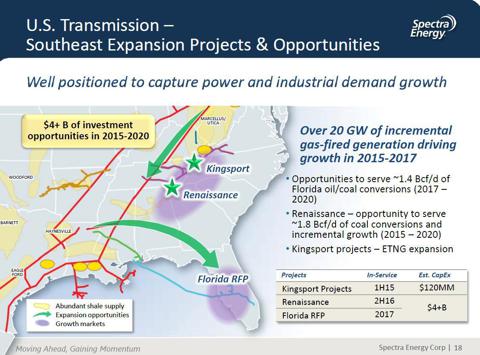 (Source: Spectra Energy March 2013 Investor Presentation)
The Marcellus has also been diverting traditional flow of natural gas from Western Canada into the U.S. North East towards other regional markets. Imports of Canadian natural gas into the U.S. North East have declined by two thirds since 2007, from 3 Bcf/d to 1 Bcf/d (notably, Canadian natural gas imports into the U.S. in the West have remained stable).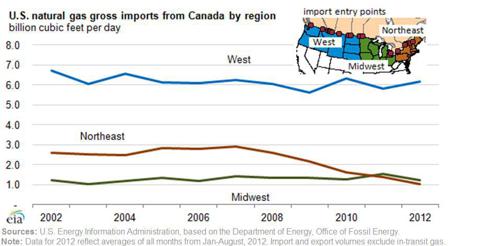 (Source: EIA)
At the same time, the U.S. is increasingly becoming the exporter of natural gas to Eastern Canada.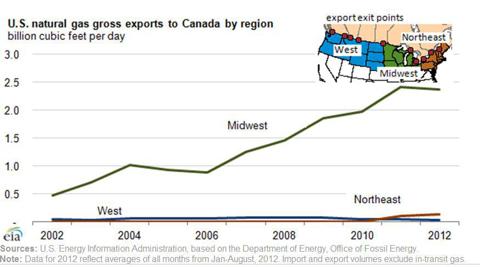 The largest portion of the U.S. natural gas exports to Canada has been via the 1.3 Bcf/d Vector Pipeline, which, after several expansions, has created an important transportation route for natural gas from the United States (including transit from Western Canada) to the Toronto area.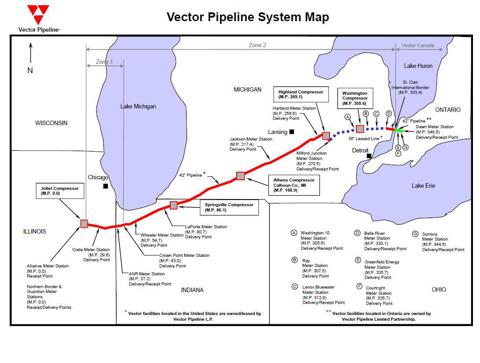 (Source: Vector Pipeline)
In addition to the Vector Pipeline, Tennessee Gas Pipeline and National Fuel Gas (NYSE:NFG) expansion projects commenced service in November 2012, adding a total of 0.57 Bcf/d of export capacity to Ontario, Canada through Niagara, New York.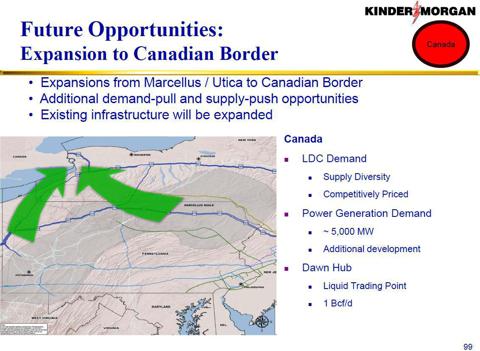 (Source: Tennessee Gas Pipeline, Summer 2012)
Direct natural gas exports from the U.S. Northeast to Eastern Canada are likely to rise significantly in the near future as pipeline operators are actively working on transportation solutions for the Marcellus (and very soon also the Utica) volumes that are expected to continue to ramp up. Spectra Energy's proposed 1+ Bcf/d NEXUS Gas Transmission pipeline, which would connect the Marcellus and Utica with Ontario and has a projected in-service date of November 2016, is just one of several examples of potential new gas export projects currently under consideration or in development.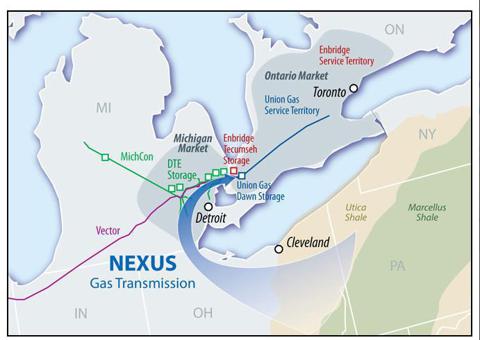 (Source: Spectra Energy March 2013 Presentation)
The availability of abundant and highly economic natural gas supply from the U.S. North East is a recent and still rapidly progressing phenomenon. Given that long-haul transportation solutions for natural gas take long time to put in place, contours of the new paradigm for natural gas flows within North America are just beginning to emerge. It seems logical to expect that the Marcellus and Utica will become a source of direct natural gas supply not only for their immediate surrounding markets, but also for New England, Eastern Canada and the Mid-Atlantic, while Western Canadian gas exports will be limited mostly to the U.S. Western region (with relatively small amount of liquids-rich gas shipped to the U.S. Midwest and Eastern Canada for NGL processing).
The Marcellus and Utica, due to their very low cost of supply and favorable position in the heart of the Consuming East, are a major competitive factor that will impact the pace of development in some of the most prolific shales in Western Canada (including the Montney, Duvernay, Horn River, Liard, Cordova, and others). They are also a reason why LNG export projects from the Pacific Coast of Canada are likely to go ahead with a high degree of certainty.
From a macro perspective, the ongoing optimization of the North American long-haul pipeline system, in response to the emergence of new powerful supply sources, should ultimately produce a more cost-efficient flow of natural gas from producers to consumers. Given the highly fragmented and competitive nature of gas supply, this should shave some additional nickels and dimes off natural gas price.
For the foreseeable future, excess capacity will exist on major legacy interstate pipeline routes leading into the Consuming East (from the U.S. Producing Region and the Rockies, and from Western Canada). As a result, inter-regional price differentials will remain narrow, contributing to the weakness of major natural gas price benchmarks (which in the past have traded at a premium to takeaway capacity-constrained producing regions).
As the re-configuration of natural gas flows within the North American continent is still in progress, "containment" pricing will likely be required for some time to reduce supply from economically marginal fields and make room for the volumes from the lowest-cost sources. As a result, natural gas prices may continue to gravitate towards the lower end of the economically justified range.
The above discussion is fundamentally relevant for natural gas (NYSEARCA:UNG) and the natural gas producer stocks. My natural gas producer index includes:
Chesapeake Energy (NYSE:CHK)
EnCana Corporation (NYSE:ECA)
Devon Energy (NYSE:DVN)
Southwestern Energy (NYSE:SWN)
Ultra Petroleum (NASDAQ:UPL)
EXCO Resources (NYSE:XCO)
WPX Energy (NYSE:WPX)
Cabot Oil & Gas (NYSE:COG)
Range Resources (NYSE:RRC)
QEP Resources (NYSE:QEP)
Quicksilver Resources (NYSE:KWK)
Forest Oil (NYSE:FST)
Bill Barrett (BBG)
Disclaimer: This article is not an investment recommendation. Any analysis presented in this article is illustrative in nature, is based on an incomplete set of information and has limitations to its accuracy, and is not meant to be relied upon for investment decisions. Please consult a qualified investment advisor. The information upon which this material is based was obtained from sources believed to be reliable, but has not been independently verified. Therefore, the author cannot guarantee its accuracy. Any opinions or estimates constitute the author's best judgment as of the date of publication, and are subject to change without notice.
Disclosure: I have no positions in any stocks mentioned, and no plans to initiate any positions within the next 72 hours. I wrote this article myself, and it expresses my own opinions. I am not receiving compensation for it (other than from Seeking Alpha). I have no business relationship with any company whose stock is mentioned in this article.