Since the broader market bottomed in October, 2011, following that year's deep correction, financials (NYSEARCA:XLF) have generated a 62% return compared to 42% return for the S&P 500. Since June of 2012, financials have returned 38% versus 22% for the broader market. Financials were the best performing sector in 2012, and are a close second so far in 2013, returning 11.3%: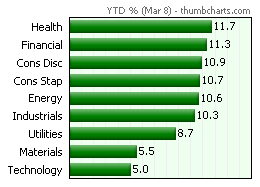 The continuation of sector leadership is rather rare, but here the financials are in 2013, performing remarkably well in the face of squeezed net interest margins, sluggish growth, the loss of major trading operations, and negative public sentiment.
The tendency to fade winners and buy the losers is abundant among investors. Sometimes it works, sometimes it doesn't, but making the decision to buy or sell on past performance (in regard to longer-term investments) is always foolish. What we can take away from the one and half year trend of outperformance from the financials is that market participants have found this sector, especially the major money-center banks, as a good source of value relative to other sectors.
As the market continues to make new record highs with strong breadth and sector rotation, it is indeed becoming difficult to find equities that are easily determined to be bargains (e.g. what many saw in BofA at $5, or what I saw in Aflac around $40). Rather, it now takes some in depth value analysis to find relative value.
Despite the magnitude of their outperformance, I find many of the major financials to offer substantial upside (two in particular), even as the broader market sits atop record nominal highs.
Industry Investment Thesis
I'll run through a few of the individual stocks below, but I think it's important to have a framework of the macro headwinds and tailwinds for the industry.
Here's what we can be pretty sure of:
Developed world growth will remain sub-optimal for several years- this recovery is so unlike most others in that it is coming in the aftermath of a credit bubble of enormous proportions. The key, as we've seen, was that housing prices plummeted on a national scale; something we haven't typically seen in recessions. The deleveraging that has had to take place in the private sector is huge, and cutbacks on the state and local levels have been a major headwind for employment. The good news is that is that process has been facilitated by ultra low interest rates, which luckily haven't caused much inflation. So, while this credit reset isn't quite completed (we still have to deal with Federal government deficits), we can likely grow at a 2.5-3.5% rate for the next few years without having to raise rates in response to inflation, given continued slack and high unemployment.
Net interest margins will remain under pressure - NIM has continued to decline for US banks, and continued LSAP from the Fed will keep a cap on long-term rates. Net income growth is unlikely to come from an expansion in NIMs.
Credit quality will continue to improve - Generationally low rates have enabled consumers to refinance on attractive and realistic terms. A quick look at the delinquencies of residential mortgage, credit card, or business loans makes it evident that outstanding loans on the balance sheets of major banks will continue to improve in quality. This will allow further reductions in loan loss reserves. Even more promising is the fact that delinquencies aren't really even that close to historical norms: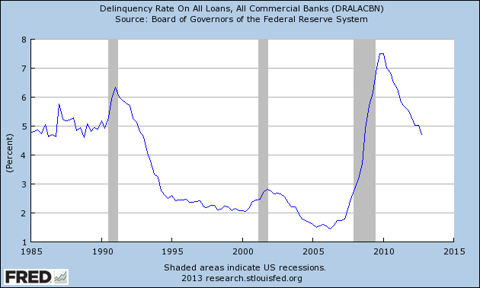 Housing is rebounding - this could be another headfake, or perhaps housing is making a comeback (and bringing construction, carpenters, bricklayers, residential mortgage originators, and painters with it). It's still difficult to tell, but recent trends suggest that home prices are rising (at least they're not falling), and record low interest rates should keep buying interest high: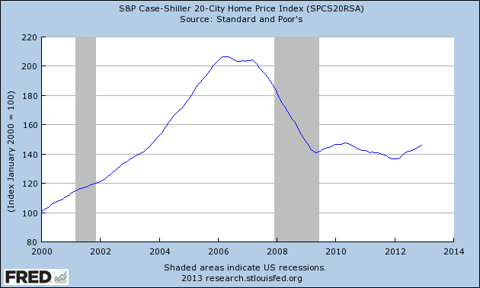 Wells Fargo (NYSE:WFC)
I've recommended a few times recently, so I'll keep this one quick.
Annual BVPS (book value per share) growth has averaged about 20% since 2007, which is pretty surprising when you consider what's happened since then. I attribute this growth to the best cross-sell in the industry, the rebound in (especially west coast) housing, and of course the Wachovia merger.
WFC earned 12.95% on equity in 2012, compared to 11.93% in 2011. ROE of nearly 13%, which easily justifies its current price to book of 1.3. The firm earned about $28.5 in pre-tax income, up from $23.6 in 2011. This 21% income growth can be compared to 14% in BV growth.
WFC is one of the few major banks to generate organic revenue growth in 2012, and is the leader in asset productivity, suggesting superior quality of outstanding credit: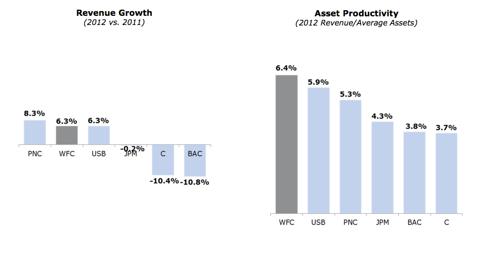 If WFC meets analyst expectations for a little over 8% in 2013 EPS growth, pre-tax income can be expected to come in at about $31 billion. At 10X pre-tax, WFC is worth about $310 billion on a forward basis, or about $58.75 per share. This implies nearly 60% upside.
Furthermore, WFC's recent presentation noted that its desired payout ratio is between 50 and 65%. With the current payout ratio at only 26%, WFC could pay a 5.4% dividend today if the Fed would let them, and that's without considering a lower future share count and higher after-tax net income.
Even with a substantially lower multiple, say 8 times pre-tax, WFC has double digit upside; the margin of safety is definitely there, and the distribution growth potential is exciting.
JP Morgan (NYSE:JPM)
I can't find JPM's pre-tax net for 2012, but assuming their historical ~28% effective rate, it was probably about $30.5 billion in 2012 (22 after-tax).
JPM has been saying for a few years now that it can earn between $22 and $24 billion in a normalized environment. Further statements seem to imply that the major drag is almost totally related to mortgage-related losses. They just about hit the lower range of that in 2012, and it looks like they could reach about $24 billion in after-tax for 2013, largely in part to scorching M&A activity, or close to $33 billion pre-tax.
In an environment where JPM pays slightly higher rates on deposits, can lend at a higher rates, doesn't lose billions on a "whale" trading loss, and a few other normalized items, JPM thinks it can earn $27.5 billion after-tax: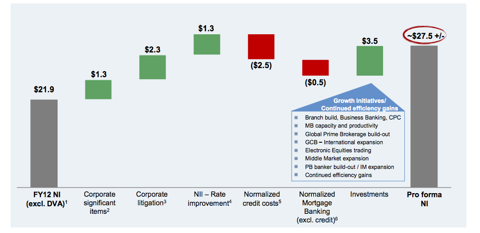 This figure seems plausible by mid-decade, though the NII improvement might be a bit lofty.
The bank recently upped the annual dividend 20% to $1.20, which results in an ultra-low payout ratio of 22%. As the Fed continues to allow modest payout growth, investors will receive significantly more of the bottom line in the form of distributions.
As has been the case with WFC, JPM has grown BVPS at an exceptional rate over the past decade, averaging 10% annually.
At $33 billion pre-tax for 2013 and a 10X multiple, a strong case could be made that JPM is worth about $88 per share, 76% higher than it currently sits at today. Once again, even at lower multiples the margin of safety is evident. That being said, companies like JPM and WFC who earn above 10% on equity with double digit BVPS growth, minimal leverage, diversified businesses, and exceptional management deserve 10X pre-tax multiples if you ask me.
Other Majors Offer Some Value
Banks like BofA (NYSE:BAC), Citigroup (NYSE:C), Morgan Stanley (NYSE:MS), and Goldman Sachs (NYSE:GS) don't earn 10% ROE, aren't quite as diversified and/or strong firm-wide, and don't currently offer attractive yields.
These businesses aren't quite as strong, so they don't command the 10X pre-tax incomes that WFC and JPM do. You can play with some of the inputs to get a range of plausible share values, but I've found that recent rally has brought these second-tier financials much closer to their intrinsic values than it has for WFC and JPM.
This doesn't mean they don't offer value.
Citigroup has done a rather excellent job shedding toxic assets via Citi Holdings, and trades at about 76% of book. Returns on equity need to improve substantially to justify trading above book, but C will benefit from the same trends as every other financial and they have strong international businesses.
BAC trades below tangible book, but organic bottom line growth will take a bit longer considering their value-damaging Countrywide overhang.
Morgan Stanley, which Dan Loeb likes as a result of its potential to drastically cut excess costs and transform its FICC businesses is more of a speculative story.
Goldman Sachs, which recently took a bit of flack for coming in a bit weak on the Fed stress tests, has seen its stock rise 17% YTD as M&A activity has spiked. I think there's still some upside in GS considering its cautious approach to leverage and continued investment banking activity, but the long-term value is harder to see.
Some other interesting value plays:
All in all, WFC and JPM remain the best bets for long-term value investors who don't mind yields-on-cost of greater than 5%. Value remains in some of the other majors but they provide smaller margins of safety. That being said, a normalized environment would allow BAC and C in particular to reward shareholders with substantial distributions, but those days are several years away.
Disclosure: I am long WFC. I wrote this article myself, and it expresses my own opinions. I am not receiving compensation for it (other than from Seeking Alpha). I have no business relationship with any company whose stock is mentioned in this article.