Dell (DELL) unveiled their new ultraslim, the Adamo, a few days ago. The new laptop is a 13.4 inch "luxury" portable featuring no optical drive, a long life sealed-in battery, edge-to-edge glass screen, and a solid state hard drive comes at the very affordable starting price of $1999. Does this sound familiar? A MacBook Air, perhaps? To a lesser extent, the HP Voodoo Envy 133?
One can't fault Dell for wanting to keep up with Apple (NASDAQ:AAPL) and HP (NYSE:HPQ). HP has maintained its stranglehold on worldwide notebook marketshare for over two years. In North America, Dell's "home territory," marketshare has fallen below 2006 levels while Apple and HP continue to capture the bulk of sector growth.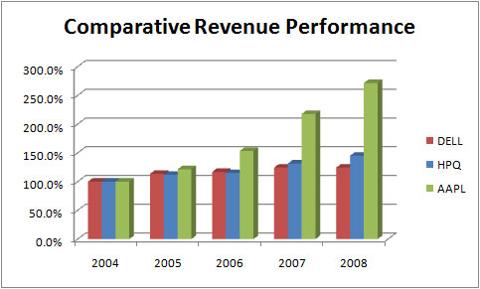 Data courtesy of Gridstone Research. Apple bars represent "Total CPU Revenue"
Dell, which made its name selling low cost computers, has seen its competitive advantages eroded since growth peaked in 2006. As PCs have become increasingly commoditized, Dell has not been able to successfully scale its revenue despite a heavily growing market for PCs and notebooks.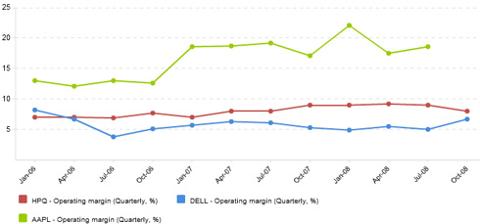 While Apple and HP used new form factors and pioneer case designs with products like the MacBook and Touchsmart lines to defend their margins, Dell has simply watched its operating margins fall from a high of 8.6% in 2006 to barely 6% in 2009.

Not surprisingly, Dell stock has fallen over 50% in the last four years while HPQ and AAPL both appreciated substantially as optimism about Dell's ability to capitalize on tech sector growth has evaporated and HPQ and AAPL have filled the growth void.
With the American consumer pulling back and even Apple sales waning, this move by Dell seems perplexing at best. Yes, there's a market for high style notebooks. But, this is not a product which will move the needle for Dell. Furthermore, Apple's brand clout is derived from its overall experience - hardware design, proprietary OS, and customer service through its retail locations. PC manufacturers are inherently disadvantaged as the user experience is ultimately commoditized regardless of how pretty a shell is put around the computer. Particularly in a recessionary environment, Dell shouldn't be playing follow the leader and instead should be looking at how to add marginal value through design or technological changes to its PCs ala HP's Touchsmart or Vivienne Tam lines which offer style, uniqueness, and a pricepoint significantly closer to $1,000 than $2,000.
Disclosure: Author was long shares of AAPL at the time of writing.