It was all about credit for the hybrid mREITs in Q4 2012. The rally in credit sensitive, non-agency GSE MBS was strong in Q4 and quarter-to-date the trend has continued. The sweet spot seems to be the AA-rated sector, as AAA paper trades too much like Treasury bonds and A and BBB-rated paper is a bit further down the curve (BBB-rated paper was actually down QTD). One vintage for the ABX AA tranche is up 100% since the end of the Euro Crisis in 2011; the AAA sector for that same securitization is up about 20% while the A and BBB tranches are actually down:

The strong performance of fundamentals have helped the share prices turn in strong gains in recent months, following the selloff that began in mid-September with the initiation of QE3. In fact, over the last year 4 of the 5 hybrid MREITs discussed below outperformed the S&P 500, even with the latter's strong run since mid-November and defensive stocks out of favor: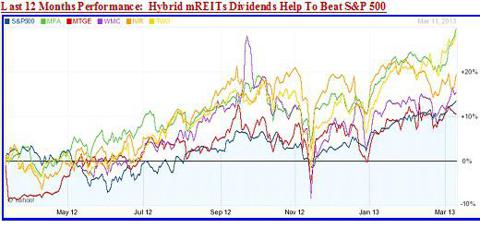 So far in Q1 2013, non-agency has continued its torrid pace while the rising 10-year Treasury and mortgage rates have pressured the lowest coupon agency MBS. Through early-March, ABX prices were up just over 3% YTD, led by gains in AA-rated MBS (up almost 8%). AAA-rated non-agencies have improved about 3% and BBB-rated paper is actually down almost 1% QTD. The appreciation in AA-rated debt is a major plus for MFA Financial (NYSE:MFA) and Invesco Mortgage Capital (NYSE:IVR).
On the funding side, none of the hybrid mREITS (or agency mREITs, for that matter) had any large funding obligations roll off in Q4 to take advantage of low rates. Short-term swap rollovers in fact generally faced rising year-end rate pressure, so average LIBOR and swap costs did not help net interest margins. With year-end funding pressures in the rear view mirror and with some of the mREITs about to see higher-cost swaps mature (notably MFA), NIM's should get a boost in coming quarters from lower funding costs.
We spoke about the advantages of both the Agency and Hybrid mREITs in previous articles on Seeking Alpha, so let's get right into the meat and potatoes of the 4th quarter for 5 quality hybrid mREITs which collectively yield just over 12% -- and have the potential for price gains, to boot:
MFA Financial: MFA was one of the standout performers in the hybrid mREIT sector in Q4. The portfolio has benefited from increased exposure to non-agency debt, as MFA is now 57% agency, 43% non-agency as of Q4 2012. Prepayments in agencies declined almost 2.5% and in non-agencies marginally (rising prepayments on non-agencies are positive since they are usually paid off at par while being carried on the books at less than 100 cents on the dollar). MFA reported a rising net interest margin (NIM) of 2.69%, the first in 18 months. This stable-to-rising NIM trend was a common recurrence among the hybrid mREITs, in contrast to that seen in the agency mREITS: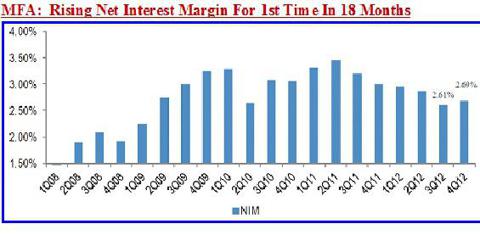 The real stellar performance was in MFA's non-agency portfolio. MFA has taken huge credit reserves that made the non-agency MBS bullet-proof in all but a repeat of the 2007-09 meltdown. With actual losses performing much better than their worst-case assumptions, forecasted yields on the portfolio should be higher going forward as credit losses decline. Already the reversal of some reserves should boost the yield on the credit portfolio by 10-15 bp. going forward.
Earlier this month, MFA announced that because of an accounting overview from 2010-2011, taxable income was higher than originally reported and the company would be paying out a special dividend to comply with REIT regulations for those years and also 2012. Q4 2012 book value was $8.99 and MFA said January-end book value was $9.40. The rapidly rising book value and credit reversal are a good indication that the dividend yield - 8.4% at the stated quarterly dividend - should be rising in coming quarters, to reflect the previous underpayment as well as improving fundamentals going forward.
Investment Thesis: MFA has been one of my favorite hybrid mREITs for a while and it continues to be. A core hybrid mREIT holding, in my opinion. Buy it on weakness to establish a position if you don't have any - or buy it today and then buy more on weakness. MFA has battle-tested management and has navigated through several interest rate and credit cycles, which should give investors added comfort. Since her IPO in 1998, MFA has returned just over 14% a year for investors compared to a 4% return for the S&P 500 during the same stretch. Who says you can't buy-and-hold with mREITS !?
American Capital Mortgage (NASDAQ:MTGE): The hybrid sister of the stellar-performing American Capital Agency (NASDAQ:AGNC), American Capital Mortgage reported an in-line quarter which saw EPS at $0.84 but 'core' or spread income a bit lower at $0.78. MTGE is not earning the $0.90 quarterly dividend but given Gary Kain & Co.'s willingness to harvest gains and keep dividends steady at AGNC we think the same pattern might replicate itself at MTGE assuming pressure on the NIM and dividend start to ease in early-2013.
Book value was up 2% to $25.74 in Q4 2012. The company bought back a few hundred thousand shares just under $23 in October and November. 90% of the portfolio is agency and 10% is non-agency but MTGE has 72% of her equity capital in agency securities (down from 77% in Q3) and 28% in agency MBS. This is another reason to focus on the respective leverage of the various parts of Hybrid mREITS: a portfolio that is only 10% invested in non-agency has almost 30% of the equity capital at-risk. 80% of the non-agency is targeted at Alt-A and Option ARM MBS which are a direct play on a housing recovery.
GAAP earnings were $1.40/share and MTGE has $1.17 of undistributed taxable income (UTI) to help tide things over until core earnings cover most or all of the dividend. With everyone and their brother piling into non-agency debt in recent months, MTGE management during their conference call discussing the quarter repeated what would be a recurrent theme: by early March, the returns on leveraged agency debt were a better risk than those on non-agency MBS. Agency MBS yields have risen and prices have fallen alongside the 10-year Treasury yield rising to 2.05%. Plus, the higher yields have also helped slow prepayments, the bane of MBS investors.
Motet's overall prepayment rate in Q4 as measured by the Conditional Prepayment Rate (CPR) method was 6.5%. On the funding side, MTGE's average cost of funds in Q4 was 1.01%, little changed from Q3. Higher repo rates because of year-end seasonal factors was another recurring theme, so even though MTGE has no higher-cost funding coming off in 2013 they should get a few basis points relief once the repo market normalizes in early-2013 as the year-end seasonal effects of QE3 and 'Operation Twist' no longer distort the supply of repo collateral.
MTGE's non-agency portfolio will be 80% weighted towards Alt-A and Option ARMs. These MBS benefit directly from higher home prices. MTGE is looking to develop a new origination platform for jumbo mortgages or securitizations in 2013, which will be a key focus as the legacy non-agency supply declines. When the Federal government lowers the jumbo mortgage limits that FHA and the GSEs can accept, this will allow private lenders more of an opportunity to gain market share with better pricing, too.
Investment Thesis: MTGE hasn't been around as long as some of the other hybrid mREITs, but don't sell management short. The IPO was during the heart of the U.S. debt downgrade and the Euro Crisis and they came through with flying colors. Even if MTGE wasn't led by veteran traders, that is a pretty good hurdle to test in your opening months of operation. Gary Kain & Co. have replicated the job they did with agency debt over at AGNC with non-agency choices at MTGE. This is another hybrid mREIT that should let you sleep at night should the markets return to turbulence. In the meantime, you collect a 13.8% yield at the current dividend rate.
Invesco Mortgage Capital: Another steady performance in Q4 wrapped up a solid bounce-back 2012 for IVR. This followed a miserable 2011 when IVR wrecked its book value mid-year with back-to-back hedging stumbles that vaporized 20% of shareholder equity (another reason why I continue to hammer home the necessity of using a basket of mREITs to invest in the sector). Those blowups were a result of having too many swaps in anticipation of rising rates and when the 10-year Treasury yield collapsed during the Euro Crisis, IVR found itself over-hedged and lost much more on the swaps than it gained in appreciation from her investment portfolio of MBS.
In Q4 and 2012, IVR found its bearings. IVR's portfolio is now diversified into agency MBS, non-agency MBS, and CMBS. 49% of IVR's equity capital is in agency MBS with 29% in non-agency and 21% in CMBS. This increased allocation to interest rate and credit-sensitive assets helped book value finish Q4 at $20.83, down only $0.10 or 0.5%. It also reduces the pressure on the heavily-levered agency MBS (9.3x at year-end) with an average dollar price of $108. IVR will probably reduce agency allocations going forward with more capital and assets dedicated to non-agency and the CMBS.
IVR's agency MBS have a lot of interest rate and prepayment risk, an unusual combination. But with rates rising in recent months, that bet has paid off handsomely. The approach to credit is on the opposite end of the spectrum, taking low-risks. Non-agency debt is mostly high-quality Alt-A and re-REMIC securities on the books at about 92 cents on the dollar, limiting further appreciation unless the economy and/or housing take off but protected if credit-sensitives should slump. CPRs were flattish for the portfolio MBS, rising to 14.6% from 14.3%.
IVR may choose down the line to be an active securitizer of non-agency MBS in the mold of a Redwood Trust (NYSE:RWT) or PennyMac Mortgage Investment Trust (NYSE:PMT). This would be an additional diversification avenue and boost to both earnings and future dividends. The conduit business is extremely small right now; over 90% of all mortgages underwritten are done with the support of the GSEs. When housing enters a sustained and prolonged multi-year recovery this footnote for some of the mREITs might become a hidden jewel. For now, the $0.65 dividend appears relatively secure as the company's core earnings appear to be in the low-$0.60s before any securities gains and IVR has some undistributed gains in reserve. Also helping: IVR was also able to complete an equity offering in mid-January and take advantage of wider spreads in agency and CMBS securities.
Investment Thesis: Any mREIT affiliated with Invesco and Wilber Ross & Co. certainly has deep resources to call upon, which makes the twin missteps in 2011 that much more surprising. I'll chalk that up to the 'nobody is perfect' column instead of the one reserved for 'fool me once….' IVR seems to have come back strong, and 2011 is in the rear-view mirror. As part of the basket of hybrid mREITs, IVR is certainly worthy of inclusion. I would not have a huge overweight in the name, however, despite the 12.3% yield at the current dividend rate.
Western Asset Mortgage (NYSE:WMC): The words of Frank Costanza from the "Seinfeld" Festivus episode seem appropriate: "Welcome, newcomers!" Western Asset Mortgage makes the transformation from agency mREIT to hybrid. Truthfully, you could go either way - like Jerry's date in the same episode - because WMC's investment portfolio is now 95% agency, 5% non-agency. Most hybrids have anywhere from 10-50% of their investment portfolio in non-agency, depending on if they are just starting up operations or not. So WMC is now in the hybrid mREIT category.
Of note: In their quarterly conference call, WMC management noted that new investment spreads in agency (175-200 bps) were more attractive than the ROEs on non-agency as of early-March. The rise in interest rates no doubt accounts for that reversal. You can see the spreads between a sample MBS coupon and various swap rates here; note the rise since the post-September QE3 lows: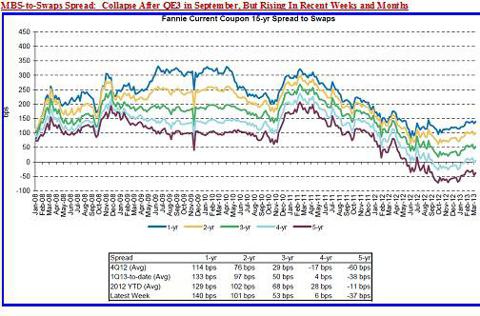 The non-agency MBS that WMC purchased were IO (interest-only) securities that act as interest rate hedges in a rising rate environment. IO's and PO's (principal-only strips) are leveraged bets on interest rates that are highly volatile and sensitive to rate movements. Normally, you might raise an eyebrow at an mREIT dealing in such esoteric derivative securities, but WMC's investment manager - Western Asset Management, a subsidiary of giant Legg Mason - has been investing in MBS since the early-1970's. Investors can take comfort that WMC is not being run by a bunch of newly-minted MBA kids with a few years of watching Bloomberg screens. Swaps, swaptions, CMOs, and non-agency RMBS are how WMC has chosen to manage interest rate risk.
As for Q4, WMC reported $1.05 in earnings, a slight beat on consensus. Prepayments fell to 3.6% CPR in Q4 from 4.1% in Q3. Overall portfolio investment yield rose to 2.86% from 2.80% in Q3 thanks to the slowing prepayments. Higher leverage also helped: WMC took it up to 9.2x in Q4 from 8.5x in Q3, but it has since been throttled back into the low-8's again. Book value in Q4 was essentially flat from Q3; BV of $21.67 decreased $0.09. The portfolio was weighted heavily to prepayment-protected securities in Q4; those MBS have taken it on the chin in Q1 as rising rates have made protection less valuable. It will be interesting to see if WMC timed their entry and exit on those securities.
With the wind at their back - or at least not in their face as much as other mREITs who faced the Wrath of Ben and QE3 - WMC actually increased the quarterly dividend to $0.90, a $0.05 boost to give a sector-leading yield of 16.3%. NIM was 2.05% up from 2.00% in Q3. Higher leverage and a move into non-agency securities would normally put WMC in the higher-risk category for the hybrids but management's deep bench and their strong start in difficult times give us confidence they should do as well once investment yield compression eases further and/or QE3 and/or 'Operation Twist' come to an end.
WMC has a unique twist of their own: negative duration at the long end of the curve, and positive duration at the short end. With long rates more likely to go up than short rates (the Fed and Ben B. insist they 'aint-a-moving), this has been the correct play so far. In addition to providing yield, the non-agency MBS portfolio also acts as a hedge against higher rates and stronger housing.
Investment Thesis: Normally, an mREIT's entry into non-agency would give me pause, as you don't know if the percentage is going to stop at 5%, 10%, or 40%. But it seems like WMC really is using the non-agency MBS to hedge interest rate risk on the rest of the portfolio, and not actually as a vehicle to take an investment bet on credit risk, similar to buying put options to protect a heavy-equity portfolio (as opposed to speculating in options). Whether you consider it a hybrid or an agency mREIT, WMC deserves a place in your mREIT portfolio.
Two Harbors (NYSE:TWO): Two Harbors reported core EPS of $0.28, a nickel below consensus and a few pennies below Q3 2012. TWO took down leverage and was impacted by lower yields on RMBS additions. Overall leverage fell from 3.8x to 3.4x at quarter end. Asset yield was 4.0%, down 20 bp. from Q3's 4.20%. Book value rose to $11.54, a fractional rise from the earlier quarter. Cost of funds was stable at 1.10% and NIM rose 10 bps. to 3.00% in the quarter. TWO's MBS portfolio was split into agency MBS (79%), non-agency (19%), and agency derivative securities (2%). CPRs ticked up in the quarter to 6.6% up from 6% in Q3 2012. Portfolio leverage was low because s agency leverage was below the 6.0-7.0x target.
Non-agency MBS are on the books for $0.61 on the dollar (cost was about $0.49 on the dollar) and TWO believes they could be worth another 15-20% more in coming months. In Q4 2012, TWO imitated MFA and released credit reserves to reflect credit upgrades. This was TWO's first credit reversal and they still have $4.32 per share in reserves that could be released in coming quarters.
TWO paid a $0.55 dividend in Q4, but that included a special representing past securities gains. The previous dividend in Q3 was $0.36, down from $0.40 which had been paid 7-quarters running. TWO's management is focused on book value preservation first, so they will not alter leverage or the credit profile to defend it. If the dividend is cut to the $0.30-$0.32 range that would equate to the 9.0 - 9.7% range. A very respectable yield in today's low-rate environment, but not on par with others in the sector. The bigger negative is the P/B is squarely in the eyes of a potential secondary, above the 110% P/B level that is the new Red Zone Warning for mREITs. The entire hybrid mREIT sector is trading just above book value, right at the historical median: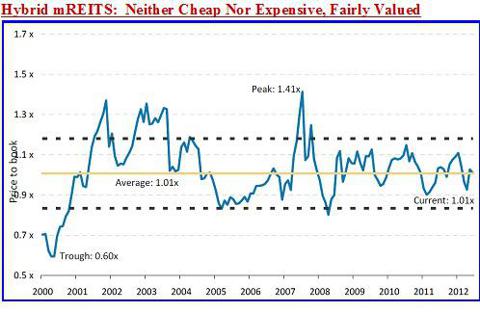 CYS Investments (NYSE:CYS) recently cut their dividend but the stock, at 90% P/B, suffered no negative price reaction. TWO might combine a cut in the dividend with a P/B-induced secondary which would likely engender a much more negative reaction in the share price.
TWO has a few funky items compared to other mREITS that bear watching. First, warrants to purchase 3.5M shares were exercised in Q4 2012 and another 13.5 million remain and expire in November 2013. With an exercise price of $11, it's cheap capital for TWO management - but dilutive to existing shareholders. Second, TWO has left the door open just a crack into possibly getting into the private-label securitizations market after working with a bulge-bracket firm on a deal in Q4 2012. It's early for private-label deals, but if housing continues to strengthen, this could be worth watching. Third, TWO holds 17.8 million shares of Silver Bay Realty (NYSE:SBY), about 48% of the shares. SBY went public in mid-January and the shares have a 90-day lockup. TWO has indicated they are likely to distribute these shares (representing its former interest in actual homes for rent/purchase) to shareholders as a special dividend or spin-off (each TWO share has about 0.06 share of SBY embedded in it).
Before Annaly Capital Management (NYSE:NLY) made the transformation from agency to hybrid mREIT, TWO had become the largest hybrid mREIT. The added liquidity and size - just under $4 billion market cap - have enabled the shares to trade at a nice premium to book value.
Investment Thesis: TWO's size and liquidity are a great plus for institutions, but the resulting premium to book value makes the shares pricey for small investors looking to initiate a position. TWO has excellent management who have built a good name for delivering steady results in their 3 years at the helm. They are running the company to protect book value, the right strategy. At the current P/B and with the dividend in danger of being cut, it is difficult to strongly recommend the shares. Wait for a pullback or a secondary for a better opening. TWO definitely belongs as part of the hybrid basket, you just don't want to pay a Rolls-Royce price for a Cadillac operation.
Net-Net, the entire mREIT sector is getting a boost from higher investment yields and slowing or peaking prepayments. The rise in rates QTD bodes well for Q1 2013 results. The entire sector has gone from having a strong wind in their face (QE3) to being able to cope and deliver relatively attractive -- if modestly declining (in some cases) -- dividend yields.
The good news is that the hybrid mREITs are now in their investment 'sweet spot', able to switch between agency and non-agency debt as they see fit. If rates continue to edge higher at a slow pace, both agency and hybrid mREITs will benefit from slowing prepayments and higher reinvestment spreads going forward. If the trends continue, very few of the stocks -- or their shareholders -- will have any 'airing of grievances' at Frank Costanza's next Festivus gathering.
Disclosure: I have no positions in any stocks mentioned, and no plans to initiate any positions within the next 72 hours. I wrote this article myself, and it expresses my own opinions. I am not receiving compensation for it (other than from Seeking Alpha). I have no business relationship with any company whose stock is mentioned in this article.
Additional disclosure: Online model portfolios and managed accounts controlled by the author may have positions in all of the stocks mentioned. The author himself has no positions in any of the stocks mentioned.