VIX - Market Sentiment:
Tuesday S&P futures were slightly down heading into the open as markets continue to digest the recent move higher. Bonds actually caught a bid today as bond ETF (NYSEARCA:TLT) caught a bid in the market today. This was in the wake of multiple articles continuing to call for a bond bubble to burst in the upcoming years. Other headlines making news today were focused on gold prices as they continue to move closer to bear market territory. Gold ETF (GLD) and Sliver ETF (NYSEARCA:SLV) both responded positively today gaining more than 0.7% on the day. Market complacency continues to dominate here although SPX and others actually picked up some put buying on the day, possibly signaling a possible slight pullback in the near future. For example large block buyers of the Ultrashort S&P ETF (NYSEARCA:SDS) and Ultrashort NASDAQ (NASDAQ:SQQQ) both showed up today. SDS and SQQQ both saw heavy inflows of call premium specifically in the April ATM calls suggesting a pullback in the next 39 days. For those who follow me and my trades on twitter I did join the SDS calls today increasing my hedge against a pullback as insurance is just too cheap with volatility this low.
The spot CBOE Volatility Index (VIX) and futures both popped on the day in response to the higher demand for protection. Volatility ETF (NYSEARCA:VXX), 2x ETF (TVIX) and alternative 2x ETF (NYSEARCA:UVXY) were up across the board on heavy volume in most instruments. The VIX ramped up hard until the typical 3:00 buyers raid again came into the market as the VIX and futures were sold down at this point. VXX had a heavy option day in terms of volume trading 150% average daily volume with puts outnumbering calls 1.3 to 1. Interesting here to me were the call buyers specifically the June 11 strike calls bought 5.3K times for 9.80 as the April 29 call position was rolled out a couple of months at a large loss. This trade cost the trader more than 500K in net premium which is deep in the money by VXX standards. Buying such deep in the money calls is interesting as the VXX by default will lose value every day the futures are not in contango. It is worth noting this is the exact number of calls which appear to have been sold to open back on March 5th for 11.45 and could just be a short call seller closing to take profits. Keep an eye on VXX options and open interest as they could be the key for predicting when the next possible selloff may be.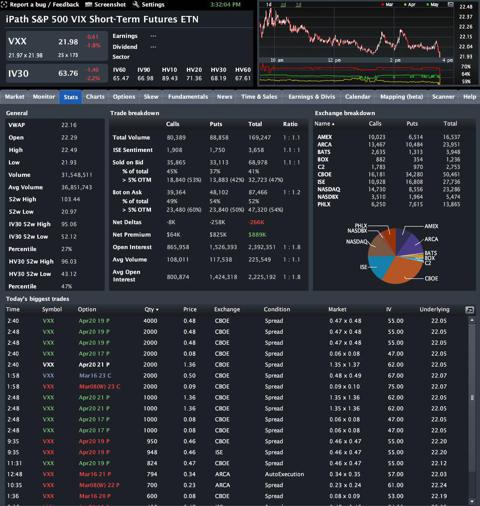 Statistics and Screenshot Provided By LiveVol
VIX futures are listed below.
Yesterday
· March VIX futures 13.08
· April VIX futures 14.55
· May VIX Futures 15.70
Today
· March VIX futures 13.35
· April VIX futures 14.82
· May VIX Futures 15.79
Options Paper:
Total options traded today were 16.4M contracts which on the surface seems to be very respectable. However, when you back out Merck (NYSE:MRK), Altria (NYSE:MO), Coca-Cola (NYSE:KO) and Viacom (NASDAQ:VIAB) for dividends it is much less impressive. More than 2M of these contracts were dividend captures as the market continues to move sideways. One name catching my eye yet again was 3D Systems (NYSE:DDD) as continued bearish paper dominates this name. Today call sellers and put buyers continued to drive the stock lower with the largest block trades being a May 40 strike synthetic short for 8.00. The buyer of this paid 80K of premium and more than 150K in buying power held for the short calls to buy the 40 strike puts for 9.00 and sell the calls for 1.00. This continues to work as the 6.8M in put premium I mentioned on the sonar reports last month continues to be held in open interest. Although today total option volume was not above average daily volume calls were sold on the bid 39% of the time and puts were bought on the ask 25% of the time. I took off some of my short on DDD the other day but will continue to hold as a break below the 30 level could send this stock much lower.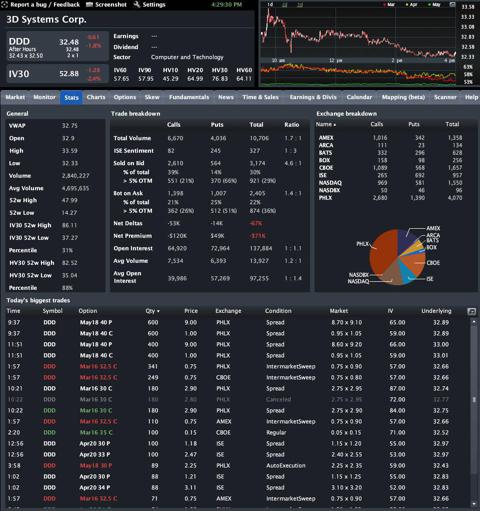 Statistics and Screenshot Provided By LiveVol
The sonar report yesterday (here) mentioned some bullish activity in Michael Kors (NYSE:KORS). Today KORS rebounded 2.3% but the bulls are not giving up as the 48-57.5-76 risk reversal was bought again showing some bullish flows. This trader sold the May 48 strike puts 1K times for 1.25 and used the proceeds to buy the 57.5-65 call spread laying out .75 for the whole trade. Although not much premium this trader believes there is a floor in KORS near the 48 level which is similar targets to recent bearish activity pointed out last week. Overall KORS remains on my bullish list and I will more than likely continue to hold my diagonal discussed yesterday. Calls outnumbered puts 2 to 1 on the day on nearly 150% average daily volume.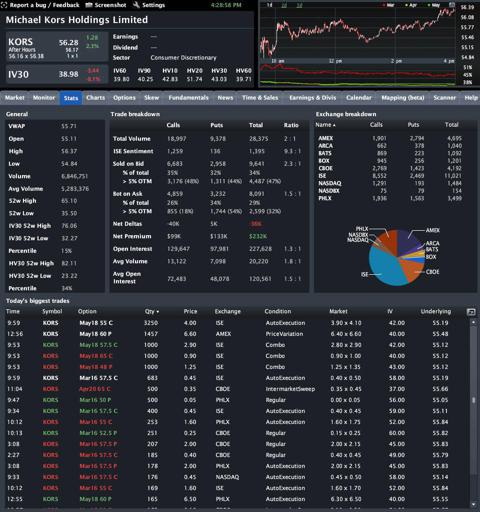 Statistics and Screenshot Provided By LiveVol
Popular ETFs and equity names with bullish / bearish paper:
Bullish Option Flows - ISE and % OTM calls bought on offer
HRPT Properties (NYSE:CWH) 89% - 4.9K OTM calls bought
Becton (NYSE:BDX) 78% - 2.5K OTM calls bought
Qlik Technologies (NASDAQ:QLIK) 75% - April 33 calls bought but I'm not a fan
Bearish Option Flows - ISE and % OTM puts bought on offer
Dean Foods (NYSE:DF) 88% - 8.9K OTM puts bought following yesterday as short put sellers take profits
Health Care ETF (NYSEARCA:XLV) 73% - 2.8K OTM puts bought
Texas Instruments (NYSE:TXN) 5.6K ISE puts bought for the April 36 strike
As always happy trading and stay hedged.
Remember equity insurance always looks expensive until you need it!
Disclosure: I am long AGNC, BA, CBB, CONE, ENDP, FL, IOC, JCP, KORS, MTGE, NRG, TLM, TUMI, and I am short ARUN, BIDU, DDD, LULU, SPY calls
Trades Today: Sold COF calls, Covered EDU short (Though I do see more downside), Bought SDS calls
Disclaimer: The opinions in this document are for informational and educational purposes only and should not be construed as a recommendation to buy or sell the stocks mentioned or to solicit transactions or clients. Past performance of the companies discussed may not continue and the companies may not achieve the earnings growth as predicted. The information in this document is believed to be accurate, but under no circumstances should a person act upon the information contained within. I do not recommend that anyone act upon any investment information without first consulting an investment professional as to the suitability of such investments for his or her specific situation.
Disclosure: I have no positions in any stocks mentioned, and no plans to initiate any positions within the next 72 hours. I wrote this article myself, and it expresses my own opinions. I am not receiving compensation for it (other than from Seeking Alpha). I have no business relationship with any company whose stock is mentioned in this article.