BreitBurn Energy Partners (BBEP) is an upstream oil and natural gas master limited partnership ("MLP"). Like similar MLPs, BreitBurn offers a competitive high yield and modest distribution growth. As of Q4 2012, BreitBurn had a current quarterly distribution of $0.47 per unit, or $1.88 annualized. At current prices, BreitBurn yields about 9.7%.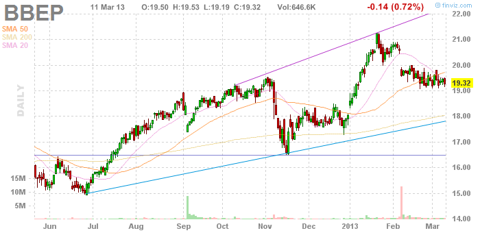 After temporarily suspending its distributions in 2009, BreitBurn has managed to produce 11 consecutive quarterly distributions increases since Q1 2010. Note that the chart below does not include the most recent increase to $0.47 per unit as of Q4 2012.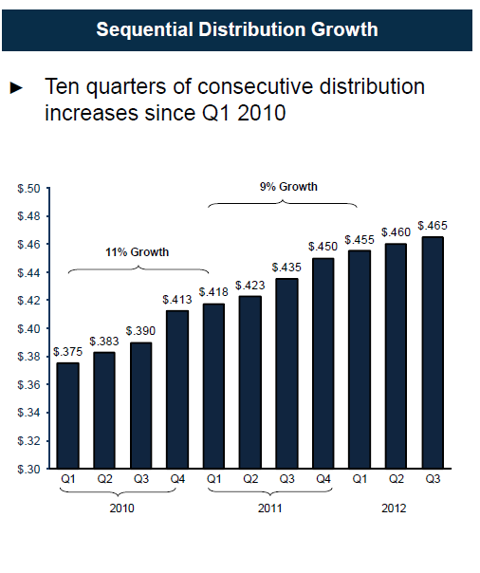 BreitBurn's asset base is currently spread across seven states. However, a majority of production and reserves are primarily located in Michigan, Wyoming and California. For FY 2012, BreitBurn's total production was 8,318 MBoe, with about a 50/50 oil and natural gas mix. The average realized crude oil price for 2012 was $90.82 per Boe while the average realized natural gas prices was $5.99 per Mcf. As of December 31, 2012, BreitBurn had proved reserves of 149 MMBoe.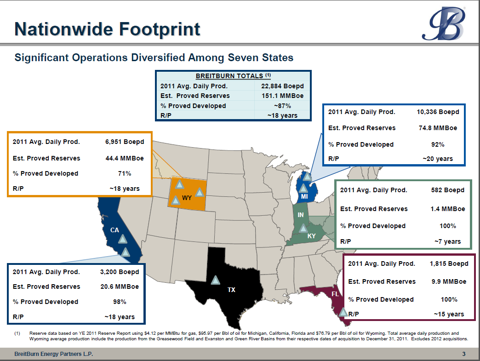 During 2012, BreitBurn has been making an active push to add more oil and liquids production. In order to accomplish this goal, BreitBurn made four acquisitions for a total of about $407M. These assets increased BreitBurn's total proved reserves by about 19.2MMBoe. Primarily due to these purchases, BreitBurn anticipates that its production will shift to about 53% oil for FY 2013.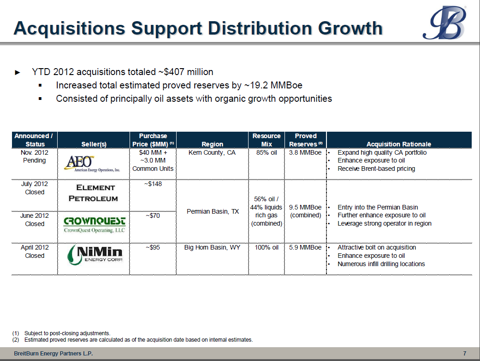 Like all upstream MLPs, BreitBurn has an active hedging policy to mitigate risks due to price volatility. Even during periods of extreme price fluctuations in oil and natural gas markets, BreitBurn's adjusted quarterly EBITDA has remained fairly constant.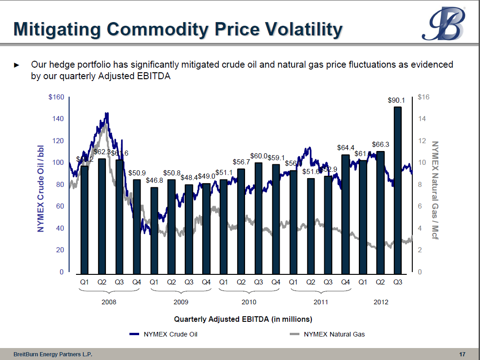 As of February 2013, BreitBurn had about 77% of its total 2013 expected production hedged at attractive prices. For 2014 and 2015, this total drops to 74% and 68% respectively. By 2016 and 2017, the total hedges are reduced even further to 38% and 10%. However, do note that during the Q4 2012 conference call, BreitBurn stated that it was expecting to add additional oil and gas hedges in years 2013 to 2017.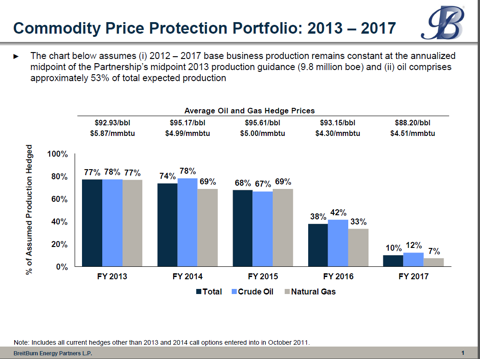 BreitBurn really needs to "up its game" it regards to hedging, as a lack proper hedges was the main cause of its distribution suspension in 2009. When compared with other upstream MLPs such as Linn Energy (LINE), Vanguard Natural Resources (NYSE:VNR) and QR Energy (NYSE:QRE), BreitBurn's hedges are quite underwhelming.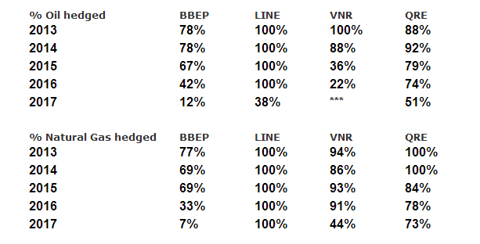 Conclusion
It is my opinion that BreitBurn is one of the lower quality upstream MLPs. While it has turned around significantly from its 2009 lows, the distributions levels are still lower now than where they were in 2008. Due to its prior history of distribution cuts and lackluster hedges, I would suggest that investors looking at the upstream MLP sector to stay clear of BreitBurn, and instead consider one of its peers.
Disclosure: I am long QRE, VNR. I wrote this article myself, and it expresses my own opinions. I am not receiving compensation for it (other than from Seeking Alpha). I have no business relationship with any company whose stock is mentioned in this article.