McDonald's (NYSE:MCD) is one of the largest companies in the world, and serves fast food to people on every corner of the Earth. Having established a company that feeds 68 million people per day (about 1% of the world's population) and with 440,000 employees according to its 2012 year end 10-K, it is amazing that McDonald's is still managing to grow and improve. There is money to be made with this already massive company, as it continues to fatten its share in the fast food industry.
Worldwide Growth
McDonald's is an undervalued company that will continue to see improvements in its business that people won't expect. The corporation has ambitious goals for growth, especially in China and other parts of Asia. In its 2012 year end report, the company stated that in APMEA (Asia/Pacific, Middle East and Africa), comparable sales grew 1.4% despite the "challenging year of economic pressures". 750 new stores were opened in APMEA and 250 of them were in China. Growth in the United States and Europe was even more impressive, with comparable sales increasing 3.3% and 2.4%, respectively. 2013 outlooks are similar, with a particularly strong focus on APMEA. In China, McDonald's plans to open over 300 restaurants to reach its goal of 2,000 new ones by the end of 2013. Revenues for the company have been increasing steadily in the past 10 years, as shown by the chart below.
The company has an impressive strategy for growth called the Plan To Win. It is based off of five pillars: People, Products, Place, Price, and Promotion. This is the plan that will guide the company to even more success in the future. According to the year end report, the company has set these ambitious annual goals that can be achieved through the Plan To Win:
Systemwide sales growth of 3% to 5%.
Operating income growth of 6% to 7%.
Return On Incremental Invested Capital (ROIIC) in the high teens.
These goals show that McDonald's is planning to expand at a high rate in the coming years, meaning higher earnings for the company (which offers a $3.08 per share dividend) and investors.
The significance of this growth is that investors do not expect such wonderful expansion and improvement from an established company. McDonald's was founded more than half a century ago and has dominated the fast food industry ever since. It's unexpected for a company of this size and caliber to continue growing at such an impressive rate. In 2011, 773 restaurants were added. In 2012, that number grew to 970. Also, with the impressive and rapid growth of the economies in the countries of APMEA, it is a good sign to see McDonald's restaurants opening there. The company is consistently expanding, and doing it in the right places.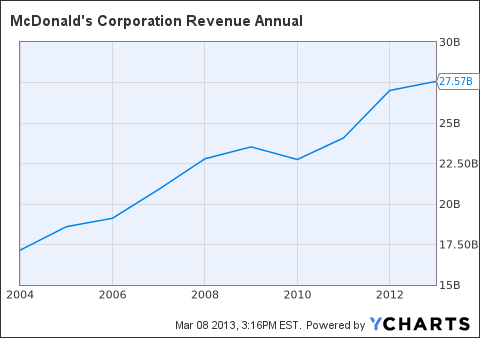 MCD Revenue Annual data by YCharts
Valuation
McDonald's is not at the price that a fast food giant bringing in more than $25 billion in revenue per year with profit margins at nearly 20% should be. It is trading at only 18.38 times earnings, as the price sits just below $100. The price/book is respectable at 6.37 and the price/sales even better at 3.53. Its two fiercest competitors, Burger King (BKW) and Yum! Brands (NYSE:YUM) are trading at 56.42 and 20.06 times earnings, respectively. These two competitors, though, don't stand a chance against McDonald's. Here are the companies' net incomes:
McDonald's: $5.46 billion.
Burger King: $117.70 million.
Yum!: $1.60 billion.
McDonald's has dominated the fast food industry for years, and there is nothing showing it will stop anytime soon.
Disclosure: I have no positions in any stocks mentioned, and no plans to initiate any positions within the next 72 hours. I wrote this article myself, and it expresses my own opinions. I am not receiving compensation for it (other than from Seeking Alpha). I have no business relationship with any company whose stock is mentioned in this article.