We were looking over the blue chip names last night and noticing that investors have really become much more disciplined in their approach to investing after the past few bubbles popped and we believe that this is due to the fear of risk. Those in the market will probably see some very nice gains over the long-term as we have entire generations which are effectively on the sideline due to their personal fears of the stock market or due to debt obligations from education or homes. That may be enough to provide for a steady pipeline of new investors over the next decade or two, but it also means that right now there is a ton of cash on the sidelines and sitting in money market accounts or other financial institution investments...certainly not getting utilized to its fullest, nor obtaining returns that even match the long-term average which most models for retirement and other big life events are based off of.
Chart of the Day:
That brief pullback we wanted everyone to pay attention to in the NYSE Advance/Decline Line has been just that...brief and a pullback. Notice in the chart below how we have reverted back to the trend. Trends are your friends...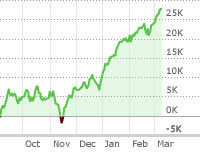 Chart courtesy of TDAmeritrade.
We have economic news due out today, and it is as follows:
MBA Mortgage Index (7:00 AM EST): N/A
Retail Sales (8:30 AM EST): 0.5%
Retail Sales - Ex Auto (8:30 AM EST): 0.5%
Export Prices - Ex Ag (8:30 AM EST): N/A
Import Prices - Ex Oil (8:30 AM EST): N/A
Business Inventories (10:00 AM EST): 0.3%
Crude Inventories (10:30 AM EST): N/A
Treasury Budget (2:00 PM EST): -$205.0 Billion
Asian markets finished lower today:
All Ordinaries - down 0.47%
Shanghai Composite - down 0.99%
Nikkei 225 - down 0.61%
NZSE 50 - down 0.86%
Seoul Composite - up 0.32%
In Europe markets are trading down this morning:
CAC 40 - down 0.30%
DAX - down 0.10%
FTSE 100 - down 0.73%
OSE - down 0.31%
Technology
Yesterday we had two names moving in the tech space, which we have discussed quite a bit in our articles, as OCZ Technology Group (NASDAQ:OCZ) and VeriFone Systems (NYSE:PAY) both made big announcements.
OCZ Technology announced that they had obtained a $30 million credit facility from Hercules Technology Growth Capital , Inc., consisting of $15 million as a term loan and $15 million serving as a revolving credit facility. Upon closing OCZ drew down $10 million on the term loan, however the remaining $5 million cannot be touched until they meet certain guidelines which are spelled out in the loan agreement but pertain to revenue levels being achieved over two quarters as well as being up-to-date on their SEC filings (which they currently are not). Readers can find the link to the press release here for more details on the deal. It is good news that the company found someone willing to lend to them with their current situation in regards to the financials, so investors must take some solace in that fact. Also, readers should be aware that the company has a conference which they are presenting at today, the Piper Jaffray Technology, Media and Telecommunications Conference, in New York at 2:30 PM. If they have a good narrative then we could see some follow-through on yesterday's 20%+ gain in the shares.
Rarely do you see a situation like we saw at VeriFone, where they discuss shaking up the management level to help right the ship and in a matter of days the company's Chief Executive Officer is stepping down. It was good news for the shares and for the best long-term, but few saw that one coming. After the drop on the quarterly miss we went bullish, from our bearish stance and thus far that was a good call. We like the action in the shares over the past few sessions and if the company's issues really are a simple fix then we have ample room to move higher still, but we do want to point out that if there are some troubles out there which are being understated right now, then we could be approaching the fair value for shares here at $21.68/share. Just something to keep in mind this morning for our trader readers.
Biotechnology
We continue to watch shares in Arena Pharmaceuticals (NASDAQ:ARNA) as the company awaits for the last approval they need to begin to distribute and sell their weight-loss drug Belviq. We have seen a steady drift lower and we actually became worried about the shares yesterday until we realized that they had found some support around the $8.30/share level...the bad news is that the shares managed to close very near the lows of the day. Volume has dried up here and so too has the euphoria the diet drug makers experienced over the past two years. It seems that much of that capital may have moved on to such sectors as the 3D printing industry and other fast money trades.
It sure appears that enthusiasm has been tempered and that a holding pattern has been established...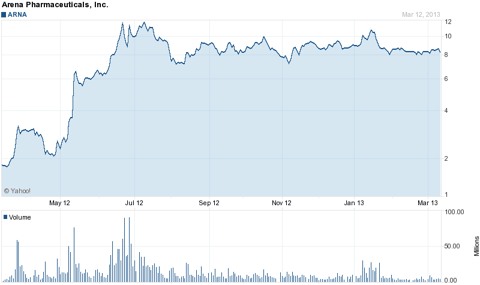 Chart courtesy of Yahoo Finance.
Manufacturing
It appears that Boeing (NYSE:BA) may finally have a solution to the battery issues which have grounded the entire fleet of Dreamliners. The Federal Aviation Authority has approved the company's plan to fix the issues and there is an article from the AP located here which goes into detail about that. The other big news out on the company is that it appears that they have won a huge 737 order from Ryanair worth around $15 billion in total (there is a Reuters article here discussing the deal). All this good news sent the shares to new 52-week highs yesterday and we noticed that BB&T is out with a research note this morning where they upgraded the company's shares to a 'Hold' from an 'Underweight'.
Precious Metals
We have been discussing gold, silver and oil recently in our commodity articles and wanted to add a bit of that here this morning to expose our readers to our thinking. We have highlighted the strength of the US dollar against the rest of the world's currencies and it is simply due to our having printed less money then everyone else who printed large amounts while also having one of the better economies. It appears that this liquidity injection the Fed gave us, and continues to give us, will have more of an impact as what is currently dormant capital is redeployed to better uses and picks up velocity within the economy.
This is why we are not worried about the pullback in precious metals or the fall in oil prices, as we think it is but a short-term trend and weakness is to be bought, not sold. The world economy cannot continue higher, nor the stock markets for that matter, without some real economic growth soon. Most of the fat has already been cut back. If gold is going to rise, so too shall Yamana Gold (NYSE:AUY) which is one of our favorite plays among the gold miners. The shares have been hit hard, but not nearly as hard as others and this is due to the quality of the company from the top down. For those who do not want gold streamers or actual gold, then this is one of the few ways we would go.
Disclosure: I am long OCZ. I wrote this article myself, and it expresses my own opinions. I am not receiving compensation for it (other than from Seeking Alpha). I have no business relationship with any company whose stock is mentioned in this article.