It is looking like we are setting up for a move higher in the commodity space which would bring some of the players trading near the middle of their 52-week highs more towards that upper bracket. Looking at our watch lists and the screens we have set up, we have noticed over the past few trading sessions capital finding its way to names offering value while still pushing the momentum names higher. We are not sure how much higher the momentum names can go, but we do recognize that there are some very attractive spreads on value between various companies at this time. That could be something for our more sophisticated readers to look into and see if there is an attractive risk/reward trade that is suitable.
Commodity prices this morning are as follows:
Gold: $1591.50/ounce, down by $0.20/ounce
Silver: $29.065/ounce, down by $0.106/ounce
Oil: $92.83/barrel, up by $0.29/barrel
RBOB Gas: $3.1783/gallon, up by $0.0281/gallon
Natural Gas: $3.63/MMbtu, down by $0.015/MMbtu
Oil & Natural Gas
Chesapeake Energy (NYSE:CHK) could have a bit of trading news out today as a judge is set to rule on a battle which has been going on between the company and some bond holders. At issue is when the bonds have to be called by and whether the deal has to be closed by the date in the documents or if the company must simply formally announce that they are calling them. It is worth about $400 million to Chesapeake in that if they can call the bonds that they would reduce cash outflows by $400 million over the next few years. The company has a ton of debt out there and some very complex deals structured around transactions we would not describe as 'normal' so this restructuring of debt moving forward could get dicey with a few more of these types of situation creeping up.
We saw yesterday that Heckman (HEK) is trading back above $4/share thanks to the beat on the top and bottom. Readers will remember that this is the name that Jim Cramer mentioned a few months back and the stock went bananas. They provide waste services for the oil and natural gas names we like so much and with the ramp-ups in the liquids phase starting to take place and finally getting rig counts back up to where they were during the natural gas boom we can see servicers doing quite well, especially those names in the Bakken, Eagle Ford, Utica, Permian and Wattenberg. Investors cheered the news yesterday sending shares higher by $0.43 (11.59%) to close at $4.14/share, however analysts were not as enthusiastic with many seeming to reluctantly hold their prior ratings steady.
Materials
The next company we are going to talk about is not exactly a commodity name, but one which we have invested in over the past two years for trading purposes and to play the rebound in housing. We are talking about Cemex (NYSE:CX) which is one of the largest cement and road building companies in the world. We really liked the sharp rise into the close that the shares had yesterday and recognize that with that the shares hit a new 52-week high, although they closed a penny off of that level. The stock has been on fire over the past three weeks or so, having risen from just above $10/share to its current $12.16/share. If one believes that we are going to have a strong economy and things are going to get built, then is most certainly a play to look in to.
It has a really nice chart over the past eighteen months...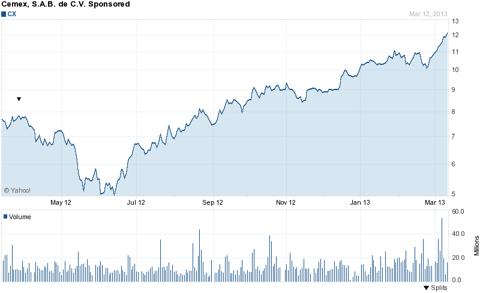 Chart courtesy of Yahoo Finance.
Precious Metals
We discussed Iamgold (NYSE:IAG) on Monday and have been talking about the precious metals for a while now, so yesterday's move higher in the shares of over 7% was a welcomed sign. We also liked the fact that shares finished above $7/share on the move which is important for psychological reasons. Looking at the chart yesterday it was exactly what one wants to see, a rise from the lower left to the upper right on good solid volume with no big pullbacks into the close. We shall see if this move can continue.
Also, we wanted to provide an update for readers on AuRico Gold (NYSE:AUQ) as we have gotten a few questions about it via the DM feature on Twitter (our handle is @theinvestar for those who are interested) as well as email. We remain bullish on this one and recognize that it is a medium to long-term play with the potential to get taken over should they stumble at any point along the way. The company has demonstrated time and time again an ability to monetize assets, so we see that as a worst case scenario.
Disclosure: I have no positions in any stocks mentioned, and no plans to initiate any positions within the next 72 hours. I wrote this article myself, and it expresses my own opinions. I am not receiving compensation for it (other than from Seeking Alpha). I have no business relationship with any company whose stock is mentioned in this article.