Introduction
This article is to serve two purposes:
1. Update the timeline of events surrounding Longwei Petroleum for investors and readers.
2. Update outlook on the company's future.
I first wrote about Longwei Petroleum (LPH) right after The GeoInvesting team posted an article here on Seeking Alpha comprised of some of the most furious DD this author has ever seen. GeoInvesting started by introducing Longwei to the public:
Longwei is reportedly engaged in the wholesale distribution of finished petroleum products in the People's Republic of China (the "PRC"). LPH's headquarters are located in Taiyuan, Shanxi Province, adjacent to and overlooking its Taiyuan fuel storage facility. LPH has a reported fuel storage capacity of 220,000 metric tons located at three storage facilities within Shanxi: Taiyuan, Gujiao and Huajie, which it claims have individual storage capacities of approximately 50,000 metric tons ("mt"), 70,000mt, and 100,000mt, respectively.
They concluded through their due diligence that Longwei was fraudulent on almost every aspect of their business and wrote:
Unfortunately for owners of LPH stock, we have determined that the company's purported business operations are massively overstated and a brazen fraud, on an order of magnitude unmatched before by any China-based companies we have seen.
At the time, LPH stock had been trading at some of its highest points as a company, near $2.50/share. After the article was posted, the stock made a beeline to $0.62/share, where it has sat, halted, since then: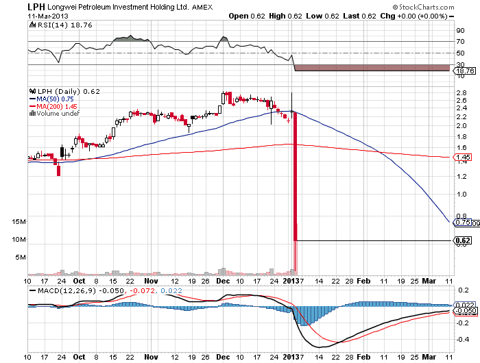 The Timeline of Events
December 3, 2012 - Longwei hits an all-time high of $2.85/share.
January 3, 2013 - GeoInvesting releases their initial article, systematically dismantling LPH from the inside out. LPH subsequently halted at $0.62/share.
January 11, 2013 - Longwei releases their own copy of security video, that I comment on in my first article:
Emerging from their seven day silence, with their King Solomon-like first-response to the real first response, Longwei released yesterday what they claim to be their security videos of the same area that GeoInvesting claims to have had cameras on, and -- guess what -- it shows a completely different number of tankers in and around the area at the time in question. Both of these videos, provided by Longwei, show workers in and around tankers pulling up to a docking station. They show workers pointing to things in the docking station, milling around the tankers while they're stopped, and sticking the tankers to take measurements.
January 17, 2013 - My first article, pondering which of these two parties has been brazenly disingenuous, is published.
What Has Happened Since My Last Article
January 11-19th - Class action lawyers smell blood and start to fire off multiple PR's fishing for investors that lost significant amounts of money in LPH.
January 30th, 2013 - GeoInvesting releases another article with China Central Television investigating the action at the Longwei plant. The results they find align with the fraud claims put forth by The Geo Team. The video includes them touring the facility, noting the growth of weeds on their rail spur, and speaking with locals who claim they don't see much going on on-site.
February 1, 2013 - LPH files Form 8-K announcing two Board of Directors resigning.
February 26, 2013 - The company receives a non-compliance notice from NYSE and continues to half-assedly defend itself by saying:
As previously stated, Longwei believes the Geo Investing report dated January 3, 2013 contains numerous errors of facts, misleading speculations and malicious interpretations of events. Nevertheless, in order to provide the highest level of transparency to its shareholders, the Company and its legal counsel in the U.S. and the PRC, as well as its auditor are reviewing the allegations and management is cooperating with the review process. The Company intends to take further action to defend itself.
March 11, 2013 - Longwei PR announcing a delist from NYSE with the same defense as listed above.
Conclusion
It is looking less and less like the timed silence by Longwei executives is going to be for something like a full scale 3rd party audit; which could really be about the only thing that could save this company at this point. It becomes harder and harder to mount a defense for the company without something like an objective outside audit of production and staff.
It has now been over three full months since the original article was published and nary a word has been muttered by Longwei executives. Two Directors have resigned and class action suits loom. No 3rd party audits of production have been performed. If the chance presents itself and there are shares to borrow, a short upon re-trading could be extremely lucrative.
If you're new to China-based US stock scams, this has the potential to serve as the mother of all cases - so review the facts and pay close attention to how it's done. In the rare event that LPH trade again, presumably it will be on the OTC Market, where corruption and fraud are brazen. Tons of questions still loom here and aside from having a show to watch, it is in the opinion of this investor to stay as far away from LPH as possible.
Disclosure: I have no positions in any stocks mentioned, and no plans to initiate any positions within the next 72 hours. I wrote this article myself, and it expresses my own opinions. I am not receiving compensation for it (other than from Seeking Alpha). I have no business relationship with any company whose stock is mentioned in this article.