Coming into 2013, many feared that sentiment was too bullish, earnings estimates were too high, and that the Fed was causing commodity inflation.
Yet here we are, only a couple of weeks from the end of the first quarter, and equities (NYSEARCA:SPY) are up 9.1%. This has bumped the TTM P/E ratio to 15.25 or 18 (depending on whether you look at "operating earnings," which exclude write-offs, or as-reported earnings, which are the GAAP figures). This multiple expansion has prompted bears to argue that we need "real economic growth" to sustain the rally.
Commodities have been major losers in 2013. Gold (NYSEARCA:GLD) is down about 6%, Silver (NYSEARCA:SLV) is down 6.3%, and WTI crude is down about 3% and well off its highs above $97/barrel. In other words, the "inflation hedges" have been nothing but underperformers.
Gold Bull Coming To An End
After going range bound between $1,640 and $1,690 for the beginning of 2013, gold finally broke under support with conviction, and currently appears to be consolidating between a new price range of $1,560 and $1,600: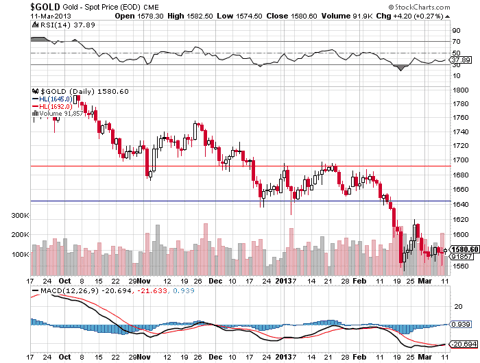 Gold miners (NYSEARCA:GDX) have performed laughably YTD, down more than 15%. Despite the cheap multiples that mining bulls are excited by, the entire industry (especially the juniors) is fraught with political risks, poor management, lack of transparency, and disappointing production. Tack on the well-founded concerns that the secular gold bull may be coming to an end and it becomes awfully difficult to find value here.
The move away from precious metals and into equities is a result of a better understanding of monetary policy. Four years into unprecedented Fed action, it's clear that inflationary risks are minimal, as they are driven by private bank lending, not M1 printing on the part of the Fed. Many hedge funds still have the "fear trade" on (John Paulson), and are (once again) underperforming and facing redemptions. As equities march relentlessly higher, sticking to this misguided framework becomes increasingly difficult.
Energy (NYSEARCA:XLE)
Despite weak spot oil prices, the energy sector has remained in the fight for a spot among the top three sector performers. Largely driven by strong natural gas prices, Schlumberger (NYSE:SLB), Halliburton (NYSE:HAL), Chevron (NYSE:CVX), and Chesapeake (NYSE:CHK) have led the XLE. The LTM P/E for the energy sector is about 12.5.
I believe some good relative value can still be found in the energy sector.
National Oilwell Varco (NYSE:NOV) is a cheap way to gain exposure to the growth in offshore drilling and international oil production. Its EPS has grown at an annual rate of 16% since 2010, and is expected to be about $6.20 for FY13. At only 10.9 times earnings, NOV is trading at wide discount to the broader market. Considering bullish factors such as a high average fleet age, increased potential oil finds (driven by compelling economics and advances in seismic technology), NOV's growth prospects suggest that the current valuation offers significant upside.
Chesapeake continues to trade near book as ongoing concerns regarding the value of some of its assets, management, and its financial position continue to weigh. In reality, balance sheet risk is essentially non-existent, the board has been totally metamorphosed as Lou Simpson and some of Carl Icahn's guys have joined (not to mention -McClendon is now gone), and its core assets are carried on the books at values that imply natural gas prices closer to $2.50/mmbtu.
Transocean (NYSE:RIG) shareholders have seen some value unlocked thanks to Carl Icahn's proposal for a hefty dividend (RIG will yield about 4.3% based on current prices in June when the dividend is reinstated). The company will benefit from many of the same industry tailwinds that NOV will, and the stock trades at less than 10 times forward earnings.
Financials (NYSEARCA:XLF)
The more speculative, investment banking-driven financials are sitting on gains of more than 20% YTD: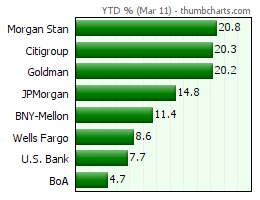 I think this rally brought those top three performers far closer to their intrinsic values than it has for JP Morgan (NYSE:JPM), Wells Fargo (NYSE:WFC), and US Bancorp (NYSE:USB).
JPM and WFC are far and away the two best banks, with heavily diversified operations and the top mortgage operations. At 10X pre-tax income (a fair multiple to pay for good businesses in normal times), both of these banks still have 35-70% upside.
That being said, I don't feel as comfortable initiating long positions in Citi, GS, MS, or BAC at current levels. There is some value left in all of these names, but I find that the margin of safety and convexity isn't there. I think the sector as a whole will continue to lead the broader market higher in 2013 though the longer-term outlook isn't quite as bright, with the exception of WFC, JPM, and USB.
Continued Sector Rotation
Thus far, we've seen extremely healthy sector rotation in 2013. As one sector slows down (energy), another one takes the top spot (financials and healthcare).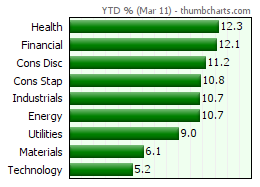 Calls for a correction seemed well-reasoned as we stalled out around the record highs, as we were being led by consumer staples and some utilities. Surprisingly, we've moved above the highs with conviction, led by financials and industrials.
Going forward, I largely agree with David Tepper's conviction that "you can't get long enough." We're now beginning to see M&A, housing, and employment activity pick up their pace.
To play this, I'm interested in higher beta, late economic cycle names, and deep value equities.
In addition to the aforementioned recommendations, companies like Goodyear Tire (NYSE:GT), Ford (NYSE:F), and Delta (NYSE:DAL) offer substantial upside. The airlines are particularly intriguing as consolidation continues, oil prices remain flat, and the U.S. buck strengthens.
Conclusions
2013 equity returns could plausibly come in close to 20%. The theme this year will continue to be the unwinding of the fear and inflation trades, and investors will be willing to pay up for equity relative to non-income producing precious metals.
Plenty of equity bargains remain among many industries, with late-cycle, economically sensitive names and deep value stocks likely to outperform.
Disclosure: I am long CHK, NOV, WFC, GT. I wrote this article myself, and it expresses my own opinions. I am not receiving compensation for it (other than from Seeking Alpha). I have no business relationship with any company whose stock is mentioned in this article.