The drug store chain sector has outpaced the market over the last year and each of the three major participants appear to be overvalued in our opinion.
Our thesis initially arose out of research performed on the impact of the Express Scripts (NASDAQ:ESRX) and Walgreens (WAG) contract impasse, that ran from January 2011 - July 2011, on industry participants. We decided to look more closely at the sector when we noticed yesterday that CVS was trading near their 52-week high and our interested was drawn to see if such valuations were warranted.
In reviewing this major sector disruption, the impact on the drug store vendors is evident.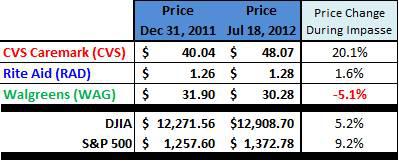 Based purely on stock performance, CVS was the clear winner as their stock rose over 20% during the 7-month period easily outpacing Rite Aid (NYSE:RAD) (+1.6%) and Walgreens (-5.1%) respectively as expected. CVS stock performance also eclipsed the major market indices during this period with the Dow expanding by over 5% and the S&P by over 9%.
Since the conclusion of the ESRX/WAG impasse, industry participants shares have continued to rise at a rate still outpacing major indices. While the Dow has rose by 17.7% and the S&P 500 by 23.3%, RAD (+32.5%), CVS (+31.4%) and WAG (+32.5%) through yesterday's market close.
In the absence of any major event for the three companies involved one would anticipate a degree of normalization following the contract renewal between Express Scripts and Walgreens. However, Walgreens moved forward with a significant international acquisition in June 2012 and the sector received a considerable boost starting this in December 2012 as an influenza outbreak drove customers to their local pharmacies.
As the effects of the outbreak catalyst begin to wane, we can conduct a more conclusive valuation analysis. Consensus estimates project that CVS will earn $3.93 and $4.36, Rite Aid, -$0.01 and $0.03 and Walgreens, $3.28 and $3.63 on a per share earnings basis for fiscal 2013 and 2014 respectively according to data from Zack's Investment Research.
In conducting our analysis we derive a fair per share value of $44 for CVS and $37 for Walgreens. Our DCF analysis suggests a $42 target for CVS and $38 for Walgreens respectively. In each case our underlying assumptions appear to deviate from consensus estimates related to the added value of the Walgreen's acquisition of Alliance Boots (this was covered extensively in the company's 2013 Analyst Meeting). We were also somewhat more conservative in our out-year growth assumptions for CVS. The point of variation here appears to take place starting in 2016 where the consensus per share estimate of $5.65 exceeds our $5.15 projection by nearly 10%.
We do not perceive Rite Aid breaking even until 2015 and harbor continued concerns over the company's performance. We highlighted our position following the release of the company's February sales data last week in our SeekingAlpha analysis 'Rite Aid Increasingly Inconsequential'.
Disclosure: I have no positions in any stocks mentioned, and no plans to initiate any positions within the next 72 hours. I wrote this article myself, and it expresses my own opinions. I am not receiving compensation for it (other than from Seeking Alpha). I have no business relationship with any company whose stock is mentioned in this article.