Beyond the comments section of what I write, I often get comments and questions sent to me privately. One of the ones I get most often surrounding Sirius XM (NASDAQ:SIRI) is:
"I wonder what the shorts know that we don't?"
With Sirius XM's most recent short data, as discussed by fellow author Little Apple, the frequency of that question seems to be increasing right along with Sirius XM's short total.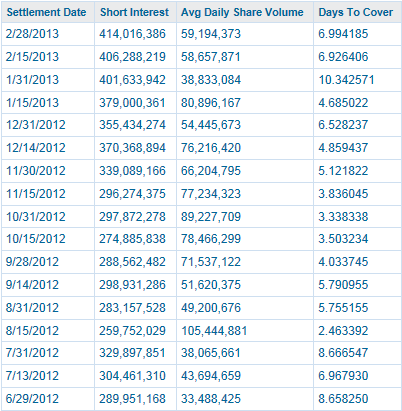 As Little Apple stated, this most recent short data now tops 414 million shares sold short. At present prices of $3.20 per share this equates to $1.325 billion worth of stock that is a debt to holders of these positions, or more simply, $1.325 billion, which must be repaid at some point.
The sentiment of a short position by itself is simple to explain. The holder of that position hopes that the share price will go down so that they can cover at a lower price and keep the difference. Drop from a short at $3 to a cover at $2? Congratulations. You just made $1.
But are shorts "smarter" than longs? Are the 414 million short positions based on more intelligence than the over 7 billion long positions in the company (6.6 billion outstanding shares plus the shares sold short.)
I'd have to think the answer here would be "no."
One has to only look at the history of Sirius XM's short data to see that shorts have had a very difficult time over the last 8 months. Likewise, longs have had a party at the short's expense. Every time a short covers, more buying pressure is pushed through, and short covering has contributed to certain points of rapid advance in the share price recently.

So why do these shorts keep piling on? Or kicking the can down the road, as Apple puts it? It's a question that is likely not easily answered, but can become a bit more clear when one understands that this position is made up of different types of shorts.
The largest type, in my opinion, is one, which is hedged to the outstanding convertible notes. These notes are convertible into shares and because of this, a note holder can and usually will short the underlying stock to get his or her capital back. After this they are free to collect the interest, and the cash is free to be used elsewhere. Once they've shorted, they can't lose anything except future gains because the notes provide a hedge against the short.
I expect that this underlies more than half of the short position, and possibly up to about 70%.
But what of the other 30 to 50%?
Consider that there are a huge number of people out there who "trade" on a daily, weekly, or monthly basis. These are not really investors, but rather they are playing the short-term movement and trends as the stock goes up and down. They can, and will, take up short positions as a stock goes to certain points or exhibits certain signs. The intent? To short high and cover lower, making a profit in the process.
The problem? Sirius XM may have shown to be a prime short candidate here and there, but with Liberty Media (LMCA) buying so many shares, and now with Sirius XM pushing a $2 billion share buyback through, downside is likely limited. Because of this more and more shorts may find themselves under water if they are simply trading technicals and ignoring the fundamentals of the company and stock. Many of these shorts may be willing to hold on, hoping that the stock will make a turn for the worse.
And of course there are those who just do not believe Sirius XM will remain a viable company in the future. A recent author, Dan Weidelich, holds a short position in Sirius XM as well as owning September $2 put options. Dan believes the stock will, despite the buyback, and despite the fundamental positives, cave in below $2 per share in the next 6 months on news of Apple's (NASDAQ:AAPL) rumored "new" music service.
Good News For Longs
The good news about an increasing short position for longs of Sirius XM is that these shorts *must* cover someday. The shares they have sold short they hold as a negative in their accounts, and this must be balanced off at some point. The higher the share price goes, the more risk the short holder takes on, and the likelihood of a margin call increases.
The way I look at 414 million shares short? That's $1.325 billion worth of guaranteed buying pressure at $3.20 per share. The higher the share price goes, the higher this amount rises. The higher the short interest, the higher this amount rises.
On top of this if the shorts are hedged against the bonds, that is likewise a very good thing. Why? Because on conversion the shares from the bonds simply cover the short. That's it. If the holders are not short as they take possession of hundreds of millions of shares they may sell into the market and cause a drastic drop in share price. As a long, you will want a considerable short position pointing to the fact that those bonds are likely hedged.
Increasing short interest, to me, is a wonderful thing. With my long positions in Sirius XM while Sirius XM performs its buyback, I would absolutely love for more shorts to sell right into that share repurchase program. Eventually, such behavior will backfire. Short positions will grow and take longer to cover. Sirius XM's buyback plan will reduce the retail float and likely reduce the daily trading volume of the stock, increasing time to cover as well. And on top of this, if Sirius XM continues the strong performance it has been showing, the most likely direction of the stock is up. This may present a very big problem for those with short positions, especially if there is a point where the price makes a run and shorts rush to cover.
I know I have been suggesting that shorts "cover now" in the past. Well, I've changed my mind. Shorts, please, feel free to continue shorting into Sirius XM's $2 billion repurchase program.
I'll thank you later.
Disclosure: I am long SIRI. I wrote this article myself, and it expresses my own opinions. I am not receiving compensation for it (other than from Seeking Alpha). I have no business relationship with any company whose stock is mentioned in this article.
Additional disclosure: I am long SIRI January 2014 $2 calls.