BlackBerry (NASDAQ:BBRY) has had a relatively unstable track record throughout this fiscal year. Based on Q3 FY2013 earnings reports, there was a five percent drop in revenue, which amounted to a net loss of $144 million for the company. On top of this, its market share and phone shipments have been steadily decreasing. Due to these factors, investors have been shorting this stock like crazy. This is not surprising because BlackBerry has been on a gradual decline for the past two years. However, investors must pay attention to how the momentum is beginning to shift for the company. Hefty stock increases and a possible short squeeze have raised alarm bells for those shorting or thinking about shorting the stock.

Despite predominant negative reception, a number of events have given BlackBerry an ability to rebound in 2013. The BlackBerry Z10 smartphone is providing the company with the ability to recapture market share worldwide. Lenovo has recognized the potential growth and has considered acquiring the company. BlackBerry is finally beginning to get the ball rolling after a huge slump. With a current stock price of $14.31, I expect the price to greatly exceed $20 or even $30 by Q3 2013.
The Z10: BlackBerry's Trump Card
With the US launch of the BlackBerry Z10 on March 22, there has been a lot of anticipation and high expectations for domestic sales. The Z10 sales in Canada and Europe have proven that BlackBerry is having some success in the market. In Canada alone, there have been over 2 million sales of this smartphone. If we combine this with sales in Europe and several other countries, we can see how BlackBerry is in a strong position to regain market share. Bear in mind, this is extremely advantageous because the Z10 just needs to penetrate the industry to place BlackBerry in a strong position in the market. Any other benefits are only bonuses to future growth for the company.
Some bloggers on the Internet have even named Blackberry's Z10 the "iPhone killer," but this is an extremely optimistic and relatively unqualified proclamation. In all seriousness, I do not see the Z10 dominating iPhones in sales. Nor do I believe that BlackBerry will overtake Apple (NASDAQ:AAPL) in the industry. But what I do recognize is that BlackBerry is developing into a substantial force in the smartphone market. The Z10 is far from being a "killer" but it is becoming a thorn in Apple's shoe.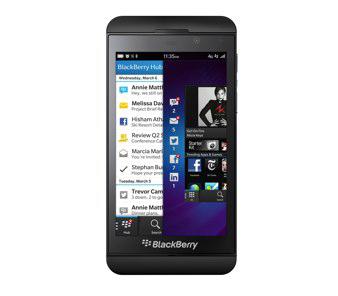 There are other competitors such as Google (NASDAQ:GOOG), Microsoft (NASDAQ:MSFT), Nokia (NYSE:NOK), and Samsung (OTC:SSNLF) that pose threats to BlackBerry. Samsung is probably one of the largest problems for BlackBerry's US sales. The Galaxy S4's announcement on March 14th will definitely cut a chunk out of the Z10's domestic sales, but it will not greatly stifle BlackBerry's ability to grow. There have been articles stating that sales will decline from 1.75 million to 300,000 due to competition, but this is highly unlikely. The same authors have even just reconsidered their estimations and increased possible sales to 800,000. Looking at BlackBerry's success in foreign markets has left me skeptical in even considering the low estimates provided by these authors. With a $200 price tag and a strong advertising campaign, I believe the sales will reach and even exceed expectations.
Taking a step away from domestic sales, BlackBerry is also beginning to penetrate emerging markets. While I do admit that the extremely high price tag on the Z10 has hindered sales, I see this as a step in the right direction for the company. Despite relatively poor performance, the launch has actually beaten BlackBerry's own expectations.
Companies, particularly Nokia, have turned their sights towards emerging markets as a venue to increase consumer base and company reputation. BlackBerry recognizes the potential in the market, but it is obvious that they cannot currently compete with cheaper smartphones such as the iPhone 5. However, this is not a lost cause. By taking a step into an underexposed foreign market, the company is already setting up for future expansion. The Z10 is the beginning of BlackBerry's resurgence. I would not be surprised to see new models that appeal to a breadth of consumer groups in the future, much like Nokia's Lumia.
What Lenovo Wants But Cannot Afford
There has already been a huge amount of coverage over the Lenovo's interest in BlackBerry, but I believe it is too important to leave out of the article. The fact of the matter is that Lenovo (OTCPK:LNVGY) is hyping up BlackBerry at a crucial time. With the Z10 already launched in a number of countries and an upcoming US launch, this is exactly what BlackBerry needs to get the ball rolling in their favor. After years of declines and slumping phone sales, this is the perfect storm for BlackBerry.
The market is inundated by investors shorting BlackBerry stock, but this development is causing them to rethink their positions. A 14% increase in stock price is the immediate result; however, it is only the tip of the iceberg. The predominately bearish investor group is beginning to open its eyes to the possibility of a bullish BlackBerry. This is an extremely important factor because changing consumer opinion is one of the most difficult things to do.
But, can Lenovo acquire BlackBerry? As far as I can tell, they will not be able to. Lenovo's previous acquisitions have been much smaller in relation to BlackBerry, so it is relatively unlikely that Lenovo will be able to purchase BlackBerry in its current state.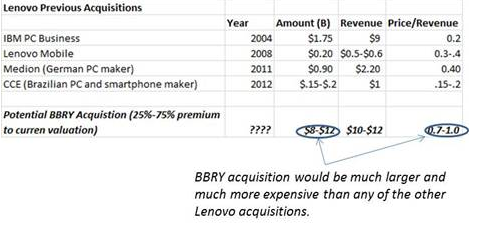 Furthermore, Lenovo and BlackBerry have similar market caps of $11.2B and $8B, respectively. This will make it impractical and immensely difficult for Lenovo to finance the acquisition. Lenovo recognizes the strategic importance behind BlackBerry, but it will not be possible for Lenovo to acquire them.
Final Thoughts
BlackBerry has been greatly hindered by past failures and a steady decline, but things are going to change for them in the near future. The Z10 is the company's first major attempt at regaining lost ground due to stiff competition from Google and Apple. With success in Canada, Europe and emerging markets such as India, BlackBerry has once again gained leverage in the industry. Lenovo has recognized the potential and hinted about an acquisition. While it is improbable, the fact that Lenovo has even considered the deal has placed BlackBerry back in the spotlight. It is a good time to go long the stock because the current stock price of $14 will be greatly overshadowed; I expect the company to break $20 or even $30 in the next year.
Disclosure: I have no positions in any stocks mentioned, and no plans to initiate any positions within the next 72 hours.
Business relationship disclosure: Capital Traders Group is a team of proprietary trading and equity research analysts. This article was written by Scott Shi, one of our Equity Research Interns. We did not receive compensation for this article (other than from Seeking Alpha), and we have no business relationship with any company whose stock is mentioned.