We're riding on the escalator of life
We're shopping in the human mall
We're dancing on the escalator of life
Won't be happy 'til we have it all
We want it all
Escalator of life - up and down
Escalator of life - round and round
There's 111 choices
Don't listen to those little voices
I don't let the guilty feeling shake me
You can have your cake and eat it baby
--
Robert Hazard – Escalator of Life
Americans have been on the escalator of life for the last 30 years. The escalator has been going up for the vast majority of that time. Since Ronald Reagan was President, the escalator has been moving upwards with only a few momentary breakdowns. We wanted it all. We believed it was our right to have it all. Americans did whatever it took to have it all. That meant an explosion of household debt promoted by bankers, the Federal Reserve, politicians, the media, and Presidents. We were dancing on the escalator of life for decades but our shoelace got caught in the escalator last year and severed our foot. We are bleeding to death as the escalator heads relentlessly downward. There are millions of Americans who have a guilty feeling about how they have lived their lives. They had their cake and tried to eat it too. Americans are now repenting by dramatically reducing their spending. The U.S, government is desperately attempting to convince Americans to get back on the escalator.
The financial system has stopped functioning because no one trusts anyone else. The rules are changed by the Treasury and Federal Reserve on a daily basis. It seems like every company in America has converted into a bank so it can acquire a slice of the taxpayer funded pie called TARP. The government has been using all the tools at their disposal to dig the country out of this hole. If they dig too far, the stimulus could blow up in a torrent of inflation.
Which Assets Are Toxic?
In the last nine years U.S. financial institutions became extremely creative with their financial "products". They were encouraged by Federal Reserve Chairman Alan Greenspan who was sure that any regulation other than self-regulation would be counterproductive. In the bully pulpit was our first Harvard MBA President George Bush, proclaiming the benefits of free market capitalism while not being able to pronounce or spell derivative, let alone understand them.
Watching over the creative bankers was the eagle eyed SEC, which had just received accolades for the Enron and WorldCom scandals. This trusting bunch of morons, hoping to one day get cushy jobs on Wall Street, decided that the investment bankers should be allowed to leverage their assets 30 to 1, rather than the overly restrictive 12 to 1 that had been in place for decades. Their models, created by overly confident MBAs, assured them that nothing could go wrong.
The final piece of the puzzle was obtaining a AAA rating for these new "products" from the staid old rating agencies Moody's and S&P. These two companies had a very predictable boring revenue stream. Their CEOs wanted a little excitement in their lives, and maybe, just maybe, big bonuses and stock options. They decided to jump head first into rating the new indecipherable products. They also had their cock sure MBAs creating models which assured them that all was well. Surprisingly, after being paid billions in fees, the rating agencies provided AAA ratings across the board to all of the new investment products.
The Wall Street geniuses peddled MBSs, CDSs, and CDOs, to pension plans, cities, states, foreign banks, foreign villages, and anyone else who wanted to get in on the easy money. With AAA ratings, no one bothered to conduct due diligence and understand what could go wrong. The amount of derivatives outstanding rocketed from $40 trillion in 2000 to $684 trillion in 2008. It has been reported that 80% of all Credit Default Swaps outstanding in 2008 were speculative. There was no hedging going on. Wall Street had become a Las Vegas casino. Credit default swaps totaling $440 billion were written by AIG. These were pure speculative bets and the American taxpayer is still paying off. The bill is up to $160 billion so far. The executives at AIG must have exceeded their loss goals, because the American taxpayer is paying $165 million in retention bonuses to executives of the unit that nearly collapsed the worldwide financial system. Why would anyone want to retain these executives? If these people were asked, "How do you sleep at night?" they would respond, "On a big pile of cash".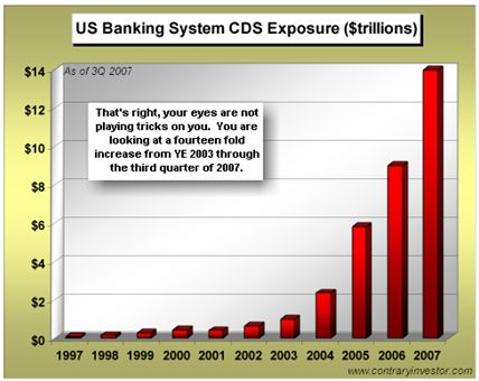 The economy, juiced by low interest rates, mortgage brokers handing out loans like candy, investment banks packaging thousands of worthless subprime loans into AAA products, auto companies putting deadbeats in Cadillac Escalades with no money down, and consumers sucking $3 trillion of equity from their ever increasing home values, appeared unstoppable. Home values doubled in five years. The Dow Jones reached 14,000 in October 2007, Treasury Secretary Hank Paulson was touting the fundamentally sound American economy, and Federal Reserve Chairman Ben Bernanke said there might be a minor blip from slight weakness in the housing market. As the economy was sailing along at seventy miles per hour, it hit something in the middle of the road. A Bear Stearns hedge fund blew up. The Wall Street gurus and government bureaucrats assured the public that all was well.

Congress, the Treasury, the Federal Reserve, and two Presidents have tried to convince Americans that the financial system is no longer infected with toxic germs. They have committed $11.6 trillion of your tax dollars to try and make the system kissable again. It hasn't worked. They can pour another $11 trillion into the system, and probably will, but the trust in gone. The American public will no longer trust anything they are told by Wall Street, the Treasury, the Federal Reserve or Congress. We've been lied to, fleeced of our retirement savings, and now told to foot the bill for the criminals on Wall Street – for the good of the country. Enough is enough. The ruling elite from government and big business urgently want Americans to regain confidence and return to borrowing and spending. They again missed the train. Saving, frugality and living within your means are back. This will destroy entire industries built upon a foundation of overspending and debt. Too bad. Good old fashioned American individuality and love of liberty will revive the country, not TARP, TALF and whatever other programs the government tries to peddle.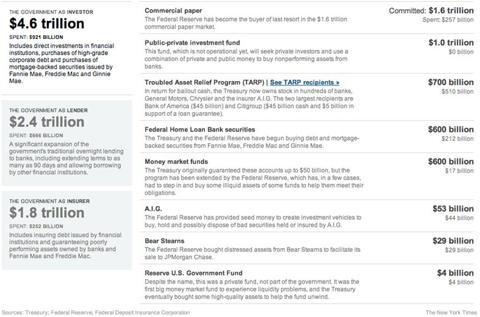 Source: Barry Ritholtz
We know what has happened in the last eighteen months. We still don't know what toxic assets still remain in the system we don't know about. The banks' balance sheets are a black box, they have billions in off-balance sheet "assets", and the commercial real estate market is just starting to collapse. The ever optimistic cheerleaders on CNBC would rather extrapolate four up days in a row into a new bull market, than examine the facts staring them in the face. No wonder Jon Stewart had such an easy time obliterating Jim Cramer and the whole network. Banks were handing out construction and land development loans between 2004 and 2007 at twice the rate of residential mortgage loans. With Americans losing jobs at a record pace, corporate bankruptcies soaring, and retailers bearing the brunt of consumer deleveraging, commercial real estate loans will begin to go bad late in 2009 and through 2010.
Bad mortgage loans have been the primary driver of the financial crisis so far. The nice little pie chart that follows shows that residential mortgages make up only 26 percent of bank loan portfolios. Commercial, non-residential real estate and construction loans total 40 percent of bank loan portfolios. These loans will provide the next leg down in this death spiral. Anyone who can't see this coming is just not looking.
The credit card losses are confined to a few major players. Citicorp (NYSE:C), Bank of America (NYSE:BAC), American Express (NYSE:AXP) and Capital One (NYSE:COF) will face the music when the credit card debt bubble bursts all over their faces. U.S. credit card defaults rose in February to their highest level in at least 20 years. AmEx, the largest U.S. charge card operator by sales volume, said its net charge-off rate, debts companies believe they will never be able to collect -- rose to 8.70 percent in February from 8.30 percent in January. Citigroup's default rate soared to 9.33 percent in February, from 6.95 percent a month earlier. Analysts estimate credit card charge-offs could climb to between 9 and 10 percent this year from 6 to 7 percent at the end of 2008. In that scenario, such losses could total $70 billion to $75 billion in 2009. Meredith Whitney estimates that Americans' credit card lines will be cut by $2.7 trillion, or 50 percent, by the end of 2010. The pain has only just begun. Prepare to bailout more banks with your tax dollars.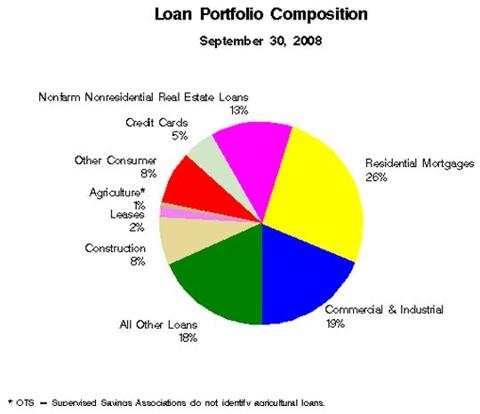 Even though we know that adjustable rate mortgages were a major cause of the financial crisis, the storm has not passed. Just because the problem is obvious, doesn't mean it is not a problem. The chart from T2 Partners produced about one year ago shows that we are now in a lull for adjustable rate mortgage resets. There will be another crescendo of resets in 2010 and 2011. When banks ask for more taxpayer money to sure up their balance sheets in 2010, Timmy Geithner will be wearing his best "shoulda guessed" face when he gets the call from Citicorp.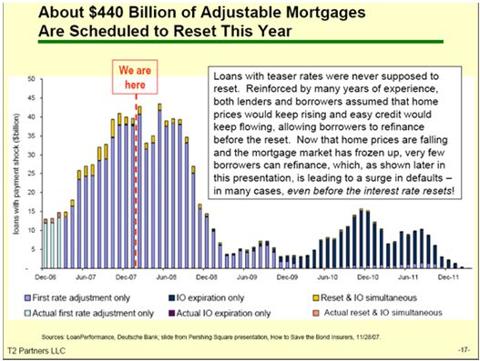 After a year of frantic juvenile attempts to revitalize our financial system with your tax dollars, the government has accomplished nothing but driving our National Debt to obscene levels exceeding $11 trillion, on its way to $15 trillion by the end of Obama's 1st term. All of the stimulus, TALFs, TARPs, TAFs, nationalizations, guarantees and printing of dollars will eventually explode in the faces of our leaders in one toxic geyser. The events of the last week show how warped the world gets when government owns private businesses. The U.S. owns AIG. The CEO, placed there by the U.S., pays out $165 million in bonuses to executives who nearly brought down the worldwide financial system. Government officials are outraged and appalled going on every TV show they can find to register their disgust. They are so used to sitting on the sidelines and criticizing the coach, they don't even realize they are the coach.
Last week, another government owned company, Freddie Mac, reported a quarterly loss of $24 billion and demanded another $30 billion of taxpayer money. I didn't hear Barney Frank on CNBC outraged at those results. As the government socializes the losses of corporations and Ben Bernanke attempts to create inflation, the deterioration and ultimate collapse of our economic system is pretty much a lock. Only the timing is uncertain.