Pengrowth Energy Corporation (NYSE:PGH) has performed well through the first half of March. Since reporting results for the fourth quarter of 2012, and its year-end reserve rates, the Canadian oil and gas exploration and production company's shares are up about 30 percent. Despite this recent move, longer-term investors are still likely at a loss here, with shares down about 46 percent in the last year and 60 percent in the last two. See recent performance charts for PGH: (click to enlarge)
5-month: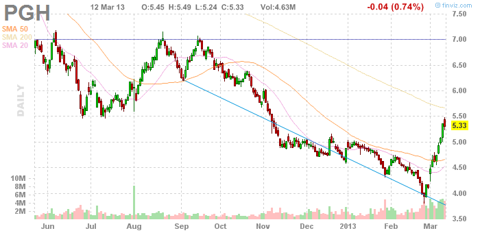 2-year: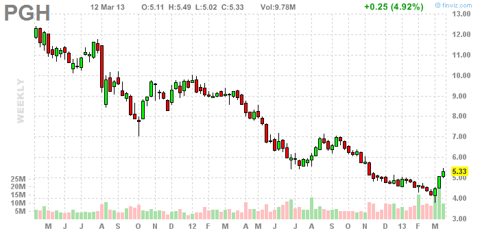 This recent strength was based upon decent results, a 55 percent reserve increase and a reasonably well-delineated plan for 2013. The company has since followed-up on its plan and commitments. On March 11, the company reported completing the previously-announced sale of its non-core Weyburn asset, netting approximately $316.0 million. The company also commented that the "Proceeds will be used to repay all outstanding bank debt and will partially fund Pengrowth's 2013 capital program." This does not mean Pengrowth is debt free, and it is far from that, with $1.6 billion of long-term debt still outstanding.
Pengrowth intends to use proceeds from a $700 million divestiture program to fund the initial work at its Lindbergh thermal project in 2014, reduce debt and/or protect the sustainability of the company's dividend. The company indicated it will also have its non-operated Saskatchewan assets up for sale by the end of March. The company hopes to have the property sold within 2013.
On March 12, Pengrowth reported its April dividend will be $0.04 per share, with an ex-dividend date of March 20, 2013 and a pay date of April 15. Last July 6, Pengrowth slashed its monthly dividend by about 42.8 percent, from $0.07 to $0.04. Pengrowth's cut had followed Enerplus Corporation (NYSE:ERF), another Canadian oil and gas company, which halved its monthly dividend. Both companies cut their payouts in reaction to the substantial decline in natural gas prices and weakening oil prices during the first half of 2012. Most shareholders in both of these Canadian oil and gas production companies allocated into them for their monthly distributions, and the companies declined in rough proportion to their dividend cuts.
Since last spring, when Pengrowth cut its dividend and the natural gas bottomed out, nat gas prices increased by about 75 percent. Though a substantial move for gas, like Pengrowth's 30 percent move in the last two weeks, nat gas is still well below its highs. Further despite Pengrowth's dividend cut last year, its remaining payout is large, with a present yield of about 8.8 percent, or about 0.73% per monthly distribution.
Pengrowth's assets are located in Canada, across Alberta, British Columbia and Saskatchewan. In 2012, Pengrowth bought NAL, which helped the company increase its production and reserves, as well as to decrease its sensitivity to natural gas. The NAL acquisition added more than 35 percent to production, and increased the company's inventory of oil and liquids-rich drilling locations to over 700. The assets helped Pengrowth increase its proved and probable reserves by approximately 55 percent or 213 million barrels of oil equivalent.
Pengrowth's fourth-quarter production averaged 94,039 barrels of oil equivalent per day, a 23 percent increase from 2011, and its year average production volumes were 85,748 boe/d, a 16 percent increase. The company appears to have about 15 years of production at current rates, or about 10 years if production continues to ramp up. Future production estimates are difficult, as production and reserve rates can move up and down, and some assets are not yet producing.
Pengrowth's pre-tax net asset value was $8.61 per share at the end of 2012, based upon the reserves being discounted at 10 percent. After increasing about 30 percent, the company's shares are still over 35 percent below their pre-tax value. One of the reasons Pengrowth and other Canadian oil and gas assets may have underperformed in late 2012 is because after Canada approved the deal by CNOOC (NYSE:CEO), China's state-owned oil company, for Nexen Energy and a Petronas' bid for Progress Energy Resources the nation indicated a more stringent future policy for the review of state-owned investments in Canada.
This policy change may make it more difficult for some of the most probable purchasers of Pengrowth and similar entities to get a deal through. This should not prevent Pengrowth from divesting its Saskatchewan asset, but the regulatory change may reduce near-term demand for entities like Pengrowth and their associated properties. It may also simply make them more expensive to acquire, which is not necessarily a bad thing for owners.
Both Pengrowth and Enerplus were formerly Canadian Royalty Trusts, or Canroys, which were substantially similar to MLPs in the United States, and which Canada phased out a few years ago. In 2010, Korea's state owned energy company bought Harvest Energy Trust, another former Canroy that was substantially similar to these companies. The development of a Canadian LNG terminal to the Pacific will increase the attractiveness of these assets to Asia.
Another potential source of strength could be any further approvals related to the Keystone pipeline. The Keystone would facilitate the distribution of increased levels of Canadian petroleum products into the Unites States, and increase the value of Canadian assets to reflect the related reduced costs associated with distribution.
Other reasons that demand may be weaker than otherwise for Canadian energy assets would include that many U.S. companies are also in an asset liquidation phase. Examples would include Chesapeake Energy (NYSE:CHK) and SandRidge Energy (NYSE:SD), both of which primarily own domestic natural gas assets. These companies are in greater apparent need to quickly divest in order to reduce debt obligations, making many would-be buyers of Canadian energy properties likely to look for a domestic deal.
It would appear that the company's probable 2013 production rates should help it maintain its present dividend payout, provided energy prices remain stable. Moreover, the company indicated it would use its proceeds from the recent Weyburn sale to support the dividend, making it appear probable that the company will maintain the payout rate in 2013. Significant changes to energy commodity prices could easily affect the company's dividend policy thereafter, and the change could be either positive or negative depending on where oil and gas prices go.
Despite Pengrowth's recent strong move upwards, it appears that the company remains significantly undervalued. The company continues to trade in near lock step with Enerplus, though with a slightly higher beta. Both recently moved up substantially, indicating the market recognized the asset class is undervalued.
See a 1-year comparison chart of ERF and PGH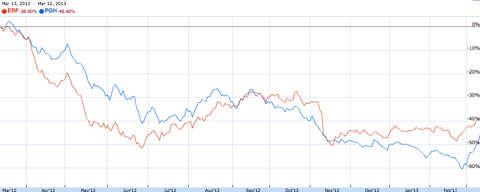 :
Allocation into the asset class would likely include oil and gas investors as well as alternative fixed-income and dividend-oriented investors. Furthermore, Pengrowth is a Canadian company and pays dividends in Canadian currency, which tends to strengthen and weaken along with natural resource prices. This makes Pengrowth especially sensitive to oil and gas price fluctuations. The Canadian dollar has weakened recently, along with lower gold and oil prices, among others, against a globally strengthening U.S. dollar. A Canadian dollar now buys 0.9752 U.S. dollars. The Canadian dollar last dipped this low in the summer of 2012, but spent most of the year above par with the U.S. dollar and may soon return to such levels.
Disclosure: I am long PGH, ERF. I wrote this article myself, and it expresses my own opinions. I am not receiving compensation for it (other than from Seeking Alpha). I have no business relationship with any company whose stock is mentioned in this article.