We all know that Apple's (NASDAQ:AAPL) $137 billion cash hoard is upsetting investors. Tim Cook has not said anything that would appease investors. While Apple continues to sit on cash, Samsung (OTC:SSNLF) is eating their lunch.
The smartphone industry is a tough business. Its a business where a major player could fall off the grid by making one mistake (see: Palm). Apple is still a huge player, but its clear Samsung phones are simply superior in a lot of aspects.
The Galaxy S3 just beat the iPhone 5 on CNET's device rankings. CNET mentions that the S3 has better display, camera, and price point. Battery life is common concern shared amongst smartphone users. What's the point of having a smartphone if it constantly dies all the time?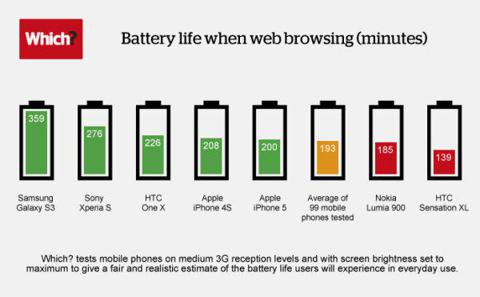 Source: Android Authority
Its becoming clear that Apple just does not seem to be innovating as fast as Samsung. The New York Times reported that the new line of Samsung smartphones will have a feature allowing users to scroll pages through eye movements. Samsung is clearly thinking outside the box and its phones continue to surprise users. Apple spent $3 billion on R&D, while Samsung spent $10 billion. Why is Apple not spending its massive cash balance on innovation?
In the tech world, companies must constantly innovate or they die out. One of the reasons Steve Jobs was able to add value to shareholders is because he was focused on making the best products around. Tim Cook is not Steve Jobs, but he should build on that legacy. Apple's iPhone 5 is still a solid phone, but the gap of dominance has clearly shifted in Samsung's favor.
Shareholders keep asking for dividend payments or buybacks, but the best way for Apple to add value and price appreciation is to keep innovating. Apple's reliance on the iPhone is a concern to shareholders. Hence, the stock is down 40% since September.
The biggest problem with Apple is uncertainty for its future. If the company does not create a product that can properly compete in the marketplace, then their largest revenue stream is likely to dwindle away.
Apple's biggest challenge is to define itself in the post-Steve-Jobs era. Where it is struggling is when it pretends to be Steve Jobs instead of actualizing its new identity. They need to find out who they are now.

- Salesforce.com CEO Marc Benioff
If Apple really wants to go out and appease shareholders, it must first appease consumers. Tim Cook has not mentioned any future product plans. Without any communication from the executives, shareholders have the right to be upset, but the company should not be forced to pay a higher dividend. The company should be forced to increase R&D to at least match Samsung. If Apple ends up using its cash to pay dividends and buyback shares, then I encourage investors to be on the sidelines. This type of action shows that the company has no idea on how to allocate its cash.
Disclosure: I have no positions in any stocks mentioned, and no plans to initiate any positions within the next 72 hours. I wrote this article myself, and it expresses my own opinions. I am not receiving compensation for it (other than from Seeking Alpha). I have no business relationship with any company whose stock is mentioned in this article.