I recently read an article by Chris Katje titled, "5 Reasons to Avoid Monster Beverage Shares". This article pointed out various problems that have led to underperformance by Monster Beverage (NASDAQ:MNST) in 2013. What I want to do here is propose a friendly-counter to Chris' argument to give another perspective. There are six reasons why MNST shares are a better risk/reward than most other stocks in the current market: the solid growth, improving margin potential, stealing market share, resolve of the lawsuits and litigation, the acquisition potential, and the cheaper than average multiples with MNST shares. Chris' article highlights the risks to the stock and should definitely be read along with this article.
Solid Growth
Beverage demand will be driven by a few specific product categories according to Bloomberg (Source: Bloomberg Terminal). The graph below shows that Energy drinks are considered to be of a 'Moderate need/interest'. It also has one of the lowest 'Low need/interest' attributes. It is considered trendy within the beverage space:

According to Bloomberg, "The $7 Billion US energy drink market is the fastest-growing category in the $118B North American non-alcoholic beverage market". MNST will be a main driver in this higher-growth area. Growth has been slowing as of late, but it is also still entering many new markets. On its most recent call, CEO Rodney Sacks said, "We launched Monster Energy in Slovenia, Peru, Chile, Korea and Singapore in the fourth quarter of 2012 and beginning of 2013, and are continuing with our plans to launch Monster in India, Romania, Albania and Croatia and in additional countries in Central and Eastern Europe later in 2013." With India supporting over 1.2M people and a demand for US goods thriving, MNST should greatly benefit. In Europe, despite the macro-weakness, MNST has been growing. Globally, MNST has been especially growing. Domestic revenues were $1.645B in 2012 and International was $416M. International revenue has gone from a measly 5.4% in 2007 to 20.2% in 2012 (Source: Capital IQ):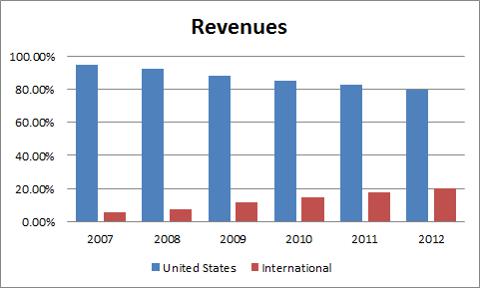 Despite declining revenue growth rates, MNST's growth rates are outstanding. Internationally it grew 38% in 2012 and domestically it grew 17.3%. "The softness in the energy drink market in the U.S. over the past few months may be due in part to the ongoing negative publicity and comments that continue to appear in the media questioning the safety of energy drinks and suggesting limitations on their ingredients". This softness is clearly reflected in the most recent quarter's revenue but have rebounded from the September low (Source: Capital IQ):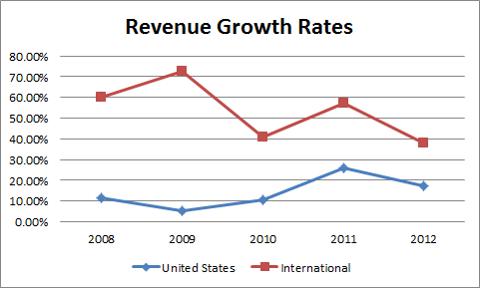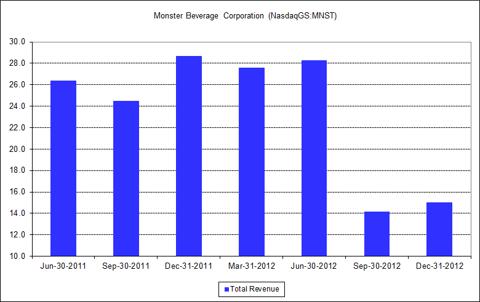 If sales start to return to where they were in 2011, MNST could be severely undervalued at these levels. The risk to this, as Chris pointed out, is the negative perception around energy drinks continuing to hurt demand and sales.
Quality Margins and Room for Expansion
It has not just been revenue growth for MNST though, as EBITDA and NPM have also grown at decent rates (Source: Capital IQ):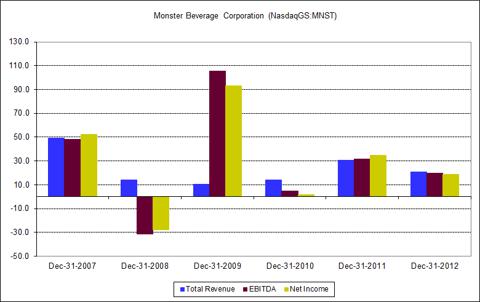 MNST's margins have been flat since 2007 due to various input costs. However, margin growth was lower in 2012 due to the lower volume output with lowered demand (Source: Capital IQ):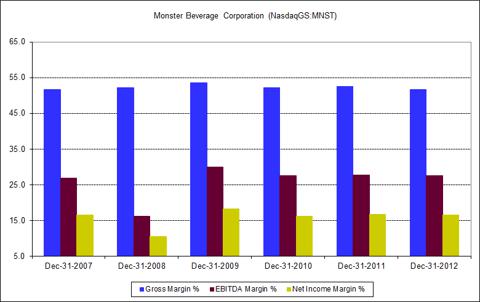 There is room to expand beyond this though as input costs like sugar and aluminum have declined from the 2011 highs. This will lead to potential margin expansion even if volume remains weak. On top of this, MNST charges a lower price than its competitors but has steadily been increasing it over the last 12 weeks according to Nielsen (see market share). Sugar has been on a notable decline since mid-2011. In a 16-oz container, sugars are 54g of the product. (Sources: Bloomberg Terminal):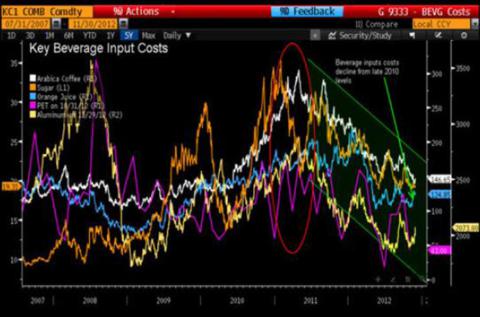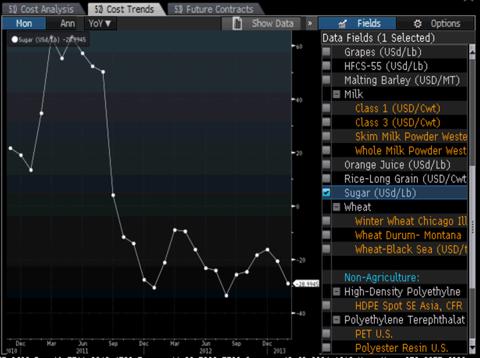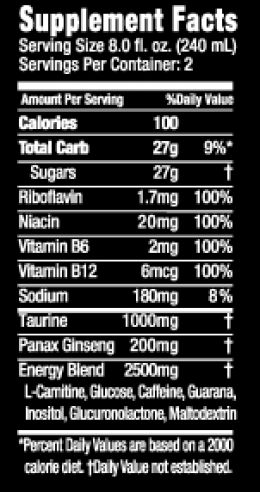 Stealing Market Share
Red Bull is the current number one in the global arena for market share. It grew volume market share in the Sports and Energy Drinks category from 4.4% in 2007 to 5.9% in 2011. In North America, this is a different case though. MNST has more than doubled its volume market share in North America from 2007-2011. It surpassed Red Bull in 2009! Rockstar, Full Throttle, and AMP have all lost or maintained their 2007 market shares but NOS was able to almost triple it to 1.1% in 2011. This does not tell the full case though as MNST charges less per unit than its peers, especially Red Bull. In a value driven world, this could be a competitive advantage. This lower price point is evidenced by the weaker dollar share for Nielsen data against the unit share from Nielsen. From October 2012 through December 2012, MNST had a unit share of about 21.7% in the Energy drink category but only a dollar share of 20.2%. Red Bull went from a 28% unit share to a 33.6% dollar share in December 2012. Upon looking at the difference in price points, only Rockstar charged a lower average price per unit than MNST. Red Bull charged ~$0.75 more per can. MNST has increased their price per unit since October 2012 and over the last 52 weeks. In 2012, it charged on average $2.45 per unit but over the last 4 weeks in 2012, it charged $2.52. With a large gap in price points, MNST can expand its prices to compete more with Red Bull and steal further market share. On a global basis, MNST is eating away market share by gaining access to new markets like India (Source: Bloomberg Terminal):



Lawsuits and Litigation
The biggest risk to MNST is the lawsuits and regulation. As Chris described in his article, the Fournier lawsuit should go away as her death was shown not to be caused by caffeine levels from an energy drink but her heart-related problems that pre-existed. As Sacks pointed out in the Q4 earnings call, "Caffeine does not appear to have been in any way connected with or the cause of Ms. Fournier's arrhythmia and cardiac arrest. Indeed, we believe that Ms. Fournier was accustomed to drinking a cup of coffee every morning. Again, we point out that no caffeine blood level test was ever performed, and there is no scientific evidence of the level of caffeine in Ms. Fournier's system at the time of her cardiac arrest, if any. We repeat that the levels of caffeine contained in our Monster Energy drinks are safe." There were 5 others who reportedly died from energy drinks. These lawsuits could be mitigated by this high-profile case. The risk to MNST still remains about the negative publicity that could impact sales.
On the regulation side, it is overblown. On March 12, 2013, Judge Tingling repealed the NYC soda ban, calling it 'arbitrary'. Maybe there's hope in the legislative world back to a "buyer beware" mentality. Chris points out the potential Chicago litigation, with Councilman Ed Burke "calling a ban on all energy drinks that have 180 mg of caffeine or more". As CEO Sacks pointed out, MNST products only contain 160 mg. This regulation wouldn't apply to MNST products then but could hurt competitors who have more caffeine. Sacks again mitigates and supports his brand: "In making a comparison to coffee, we believe that it is appropriate to use Starbucks' 16-ounce medium-size coffee, which is the same size as a regular 16-ounce Monster Energy drink. Starbucks' 16-ounce coffee contains approximately 330 milligrams of caffeine, which is double the approximate 160 milligrams of caffeine in the same size Monster Energy drink and a 16-ounce Caribou coffee contains between 305 and 370 milligrams of caffeine." If the ban goes into effect, I'm pretty sure you will hear from Howard Schultz of Starbucks (NASDAQ:SBUX) given that coffee will be limited on caffeine levels. MNST also changed its labeling to "food" from "supplement". This could potentially allow the company to grab more sales from buyers with food stamps, and makes regulation more strict on it. The company is welcoming more oversight. That doesn't sound like a concern to management then about the caffeine and ingredients within its products. With more exposure coming from International sales in less developed markets, regulation will not be as severe on those sales.
Acquisition Potential
Are the days of Coca-Cola (NYSE:KO) acquiring MNST gone? Thomas Mullarky of Morningstar points out that "Sacks and CFO Hilton Schlosberg collectively own about one third of the company." With strong insider holdings and a benefit to them, Sacks and Schlosberg could sell the company for a good gain via their stock ownerships. KO is looking to find ways to grow, and with the energy drink market being the fastest growing currently, it could be the answer. At the end of 2012, KO had $8.44B of pure cash on its balance sheet and $16.56B in total cash and equivalents. With a low interest rate environment, KO can easily issue debt at an extremely low rate to buy MNST as well. This would be accretive to earnings right away as KO already distributes MNST's products. At the current price around $47/share, MNST would fetch for under $10B at even a 30% premium.
Cheaper than Average
Correlated to the potential acquisition, MNST is cheaper than in the past. One cannot compare MNST to any public company like KO, PepsiCo (NYSE:PEP), or Dr. Pepper-Snapple (NYSE:DPS). These are not comparable companies as energy drinks are a drop in the bucket for these companies. MNST is trading below its average multiples. The question comes down to whether or not this is justified given the 'slowing growth'. That opinion depends on whether one thinks that sales will be severely impacted moving forward given the news surrounding MNST. At just 25x earnings, it has a PEG of 1.18. It typically traded on average over the last 5 years at 26.5x ttm earnings an on an EV/EBITDA basis of 14x. With a PEG around 1 and with lower than average multiples, MNST looks potentially undervalued with its double-digit growth rates. The potential margin expansion and rebound in sales (especially in Q3 and Q4 of 2013), could lead shares much higher. MNST also had its share repurchase plan expire at the end of FY12. With strong cash flow potential and no debt on its balance sheet, MNST can have a new repurchase plan enacted by its board. With an announcement of a repurchase plan, it will send shares higher on the day (Source: Capital IQ):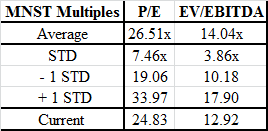 Conclusion
The risk reward for MNST is greater than staying on the sidelines at these price levels. My personal price target is $61 (in-line with Goldman Sach's price target as well), with potential downside of $42/share and potential upside of $72. With the company having potentially rebounding sales with new market exposure, potentially strong earnings, consistent gains in market share Y/Y, a removal of the regulation and lawsuit items potentially, the acquisition possibility, and the cheaper than usual multiples, MNST looks compelling at these levels.
Disclosure: I have no positions in any stocks mentioned, but may initiate a long position in MNST over the next 72 hours. I wrote this article myself, and it expresses my own opinions. I am not receiving compensation for it (other than from Seeking Alpha). I have no business relationship with any company whose stock is mentioned in this article.
Additional disclosure: Fund that I manage owns MNST. Issued Strong Buy Rating on the stock with plans to buy more shares within the next 2 weeks for the fund.