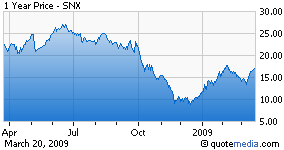 Synnex Corp. (NYSE:SNX) is set to report earnings after the
market closes on Thursday, March 26, 2009.
Founded in 1980, Synnex
is a leading business process services company offering a
comprehensive range of services to original equipment manufacturers and
software publishers, or (OEMs), and reseller customers worldwide. The
company provides outsourcing services in IT distribution, contract assembly,
logistics management and business process outsourcing. SYNNEX distributes IT systems, peripherals, system components, software and networking equipment for OEM suppliers such as HP (NYSE:HPQ), IBM (NYSE:IBM), Intel (NASDAQ:INTC), Microsoft Corporation (NASDAQ:MSFT) and Seagate (NASDAQ:STX).
SNX is expected to earn 52 cents for its 1st quarter. We expect
the business services company to announce earnings that will beat
investors' and analysts' expectations. Management announced on
January 27th that "we anticipate our earnings results will come in at
the high-end, if not exceed, our stated guidance."
Synnex has exceeded estimates 15 of the last 17 quarters without missing
once. The last 4 quarters have seen SNX's earnings surprises accelerate from
1 to 3 to 8 to 10 cents above Wall Street's expectations. Let's hope there
is a bigger one for the thumb.
The stock also has a history of rising post earnings. Nine of the last 13
quarters have seen Synnex's shares rise by as much as 20% in the days
immediately following its quarterly checkup. According to our technical
analysis, should the stock break 18, it's a straight shot to $21.
Short term investors might consider buying the stock for a trade that could pop after earnings. For the less daring, a covered call strategy might make sense. With SNX trading around $17 per share, investors can retrieve approximately 5% by writing the April 17.5 calls. The total return would be about 8% if the stock gets called at $17.5. Eight percent in a month, do that every month and you have…
For more long-term investors, SNX's shares appear to be undervalued. Synnex forward P/E of 6 and change is only half of its expected growth rate of 13.5%. With a PEG ratio of just .52, an invisible .07 times sales and trading under its book value of $21.28, we don't see how Synnex is not trading higher 6-12 months from now.