As someone who covers a lot of short ideas on this site, one of the most important items I follow is short interest data. One must always be aware of the short interest in a stock. A large short base could spark a short squeeze on good news, while low short interest could spark a huge drop on bad news. Every couple of weeks, we get an update from Nasdaq on short interest data, and I report on what I am seeing. Today, I'm here to discuss the end of February data. I will cover ten names that have seen significant increases in their short interest numbers recently. Here are the first five.
Google (NASDAQ:GOOG):
Google's shares short count has spiked a bit in recent weeks, which probably isn't surprising given the stock's rally to new 52-week highs. Lately, we had been seeing a ton of analyst upgrades, with a few analysts throwing out $1,000 price targets on the name. Personally, I think Google is too expensive right now, trading at a valuation more than double that of Apple (NASDAQ:AAPL). Google shares slumped on Tuesday after we got the first negative analyst note in quite some time. Even with a fall of more than seven bucks on Tuesday, Google shares are still up 17% year to date. Google has raced higher and higher, while Apple shares can't gain any traction. In the past eight days, the average price target on Google has risen from $851.60 to $869.10.
Back to the short data for a minute. At the end of February, just under 4.4 million shares were short in Google. That was a rise of roughly 370,000 since the last update, and more than 1.1 million for the month. The number of shares short in Google are at their highest point since the middle of November. It's not surprising that the number of skeptics has risen with this stock reaching $800 and heading towards $850. If we stay at these elevated levels, I would not be surprised to see the short count jump again when we get the next set of data.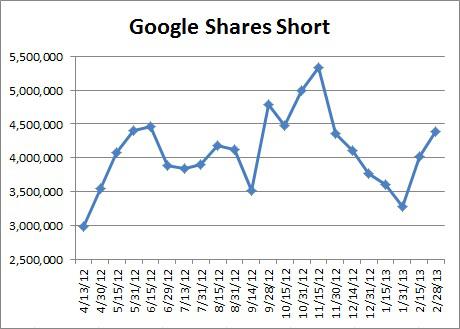 Netflix (NASDAQ:NFLX):
Surprisingly, Netflix makes this list for the first time in quite a while. Over my last few updates on short interest, Netflix was one of the names seeing a huge decline in short interest. The last update in short interest saw Netflix with its lowest number of shares short in more than a year. Carl Icahn entered a position in the name, Netflix struck a deal with Disney (NYSE:DIS), and Netflix reported a great Q4 and gave great Q1 guidance. All of those factors had caused the short interest to drop from a high point (at an individual update) of 17.2 million shares at the end of October, to just over 8.07 million shares in mid February.
The short count rose by about 350,000 shares in the second half of February. That's only a rise of 4.3%, but it's the first rise in several months. We might continue to see the short interest rise. Despite analysts still continuing to raise their estimates on Netflix, shares have seemed to lose some momentum. Netflix shares closed Tuesday above $182, about $15 off their recent high. I believe the valuation is still too rich, and probably many shorts do as well. Recently, I described how Coinstar's (NASDAQ:CSTR) debt raise could be negative for Netflix, as the Redbox Instant service is close to launching fully. Amazon (NASDAQ:AMZN) also continues to gobble up content, so Netflix's huge rally could be short lived. I wouldn't be surprised to see Netflix's short count rise again when we get the next update.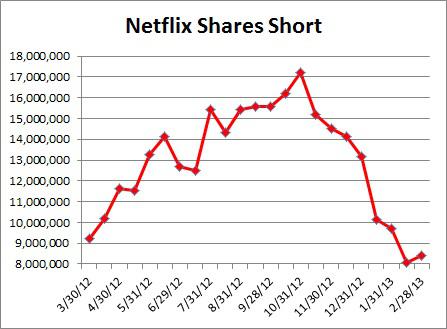 lululemon (NASDAQ:LULU):
The Canadian apparel maker has seen its short interest nearly double since the end of May, putting the number of shares short at a new high. Investors seem to be taking the bearish side of this trade as we approach earnings, which are scheduled for next Thursday. The company pre-announced results in January, stating that revenues would be at the high end of its original guidance range of $475 million to $480 million, and earnings per share would total $0.74. At that time, the earnings guidance was good, but analysts were looking for more than $491 million in revenues.
Since lululemon trades at a rich valuation, a little over 30 times next fiscal year's (ending January 2014) projected earnings, this company is held to a high standard. The stock has come down a bit since then, and analysts have cut their revenue estimates to just under $483 million. In the month of February, short interest rose by more than 3.1 million shares, after a roughly 3 million rise in January. The end of February number was 20.9 million, well above the 10.7 million we saw in May of 2012. We'll get one more round of short interest numbers in mid March. This will show a short interest number before the earnings, however we might not get the number from NASDAQ until after the report. One thing is certain. With roughly 20% of the float short in this name, if the company reports a good quarter and gives good guidance, there should be a decent size short squeeze.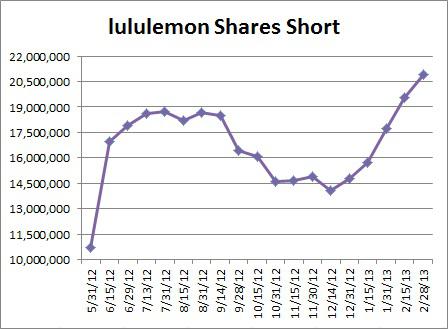 Facebook (NASDAQ:FB):
The social media giant saw another pop in short interest towards the end of February. While the 3.1 million share rise to 28.5 million, and total of 8 million increase in February seems large on a percentage basis, there were roughly 95.3 million shares short at the high last November. Facebook's short interest had come down tremendously, but it's starting to creep back up a bit.
Facebook investors were initially pleased by the recent changes to the news feed, but professional opinions have varied. Facebook's stock has settled in the $27 to $29 range in recent weeks, and there just isn't a catalyst in my opinion for a major move until Q1 earnings are released. Analysts are concerned about the company's high costs in 2013, which has held some clouds over the stock. Since the company reported Q4, non-GAAP earnings estimates for 2013 have dropped from $0.66 to $0.57, which doesn't represent a lot of growth from the $0.53 non-GAAP profit in 2012. I don't expect a lot of movement in Facebook's short interest data until we get the earnings report, so unless something major happens, this name will not be on my short interest update the next time around.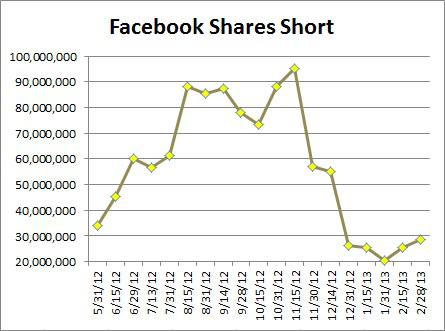 3D Systems (NYSE:DDD):
Like Netflix, 3D Systems has gone from the short covering to the rising short interest column since my last update. However, the short interest rise in this name was expected, and I told you this would occur in that last update. The company split its stock 3 for 2 just before the month ended, which made not only the outstanding share count rise, but the shares short count rise as well.
From my last update, the number of shares short skyrocketed from 15 to 24 million. However, if you factor in the split, you could estimate that it would be at about 16 million shares short without the split. 3D Systems shares have lost nearly a quarter of their value over the past month, and a third of their value since the late January high. Given the fall in this stock price, I would not be surprised if a number of shorts took their profits in this name during early March. I think that we'll see a drop in short interest at the next update for this name, but investors must realize that the number of shares short will still be "higher" than in past months thanks to the stock split.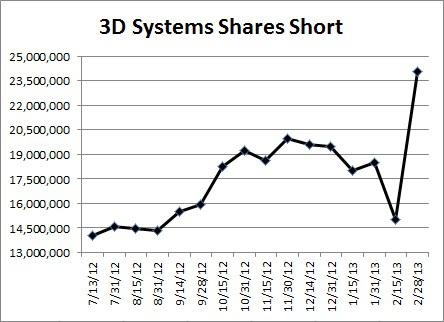 Final Thoughts:
Investors in these five names are hoping that the recent increases in short interest are a one-time issue. If these names can produce good news going forward, the number of shares short will reverse, and for some of these names, a nice short squeeze could occur. One thing is certain. These names have all seen large increases in short interest, and we'll see if any make this list when we get the next update in a couple of weeks.
Disclosure: I am long DIS. I wrote this article myself, and it expresses my own opinions. I am not receiving compensation for it (other than from Seeking Alpha). I have no business relationship with any company whose stock is mentioned in this article.
Additional disclosure: Investors are always reminded that before making any investment, you should do your own proper due diligence on any name directly or indirectly mentioned in this article. Investors should also consider seeking advice from a broker or financial adviser before making any investment decisions. Any material in this article should be considered general information, and not relied on as a formal investment recommendation.