I am not the type of investor that puts a lot of faith into weak correlations and other far flung events or crazy theories. However, after reading the news coming out of international oil giant ConocoPhillips (NYSE:COP), I've started wondering. As many of you know, ConocoPhillips has taken the worst beating out of any of the oil majors since the global recession started. This isn't earth shattering news, but what I do find interesting are the comments that are coming from management, and how it could potentially relate to one of their competitors, BP (NYSE:BP).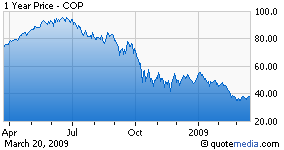 Conoco makes me think of BP because of all the oil majors, they are the most similar. Both companies have a larger than average exposure to natural gas in relation to crude oil. In particular, in the United States, both are in the top 3 producers and have been for some time. Both of the companies also have joint venture exposure in Russia that has caused significant headaches in the past and probably will cause migraines in the future. This exposure has led to large multi-billion dollar losses for Conoco and could even result in the loss of assets due to nationalization.
Recently, Conoco announced that it will be lowering its capital expenditure budget for the fiscal year of 2009 from $15.3B to $12.5B in order to preserve capital that presumably will be needed to make reliable dividend payments throughout the upcoming year. Conoco also assured investors that "spending this year would adequately fund projects offering growth and developmental potential," (Courtesy of the Financial Times article from March 12th). The scary thing to me is how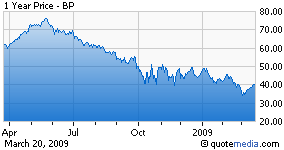 Conoco may have mismanaged its assets so poorly that it has become potentially cash strapped the year after crude oil prices doubled their previous all time high (at least in terms of nominal dollars). Obviously, the exposure to natural gas hurt Conoco more than the crude exposure, but natural gas prices mirrored crude prices closely on both the way up and down. This, in fact, is probably worse news for Conoco, as natural gas prices have not shown any haste in their recovery as opposed to crude oil prices.
I am in no way saying that BP has had the same poor management as Conoco, but there are a number of variables in place that make it likely that BP will have to make similar adjustments in relation to its plans for 2009. BP purchased a significant amount of natural gas properties in the United States during 2008, many of them from Chesapeake Energy (NYSE:CHK), on the way down. I'm not an expert on international energy accounting; however, if the rules for companies based overseas are similar to those based in the United States than BP is going to have to take significant write downs on these assets, very similar to the type of write downs that Conoco took during its last earnings report, which totaled approximately $34B.
On top of all that, BP's common stock is currently yielding a dividend of close to 9%. I'm not predicting that BP won't have the cash to pay its dividend, but management is going to have to take a long and hard look at the company's financial situation. What would add more shareholder value to the company over the long run: a 9% dividend, or potentially a dividend half that size with more investment in assets that should be able to produce sizable long term returns from these depressed asset prices? BP really has no reason to pay a 9% dividend even if it financially has the ability to make the payment. BP's common stock has outperformed Conoco's by over 20% since the beginning of September 2008, and I am not sure that the market has reacted properly to all of the warning signs. The worst could easily be over for these companies when it comes to their stock prices, but I am still expecting more negative news to come out of both oil majors during their next quarter earnings reports.
- Charles W. Petredis
Disclosure: The fund the author manages, the author, and the author's family are all long CHK.