Coca-Cola (NYSE:KO) continues its mediocre performance year-to-date in 2013, as it is just barely positive for the 2013 investment year as this is being written, although the SP 500 is already up almost 10%.
For the last few years, here are the approximate total returns on KO, which do not include the dividend:
2012 +3%
2011 +9.25%
2010 +12.25%
KO has now greatly lagged the SP 500 for the past 15 months, and given up all its alpha from 2011, when the SP 500 was barely positive, but KO was up 9%.
One thing that caught our eye as we were updating our 4th quarter 2012 spreadsheet was that KO's "payout ratio," or the quarterly dividend divided by the quarterly earnings per share, has been 50% for most of 2012, and is expected to be near 50% for 2013.
While this may not be a big deal to the average investor, for me, the payout ratio is indicative of management's optimism about current investment opportunities that help drive future revenues cash-flows, and while it may not surprise anyone else, I was surprised to see KO's payout for the dividend as high as it is currently.
A payout ratio can look high at 50%-55%, when earnings per share (EPS) is depressed. Most corporations target a 30%-35% payout ratio for their dividend, so KO's is high, but that could also mean that the next 3-5 years, we'll see higher EPS growth.
"Capex," or the longer-term investment that any corporation makes to sustain the economics of the business, has trended between 5%-7% of revenues, and roughly 20%-25% of cash flow for KO, since 2009.
The other thing that caught my eye with KO is that for the last 3-4 years, really since early 2010, KO has returned more than its free cash flow in the form of dividends and share repurchases to equity investors. (That is not necessarily a "bad" thing for investors, since for KO, the difference is small, and if you can borrow at low rates to fund the difference, then it isn't a drag on capital since for KO, the difference seems minor.)
Expectations are very subdued for what is one of the great, iconic brands of the 20th century. Consensus analyst expectations are looking for 5%-6% revenue growth for the next 3-5 years, with mid-single-digit "organic growth," and continued gross and operating margins of 60% and 20%.
| | | | | | | | | | |
| --- | --- | --- | --- | --- | --- | --- | --- | --- | --- |
| Year | 4/12 | 3/12 | 2/12 | 1/12 | 4/11 | 3/11 | 2/11 | 1/11 | 4/10 |
| 2015 | $2.53 | $2.68 | | | | | | | |
| 2014 | $2.33 | $2.39 | $2.39 | $2.47 | $2.46 | | | | |
| 2013 | $2.14 | $2.19 | $2.18 | $2.25 | $2.23 | $2.30 | $2.38 | $2.34 | $2.33 |
The trend in revenue estimates is similar, in that while there is growth, the analysts continue to trim the growth estimates to very conservative levels.
A reader may ask, "Given the above, why be long the stock?" and therein lies the rub: from a portfolio construction standpoint, within client accounts, KO represents our defensive holding or our consistent slow-grower, with a 2.5% dividend yield that is unlikely to generate a downside surprise and gives clients comfort that they see an iconic brand when they look at the account.
Granted, we could own Philip Morris (NYSE:MO) or even Procter & Gamble (NYSE:PG) and get similar exposure, but for now, KO is our "defensive" play.
KO hit an all-time high in August 1998, shortly before the Long-Term Capital mess broke, and hasn't been back to that level since. A trade above $45 on heavy volume, and the stock will have broken out.
As the attached chart indicates, KO's move off the 2009 lows is still intact. A trade below $36 on volume, and we will be out of the stock.
We will continue to hold KO for now, despite it being a major-league yawner and a do-nothing stock. Very low expectations, intact technicals, and perhaps some incentive for management to maximize shareholder return (given Warren Buffett's stake, my guess is nothing major will happen) might help improve total return.
How KO acts during the next decent market pullback will tell us volumes about whether we want to continue to sit on the shares indefinitely.
Our internal valuation model puts an intrinsic value on KO in the mid $50s, while Morningstar puts a fair value on KO closer to where it is trading, or $38. We think the truth is probably closer to the middle.
KO needs to improve earnings growth, and the more the stock underperforms the general market, the antsier we get.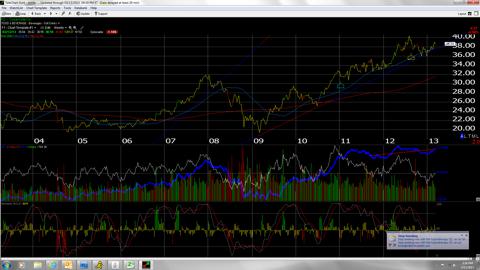 Disclosure: I am long KO, PG. I wrote this article myself, and it expresses my own opinions. I am not receiving compensation for it (other than from Seeking Alpha). I have no business relationship with any company whose stock is mentioned in this article.