"Sell in May and go away" is a trade that statistically has worked. However, it does not mean it will work all the time. Personally, I think that this time around, it will not work for many reasons.
1) Please recall what I said about the fiscal cliff in 2012: Is The Fiscal Cliff Already Priced In? One of the reasons I stated that the fiscal cliff is already priced into the market was because the market is very cheap by historical standards. The forward P/E ratio of the S&P 500 index is estimated at 13.85. This is a very low number.
And one of the reasons why I think the market is priced so low -- especially given the very low interest rate environment -- is because I think the market is holding back, because there are a lot of potholes for investors all over the place. So while profits have been rising, price action has been subdued and stocks have been getting cheaper. Even in the event of a fiscal cliff trigger and even if we see a recession of 1% in the U.S., equities will not fall by much because they already encompass a big discount.
2) The Fed is another reason. Current Fed policy is very supportive of the market. I don't have to tell you that $85 billion pumped into the market on a monthly basis will help support equities as well as the economy on the whole.
3) You might have not noticed, but the corporate speculative grade default rate in the U.S. is also very low. According to Standard & Poor's Global Fixed Income Research:
Standard & Poor's Global Fixed Income Research estimates that the U.S. trailing-12-month speculative-grade corporate default rate decreased slightly to 2.3% in February from 2.5% in January. The default rate steadily increased during 2012, peaked at 2.96% in September 2012, and has declined since then. We expect the default rate to reverse its trend and start to pick up next month. Two entities defaulted in February, compared with 47 defaults during full-year 2012 (including entities that were not rated at the time of default and confidentially rated entities).
In other words, credit quality in the U.S. is very good. For those what have followed speculative credit for many years like me, they realize that the current default rates are not indicative of recessions, bank problems or very big corrections in the equity markets. Below is a chart to give a historical prospective: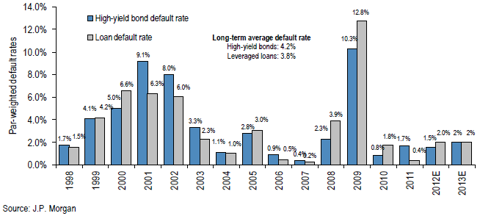 4) The same applies to consumers. The S&P/Experion Consumer Credit Default Composite does not show signs of consumer credit stress:
This index measures the default rates across autos, first and second mortgage and bankcards, and also offers investors a broader benchmark combining and measuring the default rates of all four indices included in the S&P/Experian Consumer Credit Default Indices.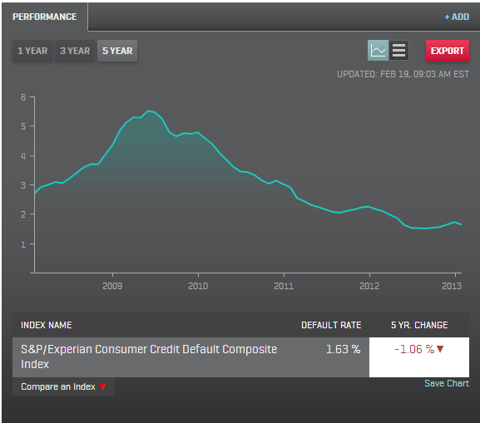 5) Another reason why I think that equities will not correct much, even if the U.S. were to experience recession, is stocks like Apple (NASDAQ:AAPL).
Please note that the major indices have reached all-time highs, with Apple falling by over 30%. Why do I point out Apple? Because Apple is the biggest market cap stock and carries a lot of index weight.
And the fact that the market was able to reach new highs without the help of many large cap stocks says a lot. Please also note that many other large cap stocks like Microsoft (NASDAQ:MSFT) have also gone nowhere, and have not helped the major indices to reach these new highs.
So we have many large cap stocks that have not helped in this rally, but that are trading at historically low valuations. Both Apple and Microsoft have a forward P/E of less than 10. In my book, these stocks not only carry a lot of support to the market -- because they will not correct very easily -- but they might also rise, providing balance in the case that many other sectors correct.
But it's not only the big tech heavyweights that will provide support for the major indices. The banking sector is doing exceptionally well these days, and their valuations are very reasonable, if not cheap. As you can see in the table below, Citigroup (NYSE:C), Wells Fargo (NYSE:WFC), Bank of America (NYSE:BAC) and JPMorgan Chase (NYSE:JPM) are more than reasonably valued:
| | | | | | | |
| --- | --- | --- | --- | --- | --- | --- |
| | MSFT | AAPL | C | BAC | JPM | WFC |
| Forward P/E | 8.9 | 8.53 | 9 | 9.28 | 8.63 | 9.45 |
Not only are bank stocks not expensive today, but their balance sheets are rock solid compared to several years ago, having written off a lot of the bad debt that tormented them and having been recapitalized also. Of course if things were to get messy, credit quality will deteriorate, however, I think this time around, the banks have the tools and a different mentality to deal with issues.
Bottom Line
There are many investment potholes out there. A fiscal cliff-triggered recession is but one of them, as is the deteriorating debt situation in Europe. However, the main reason that equities have corrected in a big way historically had more to do with valuations than anything else.
This time around, I think the market is prepared and has discounted many of these global investment potholes by keeping valuations in check.
As such, I continue to believe that this market can provide profits for investors -- because it provides good value -- but at the same time also provides a line of defense for investors, if and when any unexpected issues arise.
Disclosure: I have no positions in any stocks mentioned, and no plans to initiate any positions within the next 72 hours. I wrote this article myself, and it expresses my own opinions. I am not receiving compensation for it (other than from Seeking Alpha). I have no business relationship with any company whose stock is mentioned in this article.