Introduction
This is the second part of a series of articles analyzing the biggest telecom companies in the US and Canada. In this article I will look into the dividends paid by these companies, and evaluate their sustainability. Part 1 of this series analyzed the current situation of AT&T (NYSE:T), Verizon (NYSE:VZ), Rogers Communications Inc (NYSE:RCI), Bell Communication Enterprises (NYSE:BCE) and TELUS (NYSE:TU). To view this article, click here. My objective is to select either T or VZ and either RCI, BCE or TU in my dividend portfolio and feel confident about these picks.
Analysis
To begin, Table 1 presents the current quarterly dividend payments, dividend yield, payout ratio and 1 and 5 year dividend growth proportions. At the present moment, BCE has the highest yield (5.04%) followed closely by T (4.95%). RCI (47.00%) has the lowest payout ratio which is below 50% while BCE (66.00%) and TU (60.00%) have payout ratios that are below 70% which is a little high but still within the comfort range of some dividend investors. I have read that many dividend investors prefer payout ratios below 50% so that there is room for this to grow in the long term without becoming too concerning, but others accept a payout ratio that is 70% and lower. T and VZ have payout ratios that are inflated well above the comfort levels of dividend investors and these payout ratios surely could not be sustained in the long term if they continue. RCI has the highest 1 and 5 year dividend growth out of all the contenders (11.27% and 30.65% respectively). TU and BCE have respectable increases while T and VZ have the lowest increases over this time frame.
Table 1: Dividend Metrics (as of March 8, 2013)

Source: Source: MSN Money, Reuters
Perhaps a more detailed look into their yearly dividend increases is in order. Figure 1 presents the annual dividend increases in dollars for the five contenders. At first glance, everything seems alright as they are all heading upwards which is what we would all like to see. However, there are some disturbing trends and observations in this figure. First of all, BCE has had two decreases in its dividend in the past 10 years, in particular in 2008. Although the dividend increased again in 2009 and continues to increase well, this still raises the question regarding BCE's commitment to their dividend. This panic dividend cut shows me that when the times get tough, their commitment to shareholders is weak. It should be noted that all other contenders in this list increased their dividends, albeit some by a small percentage during the same period. I prefer a cautious increase than a panic cut. The other trend appearing here is the slow dividend increases by T and VZ over this 10 year period. In comparison, TU and RCI have rapidly increased their dividends.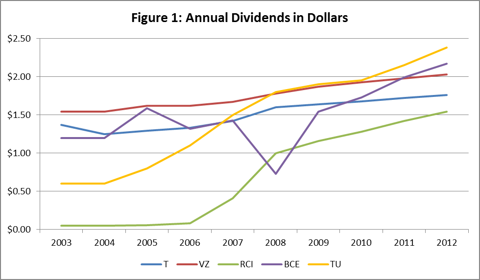 Source: Company Websites
The annual proportional dividend increases for the last nine years is found in Table 2. This table more decisively shows that since 2009, T and VZ have decreased their annual dividend growths which are now at 2.33% and 2.53%, respectively. RCI also began decreasing its dividend in 2009 but for the two years prior to that time RCI was aggressively increasing its dividend and no one should have been shocked that these kind of yearly increases would not be sustained. Although there was a decrease in 2012, the company recently announced an increase over 10% in 2013 from 2012 suggesting that RCI has found a niche of about 10% in annual dividend increases. BCE continues to be all over the map leaving uncertainty in my mind to their dedication to their dividend policy. TELUS increased their dividend strongly from 2005 to 2008 and then slowed down in 2009 and 2010. There have been increases in 2011 and 2012 in the 10% range which perhaps shows a niche they are comfortable with.
Table 2: Annual Proportional Dividend Increases

Note: Figures in red highlight that a decrease from the previous year. Figures in yellow highlight a particular decreasing pattern. Source: Company Websites
Can the current dividends be sustained? Figure 2 presents the annual EPS over the last 10 years. The figure below clearly indicates that VZ has had a decreasing EPS since 2009 which could place the dividend at risk particularly given the company debt metrics that was covered in the first article. T appears inconsistent and despite a rise in EPS in 2012, it is still below its EPS leading up to the financial crisis. BCE and TU appear to have recovered from the financial crisis as their EPS have risen since 2009. Only RCI has had a continued and steady increase in EPS since 2005.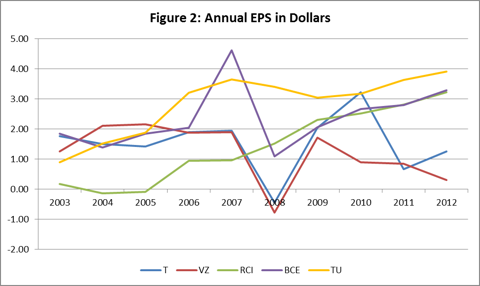 Source: Source: Morningstar
Table 3 shows the annual proportional difference in EPS. As can be seen, there is a lot of red (negative EPS) with T and VZ. This leads me to question whether T and VZ will be able to continue to support their dividends at their current yields. Whenever any of the contenders have posted positive EPS figures, the growth generally tends to be in the double digits.
Table 3: Annual Proportional Difference in EPS

Note: Figures in red highlight that a decrease from the previous year. Source: Morningstar
Taking a look at sales figures for the last 10 years (see Figure 3) there is nothing that sets one contender apart from another. One figure that is concerning is the decreasing sales figures for RCI since 2005 but this also happens to be the only contender that has not posted a negative sales growth from one year to another (see Table 4). T appears to be struggling to gain traction and post some meaningful sales growth since 2008. Sales growth has been below 2% since 2009 and was only 0.56% in 2012. This further concerns me about T's ability to support its dividend. TU over the 10 years except for 2008 and 2009 has posted fairly consistent and stable sales growth averaging about 5%. VZ also appears to have some consistent sales growth except for 2010 where it experienced a negative growth. Outside of that, and 2004, the growth has been above 4% which may be sufficient to sustain its dividend. BCE seemed to struggle between 2005 and 2010 where sales growth for this period was a mere 2.93%. 2011 was a good year but it was not followed up with equally good sales growth in 2012.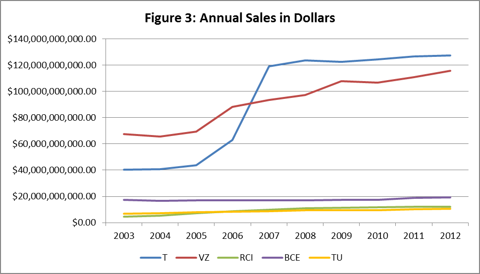 Source: Source: MSN Money
Table 4: Proportional Difference of Annual Sales by Year (as of March 1, 2013)

Note: Figures in red highlight that a decrease from the previous year. Figures in yellow highlight a particular decreasing pattern. Source: MSN Money
A quick review of the free cash flow for each contender will conclude the analysis for today. Although we are talking about billions of dollars in free cash flow at the contenders' disposal (except for TU which is in the triple digit millions), there are some trends that are worth noting. The first thing that stands out is VZ decreasing free cash flow. 2011 and 2012 both resulted in less free cash flow than the previous years (see Table 5). The same trend is seen with BCE. T has finally bucked a two year negative free cash flow (2010-2011) pattern with an increase in 2012. Looking at Table 5 there are a lot of red figures under RCI in the early years.
Surprisingly however, RCI went from triple digit free cash in the millions to nearly $2 billion in 2009. This corresponds with the company introducing home phone services. Since that time, RCI has had fairly consistent free cash flow in the $1.6 billion range. TU has struggled since 2006 where its free cash flow peaked at over $11 billion. Since that time, TU's free cash flow has been around $800 million. What concerns me especially is that the free cash flow was $703 million in 2011 and the company paid out $642 million in cash dividends. This means that dividends accounted for 91% of the free cash flow.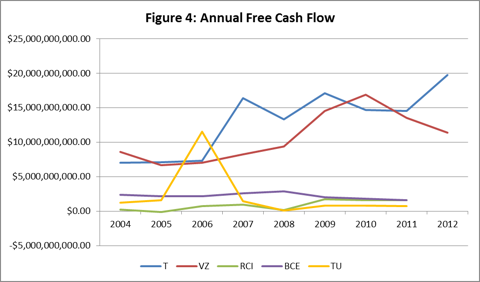 Source: Morningstar
Table 5: Proportional Difference in Annual Free Cash Flow by Year

Note: Figures in red highlight that a decrease from the previous year. Source: Morningstar
Conclusion
This article delved into many areas of the contenders' dividends to determine whether investors can expect increasing dividends and whether those dividends could be sustained. At first glance, RCI appeared to have the best dividend as its payout ratio, yearly dividend increases and annual EPS were solid. However some cracks were found in that its sales have been declining since 2005 and its free cash flow has fluctuated considerably. The sustainability of T's and VZ's dividend may be in question since both companies have decreasing EPS values, decreasing free cash flows and in T's case, struggling sales. Both contenders have also decreased the proportion of their dividend increases since 2008 which leads to the question whether these companies are really worthwhile investments despite the attractively high yield. My mind had flashes back to when T made a surprise announcement that it was cutting its dividend in 2000. Maybe that is a little over exaggerated however, after looking at these metrics for T and VZ they are certainly not going in the right direction.
BCE is a little mixed in this analysis. It also cut its dividend twice in 10 years begging the question whether the company is dedicated to its dividend policy. The dividend cut is surprising to me since free cash flow increased in 2008 but decreased in 2009, after the dividend cut. This was perhaps used to reinstate and increase the dividend to where it should have been without a cut. With this in mind, there are some questions to raise to BCE. TU has increased their dividends fairly well over the past 10 years. Although the company had a difficult time during the financial crisis, from this dividend analysis, I would feel more reassured at this point with TU's dividend and its sustainability. Part 3 will cover additional metrics specific to telecoms in order to evaluate whether the business is heading in the right direction and further shed some light on sustaining their dividends.
Disclosure: I am long CA, MCD, JNJ, STX, TGH, RCI, T, INTC, OTCPK:NTIOF, GE, OTCPK:RIOCF, OTCPK:ARESF, CSX, OHI, VSI. I wrote this article myself, and it expresses my own opinions. I am not receiving compensation for it (other than from Seeking Alpha). I have no business relationship with any company whose stock is mentioned in this article.
Additional disclosure: Nothing within this article should be as a recommendation to purchase any of the securities listed therein. Each investor is encouraged to perform their own research to determine whether any stock is appropriate in meeting their goals and plan.