Most investors that follow my articles know that my portfolio is mostly made up of a variety of income investments. To the mix I have also added positions related to precious metals and other inflation resistant financial instruments. Safety and cash flow is the name of the game, all while trying to hedge against risk.
That being the case, oftentimes one can gaze to the other side of the fence into the world of speculative stocks. These high flyers, loaded with risk, can be very tempting investment vehicles for those looking to make quick cash. Their potential return on investment is huge, but they are fraught with danger. Still life is short, and such equities can really energize a portfolio with minimal risk and capital. If one decides to take the leap, the question is what speculative stocks offer some of the best potential returns.
Arena Pharmaceuticals, Inc. (NASDAQ:ARNA)
ARNA is the first biopharmaceutical company that investors cannot ignore. This company is currently positioned in a very interesting place within the speculative biotech world. The main focus of the company is on discovering, developing and commercializing novel drugs for weight management, cardiovascular disease, inflammation and other disorders. ARNA's future though depends on its chronic weight management product Lorcaserin HCl, which will also goes by the marketing name Belviq.
What makes ARNA so interesting is that the company is no longer awaiting clearance from the US Food and Drug Administration (FDA). That has already occurred in June of 2012. The speculation in ARNA is now coming down to see if it can make a meaningful impact in the weight loss market. The question is will there be any demand for ARNA's new product? Needless to say, the weight loss market is huge and if ARNA can capture a piece of it the company should thrive.
For ARNA investors the pieces of the puzzle have slowly been coming together. The first piece came on scene even before the FDA approval. In July of 2010 ARNA entered into an agreement with Eisai (OTCPK:ESALY) for the exclusive right to market and distribute Belviq in the United States. Eventually that agreement was made to include most of North and South America, including Canada, Mexico and Brazil. In the deal Arena will manufacture Belviq in Switzerland and sell the finished product to Eisai for marketing and distribution. As one would expect, ARNA should receive payments based upon Eisai's net sales in the North and South American territories as well as an upfront payment based on certain milestones.
ARNA's next piece of the puzzle came in from their recent SEC filing on February 25, 2013. In this filing it was disclosed that the wholesale acquisition cost of Belviq was $199.50 for a bottle of 60 10 mg tablets. All that is missing now is the most important part of the equation, the demand.
The speculation aspect of ARNA's stock price is all about demand and that is what investors are waiting for. While waiting for those figures, ARNA investors have had a glimpse of the possible future. Looking to ARNA's competitor Vivus (NASDAQ:VVUS) and their drug Qsymia, investors might have some concern. When Qsymia was launched in late 2012, investors had lots of great expectations for this weight loss drug. Unfortunately the initial sales results did not meet expectations and the stock price suffered. Then in late February 2013 European regulators rejected the drug, dashing the hopes of introducing the drug to this large oversea market.
As concerning as VVUS's history might be, ARNA investors need to maintain their focus. ARNA's Belviq has demonstrated a much great safety profile when compared to VVUS's Qsymia. Also Eisai has invested a great deal of the company's time and money into the launch of Belviq. For example, Eisai has more than 50 specialists who are working with key insurance companies to expand reimbursement for Belviq. On top of that, Eisai has now trained its sales representatives on Belviq's safety and efficacy profile. Approximately 200 representatives are located strategically across the country in regions with high numbers of targeted physicians and patients. While the European approval process for Belviq is still unknown, the North and South American markets are huge in themselves. Gaining a foothold in these markets should be more than enough to drive the stock price higher.
Eisai is set to launch Belviq sometime in March 2013. At this point the demand for the product can't start to be measured. Until such time it is anyone's guess as to what those figures might be. While investors wait they can speculate on expected share price based upon theoretical sales figures. Instead of reinventing the wheel, one notable Seeking Alpha article did an interesting job at predicting a future valuation.
Looking at ARNA's stock price we see that it has been trading in a range since its major move in June 2012.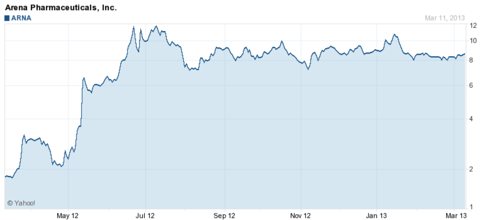 Once demand figures are known ARNA's stock price should make a dramatic move. After much debate, I feel that ARNA's Belviq will be successful. Initial sales might not be the blockbuster figures that are hoped for, but over time the popularity of the drug should rise. This is mere speculation on my part, so the risks are high as there is no guarantee for success.
So now the question is how to invest without breaking the bank. A straight forward approach would be for investors to simply buy the shares at roughly $8-$8.50 per share and just hang on for the ride. Of course buying protective put options would be a way to hedge the downside risk.
A more leveraged/dynamic strategy could be the use of call options in the place of shares. See the current option chain below for January 2015 calls on ARNA's stock: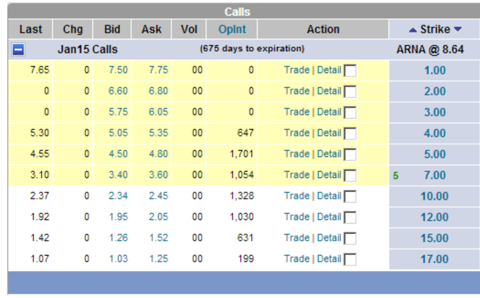 The call options for ARNA now extend out to January 2015. By buying calls this far out in time (2015), it gives ARNA and ESALY time to enact their strategy on driving sales for Belviq. For example, buying five $7 calls for January 2015 expiration costs $1,750. Needless to say, this is much cheaper than buying the 500 shares outright at $8 per share for $4,000. These call options gives the buyer the right to buy 500 shares of ARNA for $7 a share from the time the options are purchased, all the way till the third Friday of January 2015. The breakeven for the call option investment is $10.50, which is calculated by a $7 strike plus the $3.50 purchase price per contract. The total risk for the transaction would be the $1,750 that was paid to buy the calls.
If ARNA proves successful and their share prices dramatically increases, anything over the $10.50 breakeven point for the options will be profit. At or near expiration the contracts could be close out for a profit, or the calls could be exercised to get the shares at $7. This is by no means the only option play available, but it is the easiest to execute for new investors wishing to use options.
Advanced Cell Technology Inc. (ACTC.OB)
The next company that investors cannot ignore is Advanced Cell Technology. ACTC is a biotechnology company that specializes in the development of cellular therapies for the treatment of diseases and conditions that impact tens of millions of people worldwide. The company applies stem cell-based technologies (both adult and human embryonic) and other proprietary methods in the field of regenerative medicine.
Before continuing into an analysis of ACTC, there are some interesting observations that need to be addressed. Whenever I write about ACTC my feedback is oftentimes quite negative. I have been accused of being a paid price pumper, stock manipulator, and a whole host of other incorrect and disparaging accusations. Of course none of this is true; I'm just simply long the stock and excited about its potential. I have spoken with and interviewed the CEO several times, and have become quite familiar with the inner workings of the company. I have reached out as much as any retail investor could. What I find is a company with such potential that it could one day topple many big name global pharmaceutical companies. It is about here where I lose many readers as they are unwilling to entertain such ideas. They feel that it's too good to be true. How could a small stem cell company ever challenge the biggest names in healthcare? For the answer read on.
It is not hard to fathom how individuals can come up with these jaded views about my claims with ACTC. If an analyst were to complete a cursory review of ACTC they would find a host of negative terms that would raise red flags. For example the terms reverse splits, potential lawsuits, billions of outstanding shares, and bulletin board trading would make almost any investor turn tail and run. For those willing to dig a bit deeper the true potential of ACTC begins to show.
ACTC currently has a market capitalization of $175 million, so it is a speculative biotech. Looking into its past financial history it is not hard to see that the company was poorly run. Even the current CEO, Gary Rabin, stated that the management of the company in the distant past was disastrous. Here is his quote from my first interview with him published on Seeking Alpha:
What we never want to do is what this company has done in the past that is to wait until you are out of money and then go out and try to raise more. It creates an overhang on you that you can't get out of. It put a gun to the head of the company every time we did one of the financing deals in the past. We will never do that again.

These shaky financing deals obviously led to a number of potential lawsuits. There was only one way to address this issue, and unfortunately it meant going through more stock dilution. There was simply no other way around it, so the company did what it had to and removed the potential lawsuits off the table. The end result was the company had to dilute its stocks, which meant that the outstanding share count has grown to over 2 billion shares. This was a tough but necessary action on the part of ACTC.
Looking at ACTC today is very different than it was several years ago. Recently ACTC received $35 million funding commitment from Lincoln Park Capital. ACTC wanted to get the company out of the cycle of doing financings at huge discounts to market. The Lincoln Park financing was done at no discount to the market value other than the intraday volatility of the stock. Lincoln Park is going to be a long-term holder of the stock. This is the first time in the history of the company that ACTC has had a major entity that is buying the stock in the form of new capital. In the past every financing was structured in a way that was noticeably dilutive to the stock.
On top of that ACTC is also looking to complete a reverse split in the future. Usually a reverse split is viewed as a very negative type of event. This is not the case for ACTC's planned split. ACTC wants to enact the split in conjunction with an up-listing to the Nasdaq. Once again take a look at this quote from the most recent interview I did with ACTC. It should help investors understand why this reverse split is a positive event for the company.
The bulletin boards are no place for a legitimate, world-class biotech company. There are many reasons for this. The primary reason is that when one is sitting in a room with a really sophisticated institutional investor, it is impossible to get them to invest if you are on the bulletin boards. You have to spend the first ten minutes of the meeting trying to explain why you are a legitimate company but your stock trades on the bulletin boards.

It is critical that we get listed on Nasdaq. It will change the way the company does its financing. It will get us out of having to worry about being in the financing business. I spend a highly disproportionate amount of my time focused on getting the company financed. This is not how world-class biotech companies should operate. I want to take advantage of all the enthusiasm of our existing shareholders and attract other investors to the stock. Once we are on the Nasdaq and we are trading, hypothetically-speaking, for $5 or more, the stock will be marginable and institutionally investable. The buying power that will be available to us once we are off the bulletin boards is just so enormous.

As we meet with institutional investors trying to educate them, we hear the same thing over and over. They state that if the stock were listed on the Nasdaq they would be buyers right now.
The question is what is the market missing when it comes to ACTC? Why should investors pay attention to this company? The answer to this is easy. When you really look at it, how many ways can you play the macular degeneration market as a pure-play opportunity, given the magnitude of that market? There is really only one answer and that is ACTC. Macular degeneration is a huge and unmet medical need with a $25 to $30 billion market potential in the US and Europe alone. Add on Southeast Asia and the numbers become astronomic. Although ACTC has many other potential products in their pipeline, it is the macular degeneration stem cell trials that will set the pace for the company.
There are so many companies with ongoing trials, so why is this one different? ACTC's began the initial macular degeneration trial to determine the safety aspect. The test subjects were very late-stage patients with very little visual acuity, so not much was expected in the way of efficacy. Remember that photoreceptors, that ACTC is trying to save with the tests, have a long period of atrophy and non-function before they actually die in the eye diagnosed with macular degeneration. These initial patients had massive areas of atrophy in the field of vision, yet there was some success in the patient population. No one, not even ACTC, expected that. Now there has been a protocol change in the trials. Patients with earlier stages of the disease are going to be tested. In these patients ACTC hopes to find areas where there are less broad fields of atrophy. The plan is to rescue the dormant photoreceptors. If all goes as planned ACTC could obtain some really remarkable visual acuity results. Needless to say, this could completely change the way we address macular degeneration in a global population, which is hurting for an effective treatment.
Of course ACTC cannot bring this product to commercialization by itself. With markets and demand this big, ACTC will need a global partner(s). Once again the interview gives us a clue that big pharma is closely watching this trial and its outcome. Here is a quote from Mr. Rabin's Seeking Alpha interview that gives readers an indication as to what is going on behind the scenes:
It is safe to say that if you talk to any biotech/pharma company that has an interest in ophthalmology, you will not find one of them that do not know every detail about our trials. In fact, we are at the point that we are almost pushing back, saying that we are not ready to give out the amount of due diligence material that they are asking for.

ACTC has stated that they are not going to give up the "Golden Goose" by partnering this stem cell therapy too early. They are not going to just give it away to get a joint venture for the sake of having one. If successful in the trials there is big money to be made and the large pharmaceutical companies know this. With ACTC's well-established technological patents and an unmet medical need worth tens of billions, these large pharmaceutical companies should go to war with each other to see who controls this new frontier of medicine.
Of course all of this depends upon the upcoming trial results. With ACTC shares trading at bargain level prices, one can almost make an argument that the shares trade more like non expiring call options. The risks are high but so is the potential reward.
In conclusion, both ARNA and ACTC are biotech stocks that investors should not ignore. While lots of questions remain unanswered, the potential for both are truly off the charts if they can successfully get their products to market. Risks are high, but that is the name of the game in speculative biotech.
Disclosure: I am long ARNA, ACTC.OB. I wrote this article myself, and it expresses my own opinions. I am not receiving compensation for it (other than from Seeking Alpha). I have no business relationship with any company whose stock is mentioned in this article.