I reiterate a 'buy' rating for Kraft Foods Group (KRFT). KRFT is expected to expand its topline in the range of 1% to 3% annually. Earnings for the company are anticipated to grow in the mid-to-high single digit range. Given the fact that KRFT operates in a mature and competitive industry, productivity gains and product innovation are considered to be important growth drivers. Also, KRFT offers a solid dividend yield of 4%, which makes me bullish on KRFT.
With annual revenues of approximately $19 billion, KRFT is North America's 4th largest consumer packaged and beverages company. Also, it owns a strong brand portfolio and has leading market positions in several products it offers. Market shares of KRFT in different product categories are: lunch meat 31%, cheese 28%, and coffee 15%.
Last month, KRFT provided its financial results for Q4 2012. According to the results, organic net revenue was down by 7.2% YoY. KRFT reported earnings per share of $0.15 for the fourth quarter, lower than analysts' consensus of $0.18 per share. According to the company's press release, final financial results for 2012 will be issued by March 29, 2013.
KRFT recently also updated its guidance for the current year 2013. Organic net revenue growth is expected to be 1% - 3%, in line with the growth of the North American food and beverages market. KRFT raised its earnings per share guidance to $2.75 from earlier announced guidance of $2.60 per share. Also, the company raised its total restructuring program cost estimates for 2013 to approximately $300 million from earlier projections of $240 million. Total restructuring costs are expected to be $650 million. Analysts' earnings per share forecasts for the next three years are as follow:



Source: Nasdaq.com
As mentioned earlier, productivity gains are important performance drivers for the company in the future. KRFT has lower margins in the industry as compared to its peers like The Hershey Company (NYSE:HSY), Kellogg (NYSE:K), and General Mills (NYSE:GIS). As the company will work towards improving its cost structure, these efforts will help KRFT in matching margins with that of its peers in the industry. The table below shows margins comparison between KRFT, HSY, K and GIS (margins comparison below is based on full year financial results of 2012).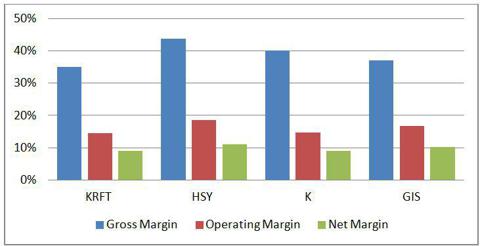 Source: Companies Reports
Furthermore, KRFT can boost its sales and build consumer loyalty by increasing its advertising spending which currently stands below its peers. The following are the advertisement to total sales ratios for the four companies:
KRFT = 2.9%
HSY = 6.5%
K = 8%
GIS = 6%
Conclusion
Since my previous analysis on KRFT, when the stock price was $44.50 per share, the stock is up almost 11%. However, I still believe there is more price appreciation waiting for shareholders. Using KRFT's three years historical average P/E of 16.7x and 2014 analysts EPS forecast of $3.05, I calculate a price target of $51. This provides investors a potential price appreciation of approximately 4% which coupled with an attractive dividend yield of 4% makes KRFT a long term 'buy.'
Disclosure: I have no positions in any stocks mentioned, and no plans to initiate any positions within the next 72 hours. I wrote this article myself, and it expresses my own opinions. I am not receiving compensation for it (other than from Seeking Alpha). I have no business relationship with any company whose stock is mentioned in this article.