The Problem
Cybercrime is back on center stage and will continue to occupy the nation's attention for the foreseeable future. Pentagon generals, the country's top spies, and the White House were quoted yesterday (Wednesday) as telling a Senate hearing and the country that "the nation is vulnerable to cyberespionage, cybercrime and outright destruction of computer networks, both from sophisticated government-sponsored assault as well as criminal hacker groups and cyberterrorists.
Director of National Intelligence, James Clapper, said, "These capabilities put all sectors of our country at risk". FBI Director Robert Mueller claimed at the hearing that it "has grown to be right up there" with terrorism.
These warnings come from the Obama administration to draw attention to this emerging threat. It has assigned over 20 units to engage this threat and work with the private sector to come up with tactics and solutions to deal with it.
The Solutions
A small cadre of companies is working to protect consumers, businesses and government agencies against a wide array of cyber threats. Most of them are already highly profitable.
Raytheon (NYSE:RTN), today announced the release of SureView Version 6.7 to aid federal agencies in complying with President Barack Obama's memorandum in November aimed at implementing an insider threat detection program to address national security threats while protecting privacy rights.
Raytheon Company had 2012 sales of $24 billion worldwide. It is a technology and innovation leader specializing in defense, homeland security and other government markets throughout the world.
Over the past two years its revenue has been flat, with net income rising about 1.5% each year. Its current dividend yields 3.6%. In the past five trading days, Raytheon's stock price has gone from $55.50 to close today at $57.18. The market is beginning to realize that Raytheon is well positioned to profit from this intensifying opportunity. With the sequester impacting revenues of all defense stocks, increased spending to fight cybercrime will counterbalance these cuts and bolster Raytheon's bottom line.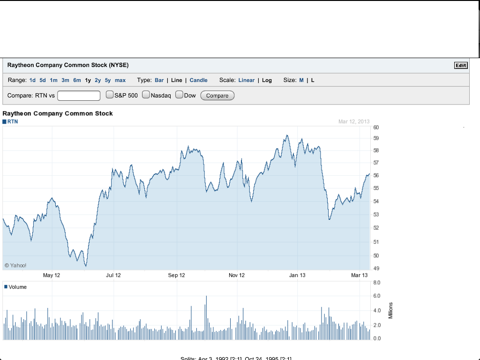 As a global leader in IT security, International Business Machines Corporation (NYSE:IBM) offers strategies, capabilities, and technologies necessary to help agencies preemptively protect Web applications from threats and address the complexities and growing costs of security risk management and compliance.
IBM boasts more than 40 years of leadership in IT security and helps agencies, banks, finance companies, insurance firms and all manner of organizations to improve security and mitigate risks to their infrastructure.
With the nations' electrical grid and entire digital architecture at risk, IBM's tentacles into this network extend deeply. These deep relationships will serve to cement IBM's position in the cyber security race.
IBM set a new 52 week high today in NYSE trading, closing at $212.06. Having risen in the last 5 trading days, from $208.50, with a dividend yield of 1.6%, the Street is warming to the possibilities.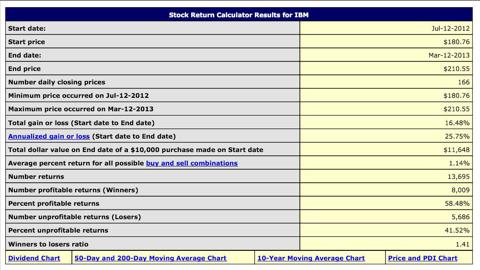 Symantec Corporation (NASDAQ:SYMC) came close to making a 52 week high today, closing at $24.54. It has almost doubled in this period and continues to climb with momentum behind it. Net income from continuing operations more than doubled, from $550 million to $1.145 billion. Total revenue and gross profit each increased around 10% in the past 2 years.
Of the three issues discussed, SYMC is the purest play to profit from the ongoing anxiety associated with this monster cyber threat. Symantec, which is near its highest level in more than eight years is, up 29% since the start of the year as concerns have risen over digital security, and its quarterly results have beaten expectations for at least four straight quarters.
Symantec's website details today's security threat and notes that Web-based attacks have increased by 36% this past year with over 4500 new attacks each day.
Conclusion
Cybercrimes and cyber threats in general are increasing daily. Some come from Chinese hackers and Chinese Army units, as detailed in the February 18, 2013 edition of the New York Times, some originate in the Middle East, and some hacks come from cyber criminals throughout the world intent on identity theft. Wherever they originate, this new and burgeoning battleground offers mushrooming opportunities for Raytheon, IBM and Symantec to grow their revenues and profits for years into the future.
Disclosure: I have no positions in any stocks mentioned, but may initiate a long position in SYMC over the next 72 hours. I wrote this article myself, and it expresses my own opinions. I am not receiving compensation for it (other than from Seeking Alpha). I have no business relationship with any company whose stock is mentioned in this article.