8x8, Inc. (NASDAQ:EGHT) is the leading provider of cloud communications and computing solutions for small-to-medium businesses, enterprise, and government agencies. The company's products are a suite of SaaS and IaaS solutions which include hosted telecommunications cloud software, contact center, unified communications, video conferencing, cloud hosting, and virtual private servers. The company has been awarded a total of 85 patents with the USPTO and more patents pending.
Since our first article about 8x8 written on March 19, 2012, 8x8 has gone from a market capitalization of nearly $270 million to $480 million as of close of trading on March 13, 2013. Further, since we brought 8x8 to the attention of readers, the company reached a market capitalization of $575 million in early 2013, an increase of over 100% since our first article on the company. We still believe 8x8 remains the most compelling small-cap communications company ripe for acquisition at a very significant premium.
Fundamental Update
The company now has an annual revenue run rate in excess of $100 million. In the December 2012 quarter, 8x8 reported $27.3 million in revenues (growing 22% organic, YoY). Mind you, this is not product sales, but this is almost entirely service revenues which is recurring revenue. The company increased its cash on hand over the past year from $21.9 million to a total of $46 million as of December 31, 2012. The company continues to carry zero debt.
In July, 2012, Frost & Sullivan issued a report entitled "North American Hosted IP Telephony and UC Services Market Report" which listed 8x8 as the top unified communications provider in North America. Please note, companies such as Comcast (NASDAQ:CMCSA), Verizon (NYSE:VZ), RingCentral, and West IP Communications all were behind 8x8 in terms of installed lines provided to companies in North America.
More recently, Gartner Group recognized 8x8 as a "Leader" in the Magic Quadrant, again, alongside some of the largest communications companies in the world.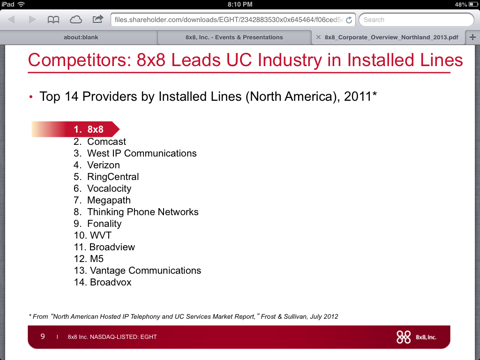 Further, in terms of on-premise providers (hardware providers NOT cloud or unified communications providers), 8x8 would have been right behind communications vendor giants such as Cisco (NASDAQ:CSCO), Avaya (Pending:AVYA), NEC, Mitel (NASDAQ:MITL), and Toshiba (OTCPK:TOSBF).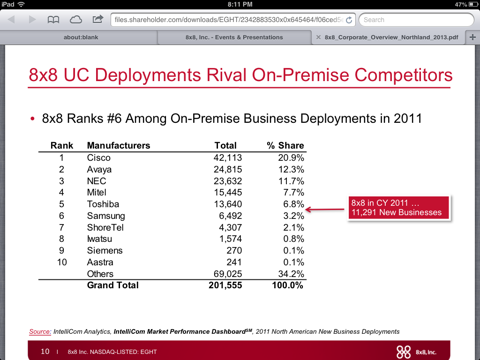 The subscriber growth at the company continues to be very consistent and has moved significantly up the food-chain in terms of customer size. Since Fiscal Quarter 2, 2012 ARPU (average service revenue per customer per month) has gone from roughly $210 per customer, to $260 per customer. Clearly, the size of the customer is growing at a significant pace.
We find it interesting that such notable consulting firms take notice of 8x8 while the company is still "unrecognized" by most of Wall Street. Over the past year since our first article, the company has, however, done a good job at attracting more top-tier research firms, most of which have a buy rating on the company. We find this good news because it renders some of the previous hack analysts that continue to follow the company, worthless.
Fact of the matter is this: the company is on the radar of the largest industry consultants as an innovator and leader in the rapidly expanding communications space. The company is continuously mentioned with industry heavyweights such as Comcast, Verizon (VZ), AT&T (T), Cisco, Avaya, and Microsoft (MSFT) which brings me to my next point.
Compelling Takeover Target
Acme Packet (NASDAQ:APKT) was recently bought out for a price of $2.1 billion by Oracle Corp. (ORCL) on February 4, 2013 (excluding cash, the value was $1.7 billion). Acme Packet was bought by Oracle to "bolster its communications product offerings" and "is best-known for selling hardware that telecommunications companies and big corporations buy to manage the transmission of phone calls using the same technology as Internet communications" according to Reuters. Acme Packet guided to 2012 revenues in the range of $270-275 million. While Acme Packet was not a direct competitor to 8x8, it shows the value that companies within this cloud and communications industry are fetching. The acquisition price Oracle paid was roughly 6X 2012 revenues. 8x8 should report annual revenues close to $125 million over the next 12 months. At a price of 6X annual revenues, this would value 8x8 at approximately $750,000,000, or $10.41 per share (including cash, valued at $800,000,000, or $11.11 per share). In 2014-2015, 8x8 should be at a run rate of at least $150 million, or at 6X revenues, $900,000,000 (excluding cash). This would value the company at approximately $12.50 per share. Further, 8x8 has a significant unrecognized asset on its balance sheets: several families of digital communications patents which, themselves, could be worth in excess of $50-$100 million.
The days of the copper wire, and installation of hardware are gone. Game over. Software providers and large cloud vendors such as Oracle understand that this type of communications is the future and will bolster their vision for the next 50 years. In this rapidly evolving communications landscape, throw in a growing, innovative company such as 8x8 that owns their entire product line due to its vast intellectual property portfolio, and the only thing we ask ourselves is this: it is not a matter of "if" 8x8 is acquired, but "when."
Disclosure: I am long EGHT. I wrote this article myself, and it expresses my own opinions. I am not receiving compensation for it (other than from Seeking Alpha). I have no business relationship with any company whose stock is mentioned in this article.
Additional disclosure: Please do your own due diligence as this is our personal thesis and reason for taking our long positing in EGHT. This is not a recommendation for the company, but our own thesis and recommend further due diligence upon taking a position in the company.