Introduction
Currently the 10-year Treasury Bond yields just 2%, and according to John Williams of ShadowStats, the real rate of inflation is in the high single digits.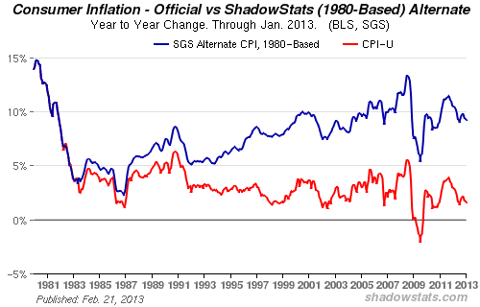 Consequently real interest rates are negative. This bodes well for the future of gold prices. Even if gold prices continue to stagnate, the fact that the mining companies I discuss here yield more than the 10-year U.S. Treasury Bond makes them long-term investments that should be considered now while prices and sentiment remain low.
Furthermore, the price of gold mining shares has declined substantially over the past 18 months or so because gold prices have lacked direction while input costs incurred by the gold mining companies have continued to rise. Nevertheless I think that the decline in many of these stocks' prices has been over done.
In this article I pick out five gold mining companies whose stocks yield more than 2%, or more than the 10-year U.S. Treasury Bond. In making my selection I tried to give investors various options as to the size of the companies, the locations of their mines, and even in my opinions of them (I include Barrick Gold (NYSE:ABX) despite the fact that I would not purchase the shares myself). All of these companies should perform well if gold prices rise, although they are not without risks. The fact that these companies are paying dividends now while it is difficult to make money mining for gold suggests to me that as gold mining becomes more profitable these companies will be sought after by dividend investors as well as gold speculators.
Newmont Mining Corp.
Newmont Mining (NYSE:NEM) is one of the world's largest gold miners with a market capitalization of nearly $20 billion. It also produces a lot of copper, which may suffer as a result of an economic slowdown. The stock currently has a dividend yield that exceeds 4% and the company instituted a policy of linking the dividend to the price of gold back in 2011. It has nearly 100 million ounces in total resources.
One thing I like about this company is the geographic diversification. It has assets on every continent except for Europe. If one wants to gamble on gold mines in Africa without the risk of losing a substantial portion of one's assets then Newmont is a good option.
Unfortunately the company will not see any production growth for some time and even then it will likely be minimal. Still, it will produce 5 million ounces over the next couple of years and this is a lot for a company with a valuation of less than $20 billion. If you are looking for a good value proposition (the shares trade at just over 10X earnings) with a solid dividend and leverage to the price of gold Newmont Mining is an excellent stock.
Barrick Gold Corporation
Barrick Gold (ABX) is the world's largest gold mining company. The shares currently yield 2.75% and the company has a market capitalization of just under $30 billion. The company has over 200 million ounces of gold reserves, as well as some silver exposure. Furthermore the company has producing mines on every continent except for Europe.
While Barrick Gold shares similarities with Newmont Mining I am skeptical of management. First, the company is not gold-focused, having recently purchased a copper mining company, Equinox, in 2011, and just recently having written down much of the value of this acquisition. Furthermore, the company has been known to hedge gold production. In 2009 it took an enormous write-off on its gold hedges. I am afraid that it will hedge again, which will not only push gold prices lower in the short term (thus hurting the profits on their un-hedged gold) but will be a losing proposition long term.
On a positive note the company has increased its silver production, and I am very bullish on silver. If the company comes out and states that it will not hedge its gold or silver production I would consider purchasing shares.
Agnico-Eagle Mines
Agnico-Eagle Mines (NYSE:AEM) currently has a dividend yield of 2.2%, and it has been rising at a fast pace. Furthermore the share price has still not recovered from the closure of the company's Goldex mine, which was bad, yet not catastrophic. The shares dropped more than 50% yet the company only lost 20% of its gold production. Given that the company has nine producing mines and over one million ounces of annual gold production this gives investors an opportunity to purchase the shares inexpensively at just over $40, or a $7 billion market cap.
The company is going to be able to grow gold production to about 1.2 million ounces by 2015 from just over 1 million ounces in 2012. It has decent gold reserves at just under 19 million ounces. It also has sizable silver resources at over 100 million ounces. Most of Agnico-Eagle's projects are in North America, which is considered to be a safe place to mine for gold. Yet investors pay a premium for this safety. This is why Agnico-Eagle's resources are valued more highly than a lot of the companies that have mines in Africa and questionable South American jurisdictions such as Newmont Mining and Barrick Gold.
Gold Resource Corp.
Gold Resource Corp. (NYSEMKT:GORO) produces mostly gold and silver, although it gets some of its revenue from base metals. Of the companies in this article GORO is the one that truly emphasizes dividends. The company pays a 5.5% yield in an industry where dividends are generally small. Not only does GORO pay the largest dividend in the precious metals sector, but the company allows investors who are interested to have the dividends placed into a physical bullion account and take delivery of physical gold or silver.
That being said GORO is by far the smallest company I list here, with a market capitalization of just under $700 million. Currently it only has one producing mine, the El Aguila project in Mexico (a mining friendly jurisdiction), which makes the company somewhat risky. However it has extremely low cash costs at just $150/ounce, so it will remain profitable as gold prices consolidate. It also has 5 exploration properties, all of which are in Mexico, and so it may have enormous growth potential. As of now it anticipates growing production from 100,000 oz. per year to 150,000 oz. per year by 2015.
IAMGOLD
IAMGOLD (NYSE:IAG) primarily produces gold but it has some niobium production as well. The shares have declined precipitously over the past several months. Yet this has provided an excellent opportunity for investors who are willing to take the risks associated with its African mines. The shares yield nearly 3.5% and trade at a P/E ratio of just over 8. Furthermore the company has a market capitalization of around $2.7 billion yet it has over $900 million in cash and cash equivalents.
The company currently produces nearly one million ounces of gold per year and intends to increase this at a double-digit pace over the next three years. One thing I like about this company is that it has a lot of development properties in North America, and intends to shift its focus away from West Africa. The fact that the company has focused on West African mines in the past has likely hurt the share price as investors want to avoid the political risks associated with this region. As the North American mines go into production and it depletes its African mines the share price should rise to reflect this mitigation of political risk. Still investors should be aware that the company has properties in Burkina Faso and in Mali.
Disclosure: I have no positions in any stocks mentioned, and no plans to initiate any positions within the next 72 hours. I wrote this article myself, and it expresses my own opinions. I am not receiving compensation for it (other than from Seeking Alpha). I have no business relationship with any company whose stock is mentioned in this article.