Introduction
The food pyramid of private equity firms is very simple. At the top are the owners who are usually well known public figures and often make the Forbes 100 list. Then come the employees. Six figure annual paychecks for entry-level employees is often the norm. In bad or in good markets, these companies have to make sure that they have the brightest professionals. Then come the limited partners or the institutions and private investors who commit capital directly to the pool. The limited partners provide the funds that private equity firms invest on their behalf. A private equity firm's goal is to preserve capital so in bad years, a private equity fund would likely be able to achieve a small positive or negative return. Over the long-term, returns from the leading private equity funds handily beat the S&P 500, but there could be years where performance is in the single digits.
At the bottom of this food pyramid are the equity investors in the publicly traded shares of private equity firms. Whatever investment income and/or revenue is left after the top of the pyramid needs are satisfied, the leftover goes to the equity investors. Thus, in bad periods, shares of private equity firms usually under-perform the market by a lot and in a climate which is beneficial for investing they outperform. The current investment environment leaves enough food for the bottom of the private equity pyramid due to low interest rates, risk-aversion, and the flexibility of private equity firms to venture where other capital providers cannot go.
Stock performance and fundamentals
Since my last article about three of the major private equity firms in Jan. 2013, Blackstone (NYSE:BX), KKR (NYSE:KKR), and Fortress Investment Group (NYSE:FIG), share prices have appreciated by about 13%, 13%, and 33%, respectively, compared to a rise of 4.7% for the S&P 500 (see graph). Despite this stellar performance, the shares of Fortress and Blackstone are down by about 80% and 40% since the companies went public in Feb. and June of 2007, respectively. Only KKR, which went public in July 2010 and following the great recession, has achieved a positive return of nearly 100% since its IPO (almost twice the return of the S&P 500). Private equity firms should continue to perform well in the next few months as the tailwinds that have been present in the past several months are still in place.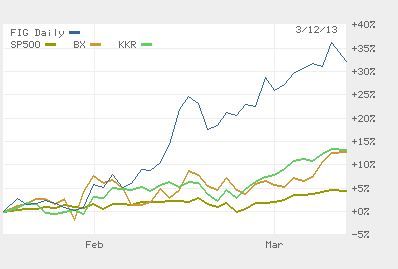 Selected valuation and fundamentals metrics:
| | | | | |
| --- | --- | --- | --- | --- |
| | FIG | BX | KKR | S&P 500 |
| Market capitalization | $1.5b | $11.1b | $5b | $13,875b |
| Enterprise value | $1.5b | $23.1b | $5b | n/a |
| EBITDA | 9.5% | 25.2% | ~80% | 21.2% |
| Beta | 2.4 | 2.2 | 2.1 | 1 |
| Dividend yield (trailing 12-month) | 3.0% | 3.6% | 6.4% | 2.3% |
| Price-to-book value | 5.1 | 4.2 | 2.4 | 6.2 |
| Price-to-sales | 3.3 | 5.7 | 0.5 | 1.4 |
| Direct employees | 975 | 1780 | 916 | n/a |
Assets and recent developments
Fortress, Blackstone and KKR finished 2012 with record assets under management (AUM) of about $53 billion, $210 billion and $76 billion compared to AUM at the end of 2011 of $44.6 billion, $166 billion, and $59 billion, respectively. Assets increased due to solid investment performance, acquisition of assets of other asset management companies, and positive inflows.
All three companies have diverse businesses with private equity assets making a large portion of each company's assets. Even within the private equity business a significant amount is invested in the publicly traded shares of a diverse set of companies.
Fortress
Fortress's private equity portfolio had $14.3 billion in assets at the end of 2012 with the remainder in credit funds ($13.4 billion), liquid hedge funds ($5.1 billion), and traditional fixed income ($20.7 billion). Within the private equity business of Fortress, at the end of 2012, public companies comprised 30% of assets and were up on average 65% while private company investments comprised 70% of the portfolio but returned 11% on average during 2012. A top driver behind this performance was the Nationstar's (NYSE:NSM) IPO.
Fortress is able to generate returns due to its expertise in a number of sectors (transportation, real estate, consumer financing), asset classes (distressed debt, complex deals and traditional fixed income), and geographies (North America, Asia, Europe). In its most recent deal, Fortress acquired the HSBC's consumer loan portfolio for $3.2 billion or $0.76 on the dollar for total underlying portfolio value of $4.2 billion.
Blackstone
Blackstone also has exposure to a number of sectors and geographies. In 2012, it acquired the two largest seaplane operators (Maldivian Air Taxi and Trans Maldivian Airways) based in the Maldives, a prime luxury tourist destination comprised of over 1,000 islands. And in the U.S. Blackstone has spent more than $2.5 billion on buying 16,000 distressed single-family homes, renovating and renting them, a business that has been traditionally a mom-and-pop business. The housing market recovery and rise in housing prices in the last few months is prompting Blackstone to move quickly on this front before prices rise too much.
Blackstone is known primarily for private equity but in fact it has a number of other large businesses. For example it is a leading alternative asset management company and is the largest real estate holder in the U.S. who is not a real estate investment trust. Its real estate business appreciated by 14% in 2012 while its debt hedge funds were up 18%, significantly outperforming their benchmarks despite the large size of these businesses.
Blackstone leverage investment strategy should play out well in the next several months largely due to the low interest rate environment and inflationary pressures. As the company has leveraged equity exposure, any improvement in the economy will cause interest rates to rise, but the stock market should also rise. This should benefit Blackstone as the company usually has a free equity option in its investments. Also, Blackstone's significant investment in real estate provides an inflation hedge as real estate is a hard asset.
And in credit financing, Blackstone provides shorter-term distressed financing, which most companies will not need and exit once the economy improves. Also, Blackstone is cautious about fixed interest rates and has exposure largely to floating rates and short duration type investments in the fixed income area.
In terms of exiting strategies, only during the past two years, Blackstone was able to bring eight companies public and is in the final stages of bringing three more companies to the public market (SeaWorld, Pinnacle Foods, and Michael's). Also, Blackstone is constantly innovating and offering new products in energy, real estate, consumer financing, and emerging markets. Its investment returns are often in triple digit percentages as in the case of the recent sale of Sunset Senior Living.
KKR
Finally, 2012 was also a great year for KKR as its investments performed well and monetization activity was high. Also, the company purchased an asset manager and invested in another one to strengthen its overall position as a leading investment firm.
The acquisition of Prisma Capital Partners by KKR in 2012 brought an additional $7.8 billion AUM as well as a scalable alternative asset platform. The largest benefit from the Prisma acquisition is that Prisma is known for specialized customer accounts for institutional investors. As institutions demand more from their investment managers, KKR will be able to offer Prisma's tailored investment solutions. And the second investment provided KKR with a 24.9% interest in Nephila, an investment manager that provides investment in weather/natural disaster insurance vehicles. This is a non-market correlated business niche where large insurers are not willing to venture.
Due to its long history and experience, KKR has one of the most clearly defined corporate goals, which KKR hopes to meet in the future. The first goal is providing value for investors. Its private equity portfolio was up 24% and the balance sheet return was also up 24% during 2012.
Second goal is monetizing investments. There were over 20 liquidity events in the past year (including secondaries and strategic sales) and the company returned $9 billion to investors.
Next goal is to attract new investments and KKR recorded over $7 billion in private market transactions in 2012.
A fourth goal is to increase AUM organically or through acquisitions. In addition to the two acquisitions already mentioned, KKR started offering mutual funds that target retail investors, 401-K participants, and registered investment advisers. Also, KKR has entered into partnership with other institutional managers including Stone Point Capital and Canada's Pension Plan Investment Board.
KKR's fifth objective is earning trust of new investors. For example, it increased its limited partners to 450 at the end of 2012 from 380 at the end of 2011.
Sixth, it strives to achieve more scale in new businesses and in particular private equity in Asia and non-private equity business growth.
Seventh and final is its focus on developing new products and entering new markets. KKR is constantly considering adjacent businesses and international opportunities. The firm has a large local presence in Asia including Vietnam, Japan, Korea and Australia as well as minority/growth equity investments in India and China. The local presence in Asia allowed KKR to make a $200 million investment into Masan Consumer. Masan Consumer is based in Vietnam, a market considered too difficult for many international investors.
Conclusion
Despite the bad publicity usually surrounding private equity firms, they could be both a profitable and ethical investment choice. On the ethical side, both private equity firms and their executives donate significant amount of money and energy to charities. For example, Blackstone charitable foundation has an entrepreneurship initiative that donates money to young innovators. Sanitation Creation's Liz Morris and her invention, a waterless odorless toilet for developing countries, is a recent beneficiary of the foundation's efforts. Similarly, the KKR founders have donated millions to educational institutions such as Columbia Business School and Claremont McKenna College.
The current investing climate offers low interest rates and a global economy that is mostly stabilizing or improving following the recent financial crisis. Importantly, many countries are instituting new regulations that impede other institutional investors from acquiring distressed assets that are considered risky. In the case of banks, they are even being forced to sell such assets. All this bodes well for private equity firms in the foreseeable future. Even investors in the publicly traded stocks of these firms should be able to benefit, despite standing at the bottom of the private equity food pyramid.
Disclosure: I have no positions in any stocks mentioned, and no plans to initiate any positions within the next 72 hours. I wrote this article myself, and it expresses my own opinions. I am not receiving compensation for it (other than from Seeking Alpha). I have no business relationship with any company whose stock is mentioned in this article.