In my previous article, I had discussed the reasons for believing that equity markets might be setting up for a meaningful correction in 2013. In this article, I will discuss another indicator (margin debt), which points to increasing risk in the markets and a probable crash a few months down the line.
I emphasize crash and not correction as markets can drop 20-25% if the current optimism prevails on the back of weak underlying economic data and relatively weak corporate earnings. Coupled with this, the increasing margin debt in equity markets can translate into margin calls resulting in a deep correction. The timing of the crash is difficult to determine. Investors however need to understand that fresh exposure to equities would be suicidal at current levels. Also, if markets trend higher over the next few months, it would be a good idea to lighten up meaningfully on equity positions.
Coming to the main focus of the article, the chart below gives the margin debt for the period 2000 to January 2013. For readers unaware of margin debt, it is simply the dollar value of securities purchased on margin. In other words, margin debt is a good indicator of the level of optimism prevalent in the market. Increasing margin debt is also an indicator of more speculative market activity.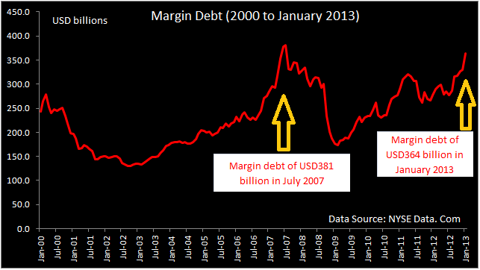 For January 2013, the margin debt stood at $364 billion and is only the second highest after $381 billion margin debt witnessed in July 2007. This is a clear indicator of the high level of speculation in the equity markets. Another significant chart to look at is the growth in margin debt (month-on-month). The surge in margin debt for January 2013 has been among the highest in the last 13 years. This is suggestive of a substantial increase in speculative activity in 2013.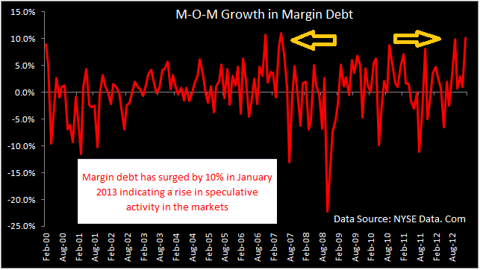 This conclusion also is in sync with my argument in the last article that the current rally is more liquidity driven than fundamentals driven. With U.S. real economic activity remaining weak (as indicated by a 50-year low M2V) and real unemployment remaining high (as indicated by the U6 rate), the surge in equity markets can be explained by rising speculative activity by financial institutions with easy access to cheap money.
However, as valuations get more and more expensive, panic will set in at some point of time triggering a correction. With leveraged positions high, margin calls will further accelerate the intensity of downside. I am not trying to paint a gloomy scenario for equity investors. I am just suggesting a high level of caution considering the factor discussed in this article and the factors discussed in my previous article.
In conclusion, short-term government bonds and quality corporate bonds might be a good place to be over the next 3-6 months. Investors also need to increase their exposure to cash as a decline in equity markets would mean a bull market for cash.
Two ETF suggestions for the current scenario would be -
Vanguard Long-Term Corporate Bond ETF (NASDAQ:VCLT) - I am suggesting the VCLT as I believe that quality corporate bonds are a relatively better risk free investment compared with government bonds (especially long term). The ETF seeks to provide a high and sustainable level of current income through investment in high-quality (investment-grade) corporate bonds.
Vanguard Short-Term Government Bond ETF (NASDAQ:VGSH) - The ETF might be attractive in the near to medium-term when risky asset classes have a high probability of witnessing a meaningful correction. The ETF seeks to provide current income with modest price fluctuation with investments in high-quality (investment-grade) U.S. government bonds (maintains a dollar-weighted average maturity of 1 to 3 years).
Disclosure: I have no positions in any stocks mentioned, and no plans to initiate any positions within the next 72 hours. I wrote this article myself, and it expresses my own opinions. I am not receiving compensation for it (other than from Seeking Alpha). I have no business relationship with any company whose stock is mentioned in this article.