As M&A activity peppers the Healthcare industry, prudent investors are searching for the next big acquisitions. 2008 left I-banks hanging their heads as weak market conditions and restricted lending created a stale environment for M&A activity. However, the dire need for drug companies to protect their future sales brings out the big players in the industry looking to strengthen their pipelines and diversify products to ease investors' fears over the $160 billion in revenues of drugs coming off patent protection by 2016. Investors looking for M&A may want to keep their eye on these two attractive companies.
Cephalon, Inc. (CEPH)
Cephalon, Inc is a bio-pharmaceutical company that focuses on developing and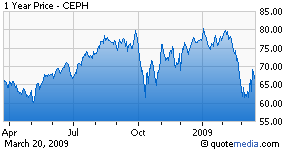 selling drugs pertaining to central nervous system disorders, oncology, pain, and addiction. CEPH's most bankable drug, Provigil, accumulated about $1 billion in revenue in 2008. Provigil is approved for the treatment of narcolepsy, shift work sleep disorder, and excessive daytime sleepiness linked to sleep apnea. Although this drug is coming off its patent in 2015, the company has already acquired a patent on Provigil's successor, Nuvigil, which expires in 2023. Nuvigil is the enantiomeric (mirror) version of Provigil and is expected to not only take over most of Provigil's market share, but be approved for more uses as well. Nuvigil is expected to be released in the 3rd quarter of 2009.
With a market cap of $4.58 billion and a young potential blockbuster drug (based on its predecessor), Cephalon's leading position in the "wakefulness market" makes it an attractive target that can complement the pipeline of many of the bigger name drug companies that will suffer from patent expiration.
I wouldn't be surprised to see GlaxoSmithKline (GSK) move for Cephalon. GSK has 3 drugs that bring in a little over 30% of its pharmaceutical revenue. Scarier still is the fact that its second most bankable drug, Lamictal, has been expired since July 2008 and will easily lose market share to Teva's (TEVA) generic version. GSK boasts a long list of drugs in late stage clinical trials, but when it comes to sales, it may quickly run out of blockbuster drugs unless it acquires Cephalon. Its business segments mesh perfectly, with both heavily focusing on the central nervous system and oncology. Better still, none of its leading drugs overlap each other. For a great price, GlaxoSmithKline can grab greater exposure in markets it is already familiar with. Cephalon's pipeline longevity will add stability to GSK during a time of uncertainty in the pharmaceutical industry that is certain to occur.
Genzyme (GENZ)
Genzyme is a biotechnology company that focuses on manufacturing and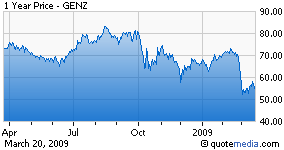 marketing expensive orphan drugs in niche markets. The main sources of Genzyme's revenue come from 7 drugs covering the Therapeutics and Renal business segments. At #1 in 12 different drug markets, no other orphan drug company comes close to touching Genzyme in size or market share. They boast a diverse and robust pipeline with 16 drugs in late stage clinical trials and an additional 4 drugs with patents expiring in over 5 years. However, Genzyme's star drug, Cerezyme, which pulled in $1.2 billion in 2008, has only 2 years left on its first patent. Although this is considered a setback, GENZ's answer to Pompe Disease, Myozyme, is projected to become an even greater source of revenue for its Therapeutics business segment as it gains FDA approval for more uses.
The patent expiration problem will have a far-reaching effect on the way big pharmaceuticals grow their core businesses, causing them to look to biotech for innovative products. This trend contributes to Genzyme's already great potential of being acquired by a large pharmaceutical company. It wouldn't be alarming if Bristol-Myers Squibb (BMY) announced a tender offer for the orphan drug company. By 2013, 3 drugs that bring in roughly 40% of BMY's pharmaceutical revenue will come off patent protection. In order to keep up with other large pharmaceutical companies that have already made efforts to minimize the impact of expired patents, BMY will be pressured to partner up with a successful company with a proven record of scientific innovation. Genzyme offers this. Moreover, Genzyme will give Bristol-Myers access to its niche orphan drug markets, where it will enjoy the same tax breaks that Genzyme currently enjoys in the United States.
Over the past 5 years, Genzyme has grown at a compounded rate of 22.98% and is on track to reach its projected annual growth rate of 20% through 2011. When the time comes for BMY's star drugs to come off patent protection, Genzyme's young drugs will have developed into a promising source of revenue. The unrivaled strength of Genzyme's orphan drug pipeline and its ability to capitalize on untapped drug markets may end up preserving Bristol-Myers' leading presence in the competitive pharmaceutical industry.
-Brendan Steven