Yum! Brands (NYSE:YUM) has been struggling recently. After sluggish sales overseas the paltry results expected from their earnings Tuesday were narrowly missed; leading to a gap open Wednesday and plenty of profit taking. I've been analyzing Yum! to try and weed out whether or not it truly has potential as a long-term investment.
CNBC.com penned a piece Tuesday about Jim Cramer's newlyfound bullish stand on Yum! Brands and how he thinks the stock has been subject to bullying from Wall Street Analysts. On the heels of a smaller than expected sales loss announced, the stock ran as high as the mid $71's before now settling down in the $69 region.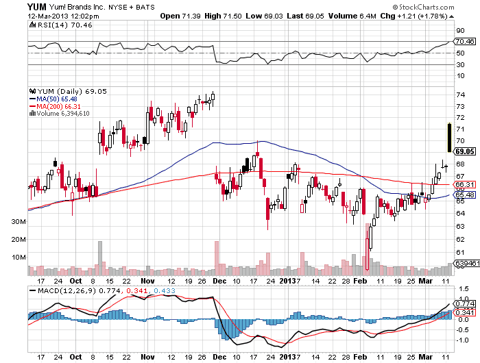 Cramer came right out and described why he thinks Yum! is going to be poised for success going forward:
"I believe [Novak] is systematically underestimated by Wall Street," Cramer said. "I think Yum is done going down, I think this is the beginning of a good streak of numbers."

"I'm very encouraged here, the analysts are not. There are very few analysts that are saying that this is the beginning of the end," Cramer said, suggesting there is an impending a rebound for the stock.

Cramer added that the situation for Yum! reminds him of when analysts were similarly negative on McDonald's when it was trading at $85-$87. "Of course, the stock went to $98," Cramer said.
Here's three reasons going long on Yum! could make you sick to your stomach in the coming months:
1. Yum is Susceptible to Big Market Correction.
As I pointed out in my last macro-view article entitled "The End is Near : Why the Bull Market is Finished", I contend that we are in the extreme late stages of this bull run that began in 2009 and that we're due for a correction; whether it be before another run-up or the beginning of a serious recession-style pullback.
On the heels of the "big news on China sales", Yum finished almost at its low of the day Tuesday. It ran to $71 and finished in the $68's. There was a ton of selling into the gap open Tuesday morning and the rally.
Here's Yum's stats from Google Finance for Tuesday, 3/12:
| | |
| --- | --- |
| Range | 68.55 - 71.50 |
| 52 week | 59.68 - 74.75 |
| Open | 71.39 |
| Vol / Avg. | 9.46M/5.79M |
| Mkt cap | 30.98B |
| P/E | 20.34 |
| | |
| --- | --- |
| Div/yield | 0.34/1.95 |
| EPS | 3.38 |
| Shares | 450.73M |
| Beta | 0.83 |
| Inst. own | 79% |
With a Beta of 0.83, modest P/E ratio and 79% institutional ownership, you'd be hard pressed to make the argument that this stock is not going to move alongside the market averages. If you're in the same boat as me in terms of your macro view of the market, you'll be expecting names like Yum to get clipped in the midst of a bigger correction that I predict will begin before 2013 ends.
Cramer vs. Cramer
Who else agrees with my stance on the market correcting? Why, none other than Jim Cramer! On the heels of a Yum! pullback Tuesday and an altogether market "breather" as he calls it (read: topping out), the Jim Cramer WEDNESDAY warns investors not to nosedive into stocks. Different story than the Jim Cramer we read about Tuesday. What does it feel like to be the person Tuesday that bought on his call and then read the next day:
If you're not already in stocks, Cramer thinks now is not the time to dive in.

There are developments in the market that he doesn't like.

"I see people all over the place right now trying to join me in the bull camp," Cramer explained. "I see people coming onto CNBC saying they were wrong; now they like the market."

Too many bulls gives Cramer pause.

"I'm seeing investors reach and chase, and as a result they've now driven the Dow Jones Industrial Average higher for eight straight days." There haven't been nine straight days of gains in the Dow since 1996.
2. The Pizza Hut Brand is Simply Past Its Time
What do these brands have in common?
JC Penney
RadioShack
Sears
Pizza Hut
Want a hint? I'm bearish on all four brands for the same reason: their brand name is years past its retail prime and they still have plenty of dumpy old unappealing locations. When arguing a short position for both RadioShack (NYSE:RSH) before its downgrade yesterday and JC Penney (NYSE:JCP) before its earnings slaughter, I pointed out the similarities between both of their brands. I stated:
J.C. Penney was the leading affordable middle class retail clothing vendor. Its stores were fresh looking, usually packed, and the company had supplemental sales coming from catalog orders. There was consistent hustle and bustle in its department stores long before internet shopping. J.C. Penney's stores are now often understaffed, undermaintained, deserted and sometimes simply look like demilitarized zones.

Before Tiger Direct, Amazon (NASDAQ:AMZN), eBay (NASDAQ:EBAY), and other online electronic shops, RadioShack was the go to spot for electronics and accessories in the midst of the computer boom. Not only was it a place to go and keep up to date on the latest accessories and electronics to come out, it is a place where there always used to be a banter in the air amongst interested parties exchanging tips of the trade. It seemed like a bit more than a just store, it was like a daily meeting of your local electronics gurus.

Now, the RadioShack retail stores stink with an air of desperation. They're usually empty, there's little focus on electronics aside from mobile phones, and the sales pitch from the commission fueled associate trying to pitch either the product replacement warranty or the bargain du jour lasts far longer than the actual shopping experience itself. Stores are closing, and business is waning -- it looks like the beginning of an unceremonious exit for the company.
Pizza Hut was a name forgotten for me and many other people my age. Growing up, Pizza Hut was the place you went to with the team after the ballgame, or for a treat from mom & dad on a random Friday or Saturday night. Your personal pan pizza was the coolest thing in history; a pizza all your own. You could throw a couple quarters into the jukebox, scarf down some delicious pie, and spend some quality time with whomever you were there with. The locations had a magic about them.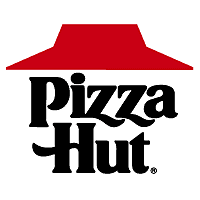 What's changed since then, you ask? Well, unfortunately, nothing.
When was the last time you set foot into a Pizza Hut? For me, it had been years, but I stopped in my local one today for lunch since I was in the midst of writing this piece. The decor looked exactly like it did in the mid 80's, the lunch buffet looked like somebody had ate it already, there was no host, and there was one server responsible for the entire layout of the floor.
It wasn't busy, yet the staff couldn't keep up. The location was dirty and the bathroom hallway looked deserted and undermaintained. The old logo hanging out front was a stark reminder of days past; before the likes of Dominos, Little Caesars, and your neighborhood pizza joints.
Like RadioShack, this location had an air of desperation about it, and "desperation is a stinky cologne". Bearish on the brand, bearish on the parent company; easy equation.
3. Too Much of Yum's Stock Price is Predicated on China
Much of the move sustained early Tuesday morning was behind Yum's momentum in China. China accounts for roughly 40% of all sales for Yum, and posting results that are not as bad as they were thought to be has acted as catalyst here. Barrons reports:
The owner of KFC, Pizza Hut andTaco Bell said late Monday that its sales at China stores open at least a year dropped 20 percent for that two-month period, less than the 25 percent decrease it had projected.

Yum's China sales rose 2 percent overall for the month of February, helped by the timing of Chinese New Year. But the timing of the holiday hurt the company's January sales, ultimately having a neutral effect.
From a Yahoo! article regarding Yum's earnings and status in China:
The owner of KFC and Taco Bell had forecast a 25-per cent decline for the two months for sales at restaurants open at least a year. It also warned at the time that its overall profit for 2013 would drop as a result of the controversy, snapping an 11-year streak of double-digit profit growth.

With 5,300 restaurants in the country, Louisville, Ky.-based Yum is the biggest Western fast-food operator in China. KFC accounts for most the locations.

Yum's sales figure ticked up 2 per cent in February, helped by the timing of Chinese New Year. The holiday's timing hurt January's sales, however, ultimately having a neutral impact on results for the two months.

January and February make up Yum's first quarter in China.

The company has been reeling from a December TV report in China that said its suppliers were giving chickens unapproved levels of antibiotics. But Yum has since launched a campaign to rebuild its brand, announcing that it eliminated more than 1,000 small producers from its supplier network and that it would strengthen oversight over farmers.

CEO David Novak has also noted that Yum overcame major ordeals in the past, such as an avian flu scare in 2005 that dragged down sales by as much as 40 per cent. And the company has said it plans to forge ahead with its expansion plans in China, which has been a key engine of growth for the company.

To keep investors updated on its efforts, Yum is reporting monthly sales figures for China until the business recovers.
What does this mean?
It means all eyes are on China.
With the company reporting monthly sales figures from China until "business recovers", this stock is singlehandedly predicated by the results that Yum is going to report from China.
Analysts bearish on China are automatically bearish on Yum
Continued volatile overseas government action can affect Yum's price
Still don't believe that China controls the price of Yum stock?
This Zacks.com article profiles exactly what sales in China earlier this year when KFC ran into controversy with how much antibiotics were being used in the poultry farms supplying KFC with chicken.
The Louisville, Kentucky-based company had decent enough earnings in its most recent release, surprising higher by about 2.5%, but all investors cared to focus in on was China. The nation actually accounts for over two-fifths of all YUM operating profits already, so any new reports out of China seems poised to control the stock.

This is why recent government reports have been so hurtful to the stock, and why many analysts are ratcheting down expectations for the firm in the short-term.

According to YUM, some poultry farms in China that were suppliers of KFC China were using excessive levels of antibiotics in their chicken. The resulting media frenzy hurt KFC sales across the country to close out the fourth quarter, and they have arguably impacted the firm's brand name going forward as well.

Things got so bad that KFC sales in China cratered by 41% in January, suggesting a huge drag on earnings, so long as this issue hangs over the company.
In addition, in Seeking Alpha's Wall Street Breakfast yesterday, they note that:
Yum looks to be recovering from the food scandal in the country, with February revenues rising 2%. Sales were flat at KFC, which was involved in the scare, and rose 13% at Pizza Hut.
Flat sales at KFC does not signify the buying public getting over the incident at KFC, it still goes to signal insecurity.
Conclusion
I think the broad market correction and China are going to play the two biggest roles here in Yum's coming price correction. The sales figures from China that will be coming in monthly are going to be scrutinized big time; if they start to wane, it's a sure fire sign to get out and go short.
A recession combined with a disaster in sales overseas could lead to serious problems for Yum, but I'm not really predicting a "game ending" catastrophe -- yet.
For right now, I see Yum as a delicious short opportunity.
Disclosure: I have no positions in any stocks mentioned, but may initiate a short position in YUM over the next 72 hours. I wrote this article myself, and it expresses my own opinions. I am not receiving compensation for it (other than from Seeking Alpha). I have no business relationship with any company whose stock is mentioned in this article.