Every talk show and newspaper focused on the AIG story over the weekend. The discussions all circled around the problem of the $165mm of bonuses. This is a side issue. The real problem is that the disease that has infected America has its roots in the business practices of AIG.
In Congressional testimony this past week AIG's beleaguered CEO Edward Liddy said that it could take up to four more years to unwind the remaining 1.6 Trillion CDS book that AIG is dying under. Good luck Mr. Liddy. This writer believes that you and AIG have less than four months before the lights go out. The American people hate AIG. They do not want to do business with this company any longer. Congress hates AIG too. Fed Chairman Bernanke has said on TV that he 'hates' what AIG has done. This busted company has no friend in Mr. Geithner either. The life line of support they are hanging by is very tenuous.

Lost in the weekend's debate over bonuses was the following story:
American International Group Inc's (AIG.N) United Guaranty Mortgage Indemnity Co sued Countrywide on Thursday in a California federal court, contending that the lender had misrepresented risks tied to more than $1 billion of mortgage loans that United Guaranty insured.

The case was filed a day after Countrywide sued United Guaranty in California state court in Los Angeles. Countrywide said United Guaranty was trying to get out of its obligations to provide insurance coverage.

If the times were not so serious these lawsuits would be laughable. Here's what the suits are about:
Countrywide Financial was the poster boy for originating sub prime loans. No document, liars loans with loan to values in excess of 100% were their speciality.
United Guaranty, with the backing of AIG was trying to build market share in the high risk mortgage market. They aggressively priced and wrote insurance risk on the top 20% of the bad mortgages that Countrywide was creating. They were paid well for assuming this risk. They knew that these were very high risk loans.
With the AIG first loss insurance the mortgages were sold to Fannie Mae and Freddie Mac. In 2008 over 22% of FNM's book of loans have been 'enhanced' by the likes of AIG.
Every aspect of this collapsed in 2008. Countrywide was sold to Bank of America (NYSE:BAC) (a purchase that Mr. Lewis now regrets.) The default rates on the enhanced loans exploded. The Agencies suffered losses on the mortgages in excess of the insured amounts. When the Agencies seek reimbursement from BAC for the insured amount owed to them they are told that AIG is reneging on its promise to pay. Thursday's lawsuit and counter lawsuit are the result.

What is the certain outcome of this? The answer is that some combination of this sad list of characters is going to take a hit of at least $200 million in extra losses. Either BoA, AIG, FNM or FRE are going to take the losses. Given that Uncle Sam owns or controls the lot of them it is certain that the taxpayer is going to once again have to pony up.

UGI announced its operating results a week ago. The company reported losses of $2.48 Billion for the full year 2008. 100% of those losses were borne by the tax-payers.

Fannie Mae recently reported that its default rate on 'enhanced' loans was five times larger than the default rate on loans with the traditional cash 20% down.

By now everyone understands that this is just bad business. Everyone is losing because of it. Yet this practice is continuing today.

On March 16, 2009 United Guaranty revised its standards for providing the first loss insurance that has caused so much pain. Their new standards are significantly more restrictive. The new terms are condensed* as follows: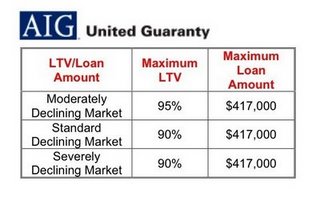 Noteworthy is the fact that 95% mortgages are still available in 'Moderately Declining Markets'. That AIG is still providing 90% mortgages in 'Severely Declining Markets' is troubling. The loan caps are equal to the Agency's limits. One can be certain that the loans that originated under these programs will end up in either Fannie Mae's or Freddie Mac's inventory in the next few months. The fact that AIG is continuing to expose the taxpayer to high risk mortgage lending and contributing to the losses at the Agencies is much more significant than the problem with the bonuses.

The availability and terms of Private Mortgage Insurance should be regulated by the state insurance commissioners. No company that has received TARP funds or that is in Government receivership should be allowed to write PMI or invest in loans enhanced with PMI. If Mr. Bernanke and Mr. Geithner are serious about restoring faith in the credit market then they have to preclude AIG, Fannie Mae and Freddie Mac from participating in high risk mortgage lending.

As of today AIG has an unused credit line from the Federal Reserve for an additional $30 Billion. If Mr. Bernanke is called upon to sign another big check he risks a backlash that could taint his tenure. If he were to seek the consent of Congress today he would not get it. AIG's days appear to be numbered. If that is to be the case one has to wonder what will happen to that $1.6 Trillion CDS book that has caused all of these problems.

Disclosure: No positions