The Master Limited Partnership sector has had an amazing run over the last four years, with the Alerian MLP index blowing past broader market indexes.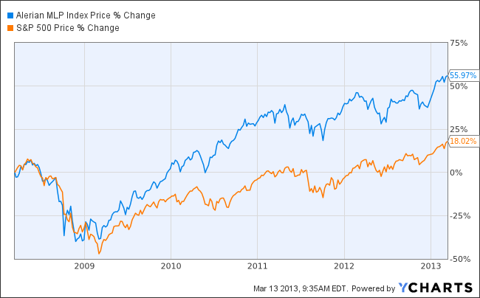 After this spectacular climb, I believe the MLP sector faces a greater danger of adverse tax changes than ever before. One of the key attractions of MLPs is that they avoid the double-taxation that stockholders in C Corporations are subject to. That could soon change.
It's no secret that politicians are desperately scrambling to raise revenue. While Democrats would prefer outright tax hikes, the best compromise they're likely to reach with Republicans is a list of loophole closures. At the top of this list is elimination of the preferential tax-rate for "carried interest." Roll Call recently discussed this in an article entitled "Republicans Find a Tax Hike They Actually Like."
Republicans know that the main beneficiaries of carried interest are hedge funds, private equity, and venture capital groups based predominantly in "blue states." They would just love to challenge Democrats to "tax the rich" by sticking it to some of the biggest Democrat campaign donors. If Democrats oppose the tax, they'll look like hypocrites. Moreover, the quest to raise revenue has gotten so desperate, they will call the Republicans' bluff. One Democrat interviewed by Roll Call said, "If Republicans think this is a way to get cute on taxes, the joke will be on them. We will take them up on their offer and pocket the revenue."
How Carried Interest Tax Changes Would Affect MLPs
By itself, elimination of preferential carried interest taxation would not affect MLPs, except possibly general partners [GPS]. In fact, the last major attempt to change the tax (HR 2834) specifically targeted "Investment Management Services." Its language clearly excludes even the GPs in the MLP sector.
But here's the rub: influential Democrats with hedge fund and venture capital constituents will not allow any carried tax increase unless it hits other passthroughs (i.e. MLPs) too. In particular, Senator Chuck Schumer has maintained that he has always been in favor of taxing carried interest at regular rates: "he has twice voted to do so and will vote for it again the next time it comes up," said an aide. But whenever it does come up, he will insist that energy and real estate partnerships be hit as well. In fact, that's how he killed the last attempt to tax carried interest.
The current budget crisis changes things a lot. The desperate search for revenue without tax increases makes it more likely than ever that Republicans and Democrats will call each others bluffs when it comes to carried interest. What makes it even more likely is the increasing publicity that the media have devoted to this method of minimizing taxes. A recent Reuters article published in the New York Times proclaims "American buyout barons have new tax-dodge rivals: master limited partnerships." It notes that the Treasury is "only" losing $1.6 billion to MLP tax breaks, but it's growing fast as the sector branches into activities "beyond its roots in pipelines."
Linn Energy (LINE) and Berry Petroleum (NASDAQ:BRY) are the Telus (NYSE:TU) and BCE of MLPs
Until 2006, Canadian Royalty Trusts (Canroys) were a great income vehicle that avoided double-taxation. The structure was first used by resource companies but it was so advantageous that other companies adopted it too. The TSX eventually had over 250 trusts listed and the Canadian Treasury saw more and more revenue slip away. The last straw came when the telecom giants, Telus and BCE announced they would convert to trusts. This spurred the Canadian government to initiate the "Halloween Massacre" on October 31, 2006, when it announced new taxes on trusts. The trust sector immediately plunged more than 20%, with many trusts plummeting much more over the next few years.
This experience should serve as a warning to U.S. MLPs: keep your heads low. Unfortunately, MLPs have been doing the opposite. For the first time, an MLP has bought out a major oil E&P company. This is focusing attention on the sector. Is there any reason for an E&P company with mature assets not to be an MLP? Might they not all convert?
To make things worse, MLPs are branching into businesses far outside their original core of energy transportation. There are refinery MLPs, fertilizer MLPs, a fracking sand MLP - and yes, even a cemetery MLP. I recently spoke with Bob Hellman, CEO of American Infrastructure MLP Funds, a sort of MLP incubator. Bob IPOed the cemetery MLP along with Oxford Resource Partners (OXF), a coal MLP. He seems intent on stretching the limits of the MLP structure, with waste management, cold storage, and toll bridge MLPs in his portfolio. Presumably many of these will come public in the next few years. Every day, the MLP sector looks a little more like the Canroy landscape before the Halloween Massacre.
What to Do?
In a previous article, I described the tax complications of selling an MLP that you have held for a while. You may be better off watching your MLP decline by 20-30% rather than taking the tax hit. Unfortunately, even the biggest MLPs - Kinder Morgan Partners (NYSE:KMP), Enterprise Products (NYSE:EPD), Enbridge Energy Partners (NYSE:EEP), Energy Transfer Partners (ETP) - have very limited options trading. EPD and Oneok Partners (OKS) have some trading in single stock futures. You typically get $.10 less when you short the futures and pay $.10 more when you cover, but you don't have to worry about time decay as you do with options. Beyond insuring MLPs that you own, you can consider buying Puts on some of the more overvalued names in the sector. I intend to survey some of these MLPs in a future Seeking Alpha article.
I think the risk of tax changes makes it worthwhile to buy some Put option insurance right now, despite the lack of liquidity. Ultimately, I think politicians will back away from making changes that could cripple one of the recovering U.S. economy's key supports - the booming energy sector. But my best guess is it will take it to the brink and there will be some very scary moments between now and then.
Disclosure: I am long EPD, LINE, OKS, VNR. I wrote this article myself, and it expresses my own opinions. I am not receiving compensation for it (other than from Seeking Alpha). I have no business relationship with any company whose stock is mentioned in this article.
Additional disclosure: I own Put Options on BPL, EPD, LINE, NS, OKS, ETP, and VNR. I am short NKA and SEP.