CVR Refining LP (NYSE:CVRR) is a recent IPO, having a stock market debut in mid-January. CVR Energy (NYSE:CVI) decided to spin off some of its refining operations as a separate company. CVR Energy retains an 81% stake in the company. Icahn associates is a major holder of CVR Energy, with an 82% stake as of mid-January. CVR Refining is a MLP (Master Limited Partnership), which gives the company tax benefits, and the obligation to pay investors through quarterly distributions.
Earnings highlights
CVR Refining reported full-year 2012 net income of $595.3 million, compared to $480.3 million in 2011, which represents a 24% increase. Adjusted EBITDA more than doubled to $1.176 billion from $577.3 million in 2011. Revenue rose 74% in 2012 to $8.2 billion, from $4.75 billion a year before.
Substantial increases in earnings and revenue were driven primarily by strong crack spreads, the company's access to price-advantaged crudes, high operating throughputs and the acquisition of Wynnewood refinery. The NYMEX 2-1-1 Crack Spread averaged $33.32 a barrel in the fourth quarter and $30.75 per barrel for the year. The Brent-WTI spread averaged $22.09 in the fourth quarter and $17.35 for the year.
The company guided higher its quarterly- and full-year distribution. The first quarter outlook was raised from $1.21 per common unit to $1.30 to $1.55 per common unit, on higher cracks spreads than previously expected. For the full year, the company estimates the distribution to be in $5.50 to $6.50 range per unit, and the previous forecast was $4.72.
Concerns
The current strength the company is taking an advantage of, the wide crack spread, is the main cause of future concerns for the company. If the spreads begin to narrow, so will the profits, causing the distribution yield to drop. Another recent concern that caused a severe drop in some of the oil refiners was the Macquarie downgrade on March 13th, with the following reasoning: "Macquarie believes the government's forced usage of biofuels is causing unintended consequences that will negatively impact refiners and may result in high RIN prices. The firm recommends taking profits in refiners with the greatest RIN risks and downgraded Valero (VLO) and HollyFrontier (HFC) to Neutral and CVR Energy (CVI) to underperform." However, John J. Lipinski - CEO and President of CVR Refining believes that the RIN cost will eventually get passed on to the consumer, and believes that the NYMEX contract is starting to reflect that already.
Valuation
CVR Refining has a forward PE of 5.19. With a mid-range distribution of $6 for 2013, it currently has an 18.5% forward yield, which is quite higher than a median MLP peer average of 13%, according to Credit Suisse, which upgraded the stock to outperform on March 13.
Price action
CVR Refining went public in mid-January at $25 per unit. It is currently trading around $32.5 at the time of writing, and has cleared a month-long consolidation after reporting stellar earnings. The $32 level should serve as support now, and that might be a place to start buying shares.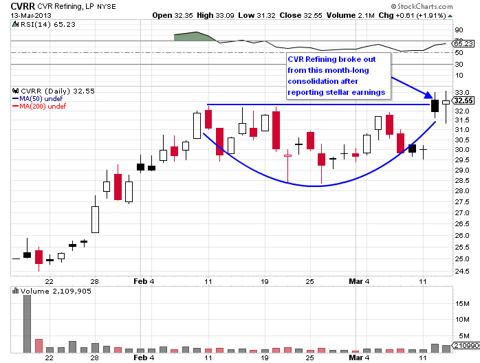 Source: Stockcharts
Conclusion
CVR Refining has several benefits it is taking advantage of: strong crack spreads with an easy access to price-advantaged crudes, increasing output from its refineries; it has a higher forward yield than its competing MLP peers, and having Carl Icahn as a major holder is another benefit for current and potential shareholders. The share price is near its high, and currently above the breakout level from its recent month-long consolidation. The $32 level might serve as a support level after the recent breakout and a potential place to buy shares.
Disclosure: I am long CVRR. I wrote this article myself, and it expresses my own opinions. I am not receiving compensation for it (other than from Seeking Alpha). I have no business relationship with any company whose stock is mentioned in this article.
Additional disclosure: This writing represents my personal opinion, and is for informational purposes only.