By John Spence & Tom Lydon
SPDR Dow Jones Industrial Average ETF (NYSEARCA:DIA) was aiming for its ninth straight day of gains on Wednesday as the exchange traded fund continues to grind higher after setting a new all-time high last week.
Of course, the big question for investors now is whether the incredible rally from the March 2009 bottom is due for a major correction four years later, or if the market can keep chugging along as the economy slowly improves.
The Dow ETF is up 11% so far this year and its tracking index on Tuesday saw the sixth consecutive day it has set a record close, the longest such streak since the late 1990s, reports Sam Mamudi at Barron's.
The stock rally has been met with widespread skepticism despite nominal record prices in the Dow. Many investors think the market is in a bubble fueled by easy monetary policies from the Federal Reserve and other banks after the financial crisis.
However, noted Dow Theorist is telling newsletter clients to forget their fears and buy DIA, the Dow ETF.
"By taking a position in the market, you'll be casting yourself on the side of the optimists, and you'll also be casting your vote on the side of [Fed Chairman] Ben Bernanke," he told subscribers.
"Yes, I know that this market is uncorrected during its long rise from the 2009 low, and I know that there are risks in buying an uncorrected advance that is becoming uncomfortably long in the tooth, but my suggestion is that my subscribers should take a chance … and take a position in the DIAs," Russell said.
The Dow and S&P 500 are essentially dealing with a resistance level that has stopped the market dead in its tracks twice before since 2000.
"With the S&P 500 zeroing in on its all-time high and threatening to break out above the 1,600 barrier, we find ourselves wondering … Is it for real this time?" ConvergEx Group market strategists wrote in a note this week. "We've been here twice before - in 2000 and 2008 - but each time failed to hold."
On the plus side, the market has seen a flurry of M&A activity this year and corporate profits are strong. Still, the market faces headwinds from a still-weak employment picture, and investors are complacent as the CBOE Volatility Index drops to its lowest levels since 2007, they said.
"In spite of some weak economic fundamentals - the jobs market in particular - the stock market continues to push higher. And in our opinion the pros outweigh the cons when it comes to 1600 for the S&P 500. Corporations deserve the lion's share of the credit; corporate earnings have never been higher and 2013, albeit young, is on pace for the biggest M&A year since 2000," the ConvergEx analysts concluded. "Corporate profits as a percentage of GDP are at record highs and are much better off than the economy as a whole, so with next quarter's gearing up for potentially another fresh high, it seems the third time is indeed going to be a charm for the S&P [500]."
Turning back to the Dow, technical analyst Tarquin Coe at Investors Intelligence said only slipping back beneath the 2007 high of 14,198.1 would raise concern.
"That level is now support and failure to provide such would hint at a bull-trap. However, the present indicator situation suggests that a head-fake is not evolving," Coe said Wednesday in a newsletter.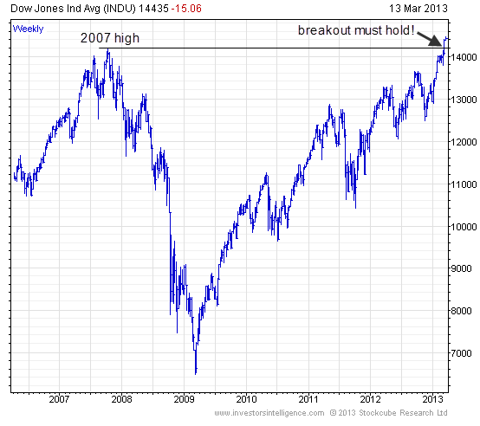 Disclosure: I have no positions in any stocks mentioned, and no plans to initiate any positions within the next 72 hours. I wrote this article myself, and it expresses my own opinions. I am not receiving compensation for it. I have no business relationship with any company whose stock is mentioned in this article.